---
---
Market Statistics

The new Premium data will include market statistics:
New Highs/Lows, Advances/Declines and Advance/Decline Volume.

---
Trading Diary
March 12, 2003
These extracts from my daily trading diary are intended to illustrate the techniques used in short-term trading and should not be interpreted as investment advice. Full terms and conditions can be found at Terms of Use

.
After testing the 7500 support level the Dow rallied to close 0.3% up at 7552. Strong volume increases the likelihood of a consolidation.
The intermediate cycle is down; the next support level is at 7500.
The primary trend is down.
The Nasdaq Composite made a similar reversal to close up 8 points at 1279.
The intermediate trend is down, with the next support level at 1200.
The primary trend is up; a fall below 1108 will signal a reversal.
The S&P 500 mimicked the Dow, closing up 4 points at 804.
The intermediate trend is down.
The primary trend is down; the next support level is at 768.
The
Chartcraft NYSE Bullish % Indicator
is at 38% (March 11).
Oil price soars
Crude oil prices approach $US 40 barrel as government data shows falling supplies.
(more)
Intel's new chip
The chip-maker unveils a new wireless technology chip for laptops, called the Centrino.
(more)
Gold
New York (16.50): Spot gold is down 440 cents at $US 345.50.
ASX Australia
The All Ordinaries closed 5 points lower at 2687. The weak close and higher volume signal that some consolidation is likely. The next support level is just below 2400.
MACD (26,12,9) is below its signal line; Slow Stochastic (20,3,3) crossed to above; Twiggs Money Flow signals distribution.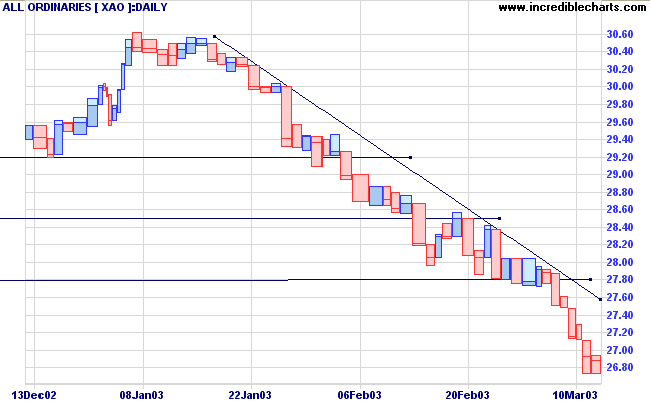 Wattyl [WYL]
After a double bottom at [1] and [2] WYL commenced a slow stage 2 up-trend. Price has now broken below the trendline on strong volume.

Relative Strength (price ratio: xao) is falling; Twiggs Money Flow and MACD show bearish divergences. 
Chemical stocks (ORI, SYM and NUF) are generally bearish.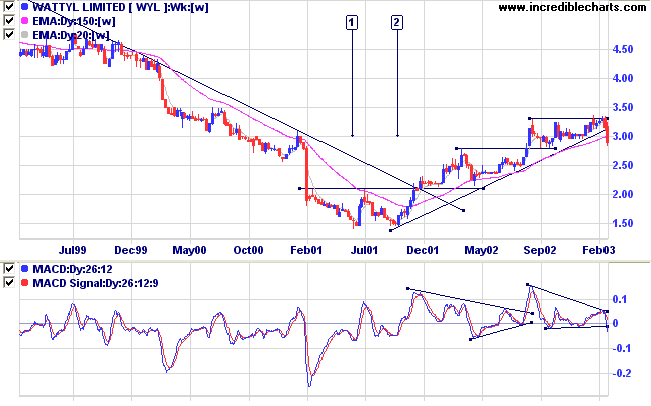 Wattyl made a false break at [C], closing back below the previous high. Volume then dried up on the next rally at [D], signaling weakness, and was followed by a fall below the first support level at [E]. 

WYL then gapped down to [F] but left a long shadow, closing at the day's high, signaling short-term exhaustion. The inside day following indicates that some consolidation above the 2.80 support level can be expected.

A break below 2.80 will be a strong bear signal.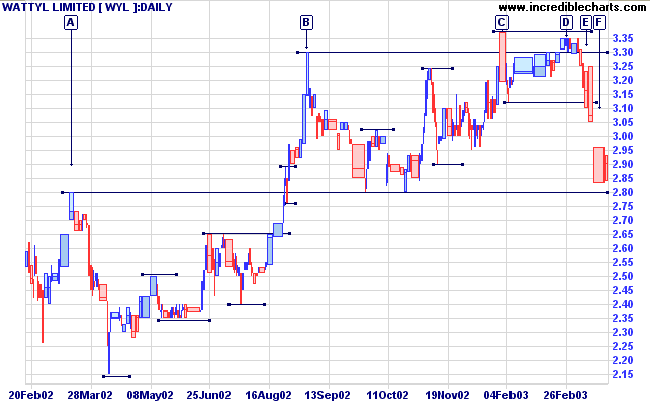 Short-term: Short if the All Ordinaries falls below 2673. Slow Stochastic and MACD are on opposite sides of their respective signal lines.
Medium-term: Avoid new entries.
Colin Twiggs
If you can trust yourself when all men doubt you
But make allowance for their doubting too

- Rudyard Kipling: IF
---
Back Issues
Access the Trading Diary Archives.
---