---
---
Exchange Traded Options

The new Premium data will include exchange traded options; 
updated at 5.30 p.m. (equity-based ETO's) and at 8.30 p.m. (all ETO's).

---
Trading Diary
March 10, 2003
These extracts from my daily trading diary are intended to illustrate the techniques used in short-term trading and should not be interpreted as investment advice. Full terms and conditions can be found at Terms of Use

.
The Dow fell 2.2% to close at 7568 on lower volume.
The intermediate cycle is down; the next support level is at 7500.
The primary trend is down.
Ignoring the reversal signal from Friday, the Nasdaq Composite closed 2.0% lower at 1278.
The intermediate trend is down, with the next support level at 1200.
The primary trend is up; a fall below 1108 will signal a reversal.
The S&P 500 lost 21 points to close at 807.
The intermediate trend is down.
The primary trend is down; the next support level is at 768.
The
Chartcraft NYSE Bullish % Indicator
fell to 38% (March 7).
Iraq resolution
The market awaits the vote on the UN security council resolution proposed by the US, Britain and Spain. France and Russia threaten to exercise their veto.
(more)
Gold
New York (18.30): Spot gold is up 440 cents at $US 354.50.
ASX Australia
The All Ordinaries closed down 4 points at 2711 on low volume. Volume drying up signals that selling pressure is abating, but buyers are notable by their absence. The next support level is just below 2400.
MACD (26,12,9) and Slow Stochastic (20,3,3) are below their signal lines; Twiggs Money Flow signals distribution.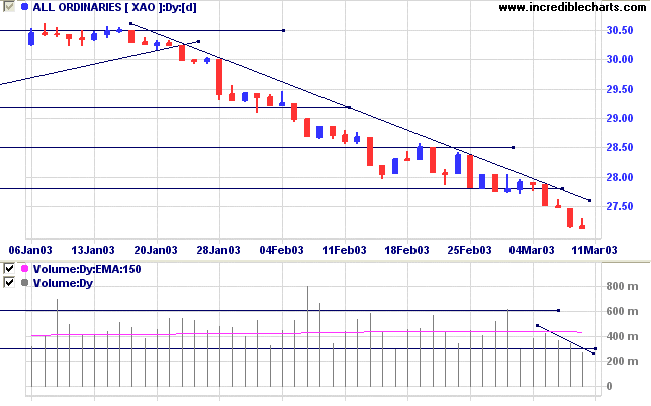 Challenger International [CLI]
Last covered on
February 11, 2003
.
CLI formed a double bottom at [F] and [G] after a lengthy down-trend. The base appeared too narrow to support a strong rally and we now observe a bearish divergence on MACD and Twiggs Money Flow.
Relative Strength (price ratio: xao) is negative and the Financial sector is weak.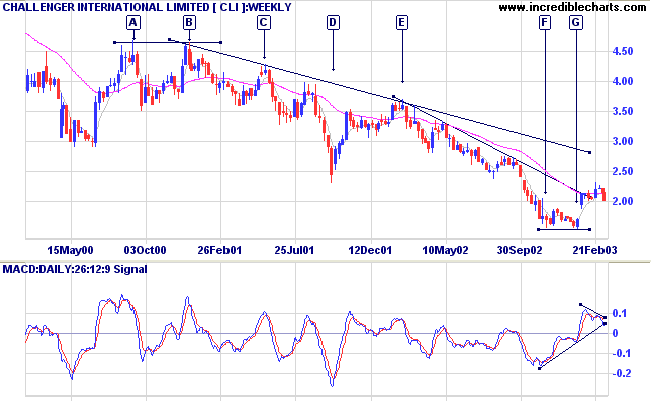 The double bottom at [F] and [G] was completed by a strong gap up at [1]. CLI then signaled accumulation with an over-square bar at [2], followed by strong volume on the rally at [3]. Weak volume on the pull-back to support at 2.00 showed further strength and the stock rallied to a high above 2.30. The weak close at [6] signaled a reversal but volume dried up on the following days, until the strong drop at [7].

The lack of supporting volume is bearish and, unless we witness over-square bars between 1.90 and 2.00, expect a re-test of support at 1.55.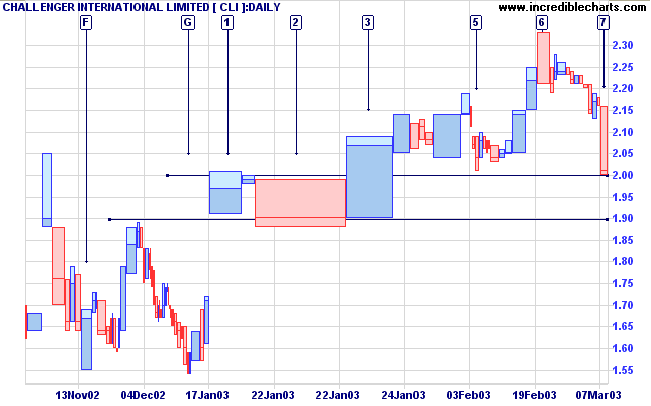 Short-term: Short. Slow Stochastic and MACD are below their respective signal lines.
Medium-term: Avoid new entries.
Colin Twiggs
Don't try to buy at the bottom and sell at the top.
It can't be done except by liars.

- Bernard Baruch
---
Back Issues
Access the Trading Diary Archives.
---