---
---
WineOrb, Australia's premium fine wine broker, are offering a free Masterclass for you and your partner, to show you what to look for when making an investment in wine.
Complete the form on our site and tell us in less than 25 words why you would like to attend. The best entries will be invited to join us at the Masterclass on the 16th May 2003. Click here to enter.
---
Trading Diary
March 4, 2003
These extracts from my daily trading diary are intended to illustrate the techniques used in short-term trading and should not be interpreted as investment advice. Full terms and conditions can be found at Terms of Use

.
USA
The Dow dropped sharply, losing 1.7% to close at 7704 on average volume. The next support level is 7500.
The primary trend is down.
The Nasdaq Composite closed down 1% at 1304. Equal highs (on 21/2 and 3/3) signal that the index is likely to weaken. The next support level is at 1200.
The primary trend is up.
The S&P 500 lost 13 points to close at 821. The next support level is at 768.
The primary trend is down.
The
Chartcraft NYSE Bullish % Indicator
is at 40% (March 3).
Auto sales slump
General Motors February auto sales are 19% below figures from 2002.
(more)
Gold
New York (16.55): Spot gold has gained 440 cents to $US 352.90.
ASX Australia
The All Ordinaries formed an inside day, signaling uncertainty. The index closed down 5 points at 2787 on higher volume. So far support has held, but selling pressure is still strong.

Slow Stochastic (20,3,3) and MACD (26,12,9) have both crossed to above their signal lines. Twiggs Money Flow shows a small bullish divergence.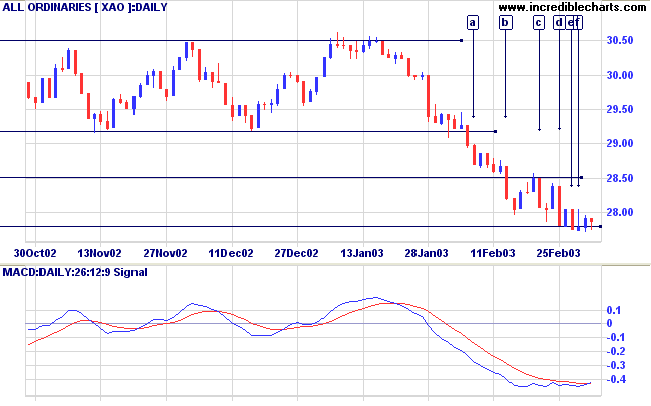 Santos [STO]
Last covered on
February 18, 2003
.
STO has formed a stage 3 top, in the form of a triangle, over the past two years. We now see a break below the base of the triangle and the 100-day Twiggs Money Flow signals weakness.
Relative Strength (price ratio: xao) is level, but MACD signals weakness and 21-day Twiggs Money Flow signals distribution.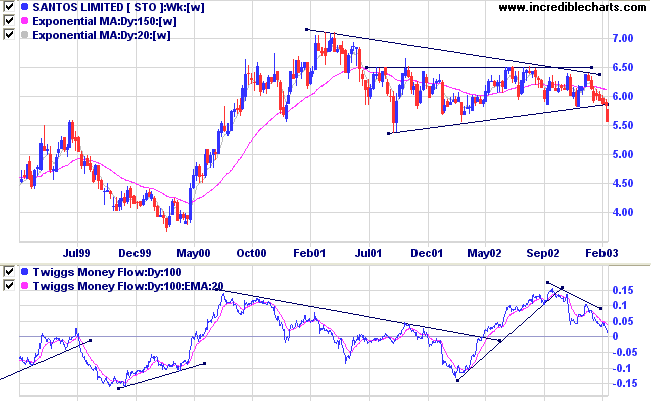 On the equivolume chart, STO reached the support level at [9]. A congestion pattern then formed until the break below 5.85 at [10]. The pull-back over the next three days tested the new resistance level; volume was weak and no day succeeded in closing above 5.85. 
Day [12] gapped down on light volume and was followed by a second strong downward bar.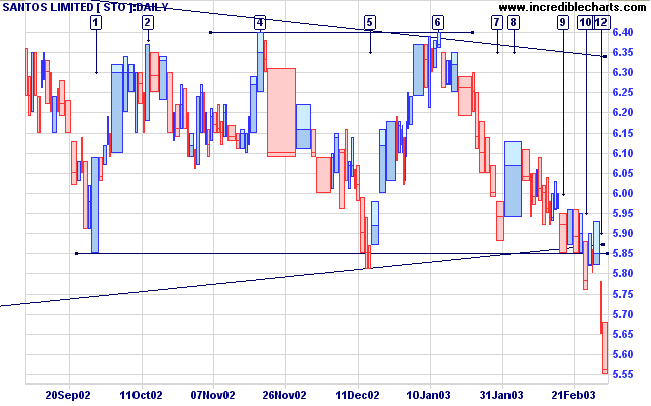 We now see the start of a stage 4 down-trend.
The projected target is 4.11 (5.85 - 7.11 + 5.37).
Short-term: Long if the All Ords rises above 2804. Slow Stochastic and MACD are above their respective signal lines.
Medium-term: Avoid new entries.
Colin Twiggs
Zigong asked: Is there any single word that could guide one's entire life? 
The Master said: Should it not be reciprocity?
What you do not wish for yourself, do not do to others.

- The Analects of Confucius
---
Back Issues
Access the Trading Diary Archives.
---