---
---

This slot will occasionally be used for advertising. 
We need to accurately gauge normal response levels and ask users not to make false/spurious responses. 
We are not paid for click-throughs.
---
Trading Diary
February 28, 2003
These extracts from my daily trading diary are intended to illustrate the techniques used in short-term trading and should not be interpreted as investment advice. Full terms and conditions can be found at Terms of Use

.
The Dow closed almost unchanged at 7891 on above-average volume, showing uncertainty. The next support level is 7500.
The primary trend is down.

The Nasdaq Composite closed up 1% at 1337. The next support level is at 1200.
The primary trend is up.

The S&P 500 gained 4 points to close at 841. The next support level is at 768.
The primary trend is down.

The Chartcraft NYSE Bullish % Indicator is at 40% (February 27).
Consumer confidence
There is a strong link between consumer confidence and stock market performance. (more)
Gold
New York (17.00): Spot gold closed up 410 cents at $US 349.60.
The All Ordinaries' attempted recovery gave way to heavy selling, resulting in a close back at 2778 and a volume spike. Selling pressure is strong and the index threatens to break below the support level and continue the down-trend.

Slow Stochastic (20,3,3) is below its signal line; MACD (26,12,9) is below. Twiggs Money Flow still shows a small bullish divergence.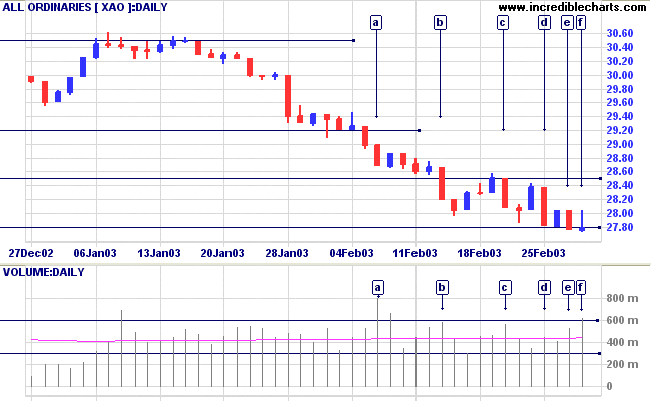 The long-term Coppock Indicator slopes downwards. A bull market is signaled by an up-turn below zero.
Sector Analysis
Changes are highlighted in bold.
Energy [XEJ] - stage 4 (RS is rising)

Materials [XMJ] - stage 2 (RS is rising)

Industrials [XNJ] - stage 4 (RS is falling)

Consumer Discretionary [XDJ] - stage 1 (RS is level)

Consumer Staples [XSJ] - stage 4 (RS is rising)

Health Care [XHJ] - stage 4 (RS is falling)

Property Trusts [XPJ] - stage 2 (RS is rising)

Financial excl. Property Trusts [XXJ] - stage 4 (RS is falling)

Information Technology [XIJ] - stage 4 (RS is level)

Telecom Services [XTJ] - stage 4 (RS is level)

Utilities [XUJ] - stage 2 (RS is rising)
On the 3-month sectors chart below, Utilities is the only sector that is still positive.
As mentioned earlier in the week, the Materials sector should be broken down into component industries, many of which are also positive.
Industrials has joined IT, Health Care, Cons. Discretionary, Financials and Telecom sectors in the "weak" category.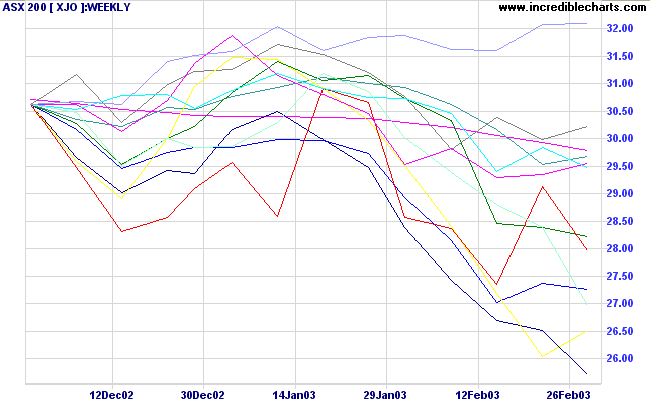 Sectors: Relative Strength
A stock screen of the ASX 200 using % Price Move (1 month: +5%) returned 24 stocks (compared to 16 on February 14, 2003;  99 on August 23, 2002; and 10 on October 4, 2002).
Three of the stocks were from Construction Materials and three from Electronic Equipment.
Short-term: Short. Slow Stochastic and MACD are below their respective signal lines.
Medium-term: Avoid new entries.
Colin Twiggs
When you have completed 95 percent of your journey,
you are only halfway there.

- Japanese proverb.
---
Back Issues
Access the Trading Diary Archives.
---