---
---

We are making good progress
and will announce a start date shortly.

One area that is likely to be delayed is dividend data
- we have to find another data supplier due to reliability issues.
---
Trading Diary
February 25, 2003
These extracts from my daily trading diary are intended to illustrate the techniques used in short-term trading and should not be interpreted as investment advice. Full terms and conditions can be found at Terms of Use

.
After breaking below the congestion zone at the opening, the Dow rallied after lunch to close up 0.6% at 7909 on higher volume. The next support level is 7500.
The primary trend is down.

The Nasdaq Composite mirrored the Dow, closing up 0.5% at 1328.
The primary trend is up.

The S&P 500 repeated the story, breaking below congestion and then rallying back up to close at 838. The next support level is at 768.
The primary trend is down.

The Chartcraft NYSE Bullish % Indicator is at 42% (February 24).
Consumer confidence at 9-year low
The Conference Board index of consumer confidence dropped to 64 from 78.8 in January. (more)
Gold
New York (16.45): Spot gold is back down 540 cents at $US 351.70.
The All Ordinaries closed 2% down at 2780, testing support from October 1999. Higher volume on the declines, [a] to [d], signal trend strength. The support level will be severely tested over the next few days.

Slow Stochastic (20,3,3) is below its signal line; MACD (26,12,9) is below. Twiggs Money Flow still shows a small bullish divergence.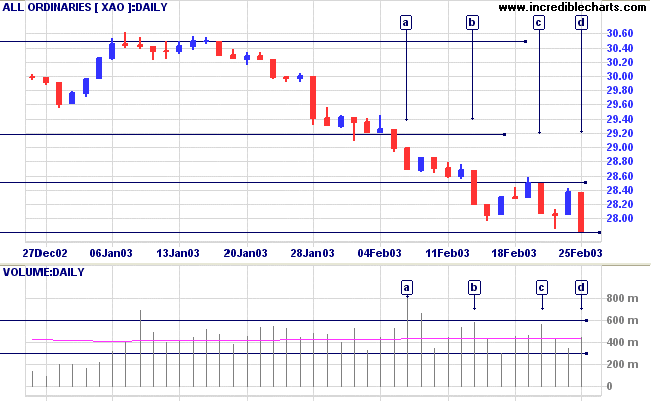 CSL Limited [CSL]
Last covered on
December 2, 2002
.
Another stock from the weak Health Care sector, CSL formed a stage 3 top in 2001 after a strong up-trend. The ensuing down-trend was even faster, falling to 16.00 at the end of November before a brief rally to 23.00. The stock then formed a double top, a strong continuation signal in a down trend, before resuming the stage 4 decline.
Relative Strength (price ratio: xao) is weakening, Twiggs Money Flow signals strong distribution and MACD is bearish.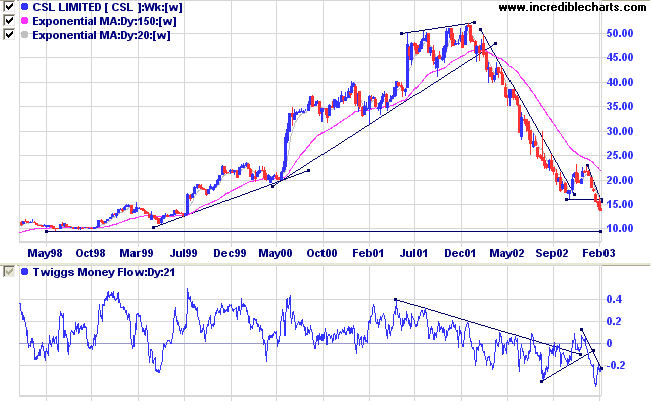 Equivolume shows completion of the recent double top at [8]. This also closed the gap at [1], reinforcing the signal. The short pull-back at [9] signaled strong selling pressure. The next counter-trend at [11] was stronger, but failed to test resistance at 17.60. The counter-trend at [12] only lasted one day, briefly testing resistance at the low of [10], but on low volume with a weak close, signaling trend strength.

The down-trend is strong and the next major support level is at 10.00 (on the weekly chart).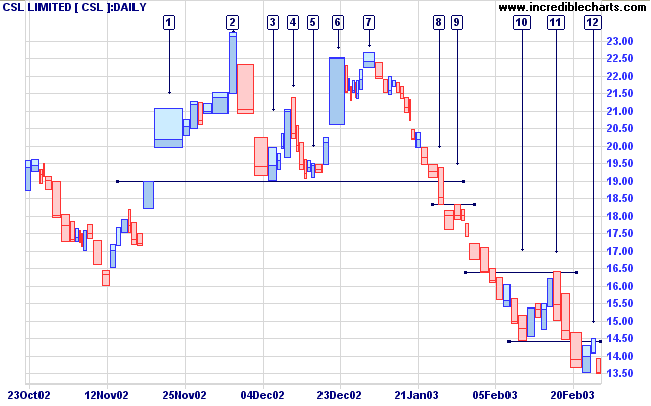 Short-term: Short. Slow Stochastic and MACD are below their respective signal lines.
Medium-term: Avoid new entries.
Colin Twiggs
Whatever failures I have known, whatever errors I have committed,
whatever follies I have witnessed in private and public life
have been the consequence of action without thought.

- Bernard Baruch
---
Back Issues
Access the Trading Diary Archives.
---