---
---
Chart Forum Troubleshooting

Those readers who have had difficulty registering for the Chart Forum,
or uploading chart images to their posts:

Please refer to Forum Troubleshooting for assistance.
---
Trading Diary
February 20, 2003
These extracts from my daily trading diary are intended to illustrate the techniques used in short-term trading and should not be interpreted as investment advice. Full terms and conditions can be found at Terms of Use

.
The Dow retreated a further 1.0% to close at 7914 on higher volume. The rally failed to carry above the first resistance level at 8189, signaling that we are still in a down-trend (secondary/intermediate cycle). The next support level is 7500.
The primary trend is down.

The Nasdaq Composite formed another inside day, closing down 3 points at 1331.
The primary trend is up.

The S&P 500 lost 8 points to close at 837, resuming the down-trend (secondary/intermediate cycle). The next support level is 768.
The primary trend is down.

The Chartcraft NYSE Bullish % Indicator is at 42% (February 19).
Wholesale price - inflation threat?
January producer price index jumped 1.6%, the biggest increase since 1990, while jobless claims are back above 400,000. (more)
Gold
New York (16.50): Spot gold is up 340 cents at $US 352.40.
The All Ordinaries failed to close above the 2850 resistance level and reversed sharply downwards, taking out 3 days gains in a single day on strong volume. The index closed 43 points down at 2807, signaling a strong down-trend.
The next support level is at 2779 (from October 1999).

Slow Stochastic (20,3,3) is above its signal line; MACD (26,12,9) is below. Twiggs Money Flow closed lower, signaling distribution.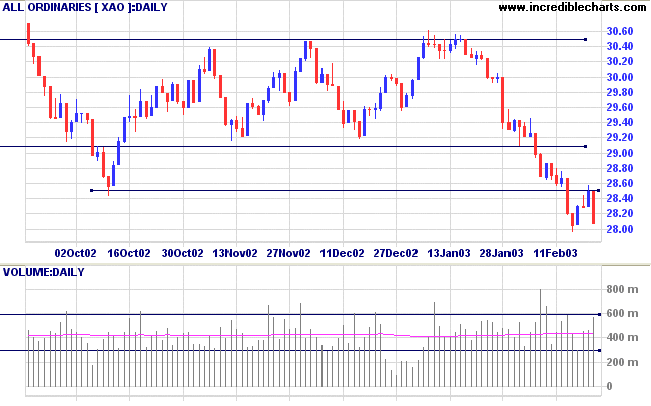 Sector Analysis
The chart below shows the comparative performance (using Price Comparison) of sector indices over the past 18 months against a 30-week weighted moving average of the XJO.
The strongest-looking sector is Utilities
while Health Care
and Financials (excl. Property)
presently look the weakest (Information Technology and Consumer Discretionary appear to be leveling off).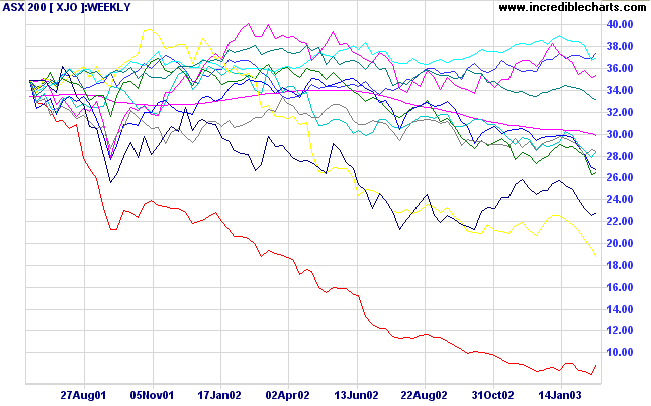 A similar exercise performed on the top ASX 200 stocks in the Health Care sector reveals four major stocks dragging the index down: CSL, MAY, RMD and PTD.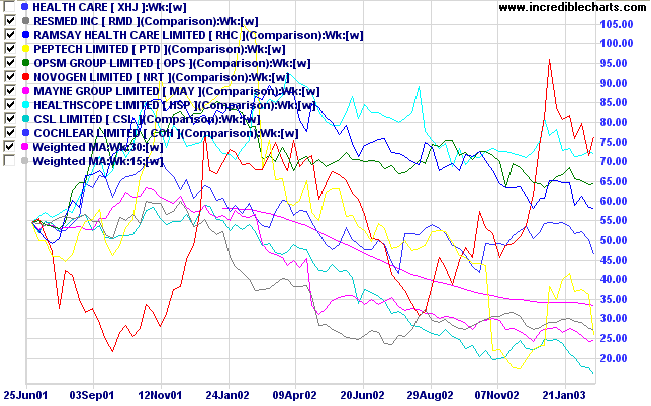 Short-term traders should identify the weakest sectors and then scan for weakening stocks for short trades. Likewise, take long trades in only the strongest sectors.
Short-term: Short if the All Ords falls below 2800. Slow Stochastic and MACD are on opposite sides of their respective signal lines.
Medium-term: Avoid new entries.
Colin Twiggs
During my eighty-seven years I have witnessed a whole succession of technological revolutions.
But none of them has done away with the need for character in the individual or the ability to think.

- Bernard Baruch.
---
Back Issues
Access the Trading Diary Archives.
---