---
---
Chart Forum Troubleshooting

Those readers who have had difficulty registering for the Chart Forum,
or uploading chart images to their posts:

Please refer to Forum Troubleshooting for assistance.
---
Trading Diary
February 19, 2003
These extracts from my daily trading diary are intended to illustrate the techniques used in short-term trading and should not be interpreted as investment advice. Full terms and conditions can be found at Terms of Use

.
The Dow formed an inside day, closing at 8000 on lower volume.
If the rally carries above the first resistance level at 8189, this will signal (secondary/intermediate cycle) weakness in the down-trend.
The primary trend is down.

The Nasdaq Composite also formed an inside day, closing down 12 points at 1334.
The primary trend is up.

The S&P 500 closed down 6 points at 845 on another inside day.
The first resistance level is 868.

The Chartcraft NYSE Bullish % Indicator is at 42% (February 18).
Gold
New York (18:30): Spot gold rallied 690 cents to $US 349.30.
The rally on the All Ordinaries continues, with the index closing up 21 points on average volume.
A move above 2850 will signal down-trend weakness.

Slow Stochastic (20,3,3) is above its signal line; MACD (26,12,9) is below. Twiggs Money Flow has completed a small bullish divergence and broken the downward trendline.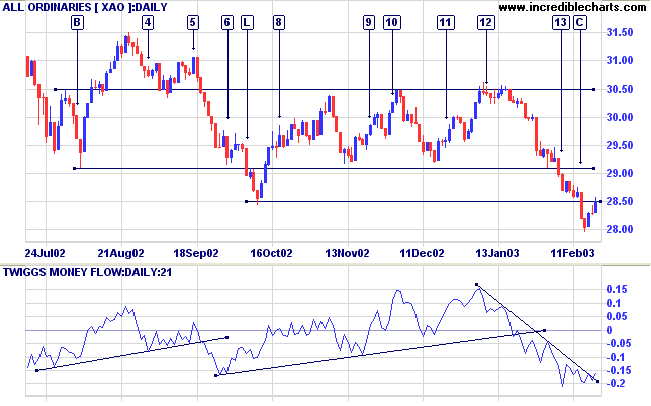 Boral [BLD]
After a broad base in 2000, Boral started with a fast stage 2 up-trend. The trend accelerated into a high at [A] before progressively slowing, with lengthy consolidations following the highs at [A], [B] and [C]. The last consolidation, after [C], did not hold above the support level from [B], confirming that BLD is in a creeping up-trend.
The Materials Index is in a stage 2 up-trend.

The stock has now made a false break at [D], rising above the 4.60 resistance level but closing back below.

The long-term 100-day Twiggs Money Flow shows a strong bearish divergence.
Relative Strength (price ratio: xao) is still rising; while MACD is bullish; and 21-day Twiggs Money Flow is falling.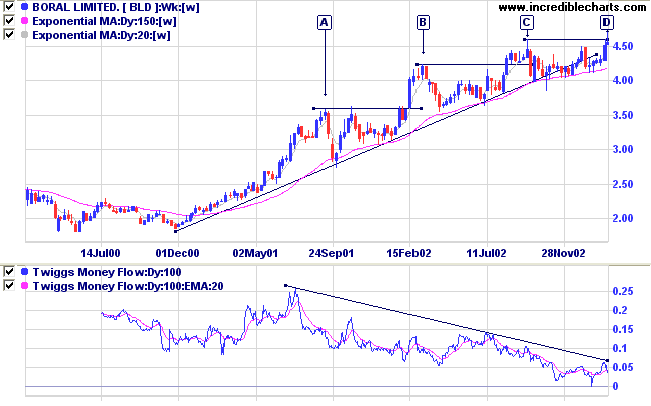 The equivolume chart shows the false breakout at [9]. This occurred after BLD gave a strong bull signal at [8]: the pull-back from the resistance level lasted only two days, with volume and range drying up on the second day. This is normally a good opportunity for short-term traders to enter on a buy-stop, above the high of [8], with a stop-loss below the low.

The breakout at [9] displayed good volume but closed weakly, at the day's low. A false upward break is normally followed by a test of support levels, probably at the 4.10 level in this case. A break below the low of [8] will complete the bear signal.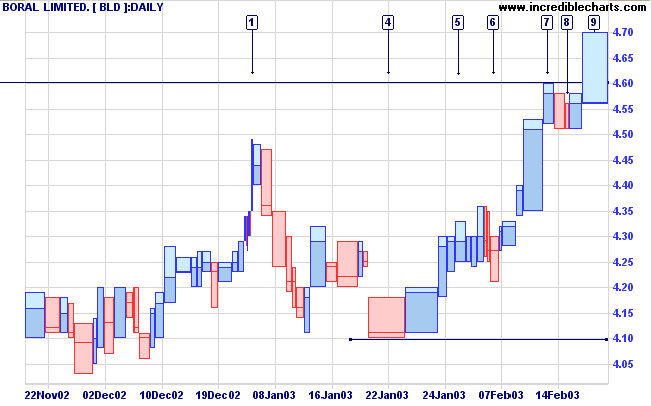 Short-term: Avoid new entries. Slow Stochastic and MACD are on opposite sides of their respective signal lines.
Medium-term: Avoid new entries.
Colin Twiggs
They who lack talent expect things to happen without effort.
They ascribe failure to a lack of inspiration or ability, or to misfortune,
rather than to insufficient application.
At the core of every true talent there is an awareness
of the difficulties inherent in any achievement,
and the confidence that by persistence and patience
something worthwhile will be realized.

- Eric Hoffer.
---
Back Issues
Access the Trading Diary Archives.
---