---
---
Chart Forum Troubleshooting

Those readers who have had difficulty registering for the Chart Forum,
or uploading chart images to their posts:

Please refer to Forum Troubleshooting for assistance.
---
Trading Diary
February 17, 2003
These extracts from my daily trading diary are intended to illustrate the techniques used in short-term trading and should not be interpreted as investment advice. Full terms and conditions can be found at Terms of Use

.
The market was closed Monday in observance of Washingtons's birthday.

The Chartcraft NYSE Bullish % Indicator is at 42% (February 14).



Global market reaction to Iraq
Global markets rallied as the likelihood of an immediate war with Iraq fades, while gold and oil declined. (more)




Gold
New York (16.45): Spot gold is 460 cents down at $US 346.70.
The All Ordinaries rallied to 2830 on very low volume. Duration and volume activity on the pull-back will indicate the strength of the down-trend and whether the lower end of the 2850 to 2779 support band is likely to hold.

Slow Stochastic (20,3,3) is above its signal line; MACD (26,12,9) is below; Twiggs Money Flow signals distribution.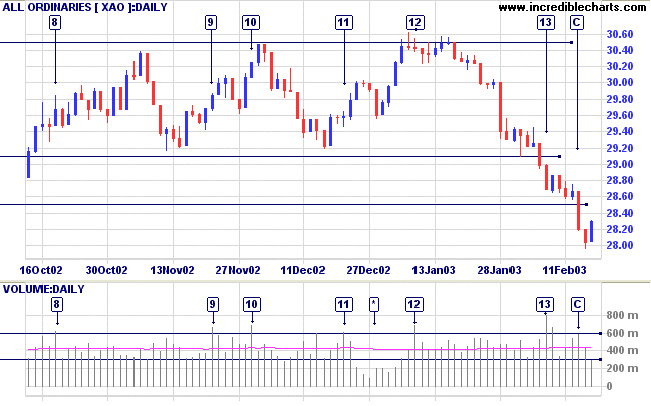 Newcrest Mining [NCM]
Last covered on November 13, 2002.
After a fast up-trend NCM formed a high at [E] before retreating back to the 5.50 support level. The stock is now ranging between 7.50 and 5.50. The lower equal highs at [G] and [K] (some would call this a double top - even though the neckline is not yet broken) are a strong bear signal and NCM appears headed for a re-test of the 5.50 support level. There has been no significant fading of volume towards the peaks, nor surge in volume on the declines, so we will have to observe the behavior of the stock when it reaches the support level.

Relative Strength (price ratio:xao) is moving sideways; MACD is bearish; and Twiggs Money Flow signals distribution.


Short-term: Avoid new entries. Slow Stochastic and MACD are on opposite sides of their respective signal lines.
Medium-term: Avoid new entries.
Colin Twiggs
Every man is proud of what he does well;
and no man is proud of what he does not do well.
With the former, his heart is in his work;
and he will do twice as much of it with less fatigue.
The latter performs a little imperfectly, looks at it in disgust,
turns from it, and imagines himself exceedingly tired.
The little he has done, comes to nothing, for want of finishing.

- Abraham Lincoln (1859)
---
Back Issues
Access the Trading Diary Archives.
---