---
---
The reduced subscription to existing members will run for at least 4 weeks
after all the data is in place and the free trial commences.
Subscription/Registration forms will be available from the start of the free trial period.

We will keep you informed of progress.
---
Trading Diary
February 7, 2003
These extracts from my daily trading diary are intended to illustrate the techniques used in short-term trading and should not be interpreted as investment advice. Full terms and conditions can be found at Terms of Use

.
The Dow has broken out below the recent congestion pattern, closing down 0.8% at 7864 on average volume.
The index appears headed for a re-test of support at 7500.
The primary trend is down.

The Nasdaq Composite closed down 19 points at 1282; the next major support level is at 1200.
The primary trend is up (the last low was 1108, the last high 1521).

The S&P 500 closed down 9 points at 829.
The index formed a base between 768 and 964 but appears headed for a re-test of the support level.

The Chartcraft NYSE Bullish % Indicator remains at 46% (February 6).



Unemployment falls
The jobless rate fell to 5.7%, from 6.0% in December, but economists ascribe this to seasonal influences. (more)




Gold
New York (17.00): Spot gold closed at $US 369.30.
The All Ordinaries recovered 18 points to close at 2886 on strong volume, above the 2850 support level.

Slow Stochastic (20,3,3) is below its signal line; MACD (26,12,9) is below; Twiggs Money Flow signals distribution.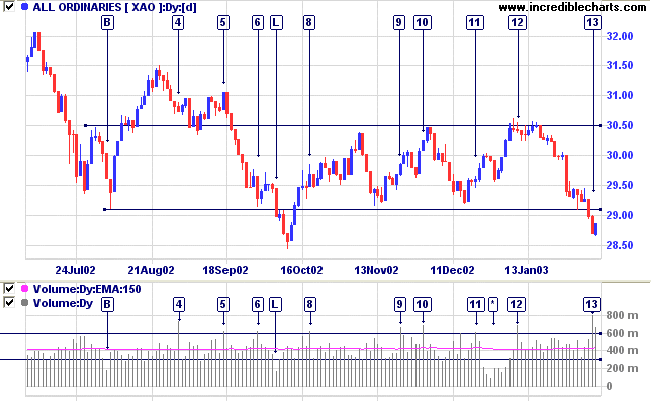 Croesus Mining NL [CRS]
Croesus started a stage 2 up-trend at [A] but then accelerated into a spike at [B]. There was a secondary reaction to [C] before the stock established a fast trend channel.
Relative Strength (price ratio:xao) is rising; Twiggs Money Flow has signaled accumulation for more than a year; and MACD is positive.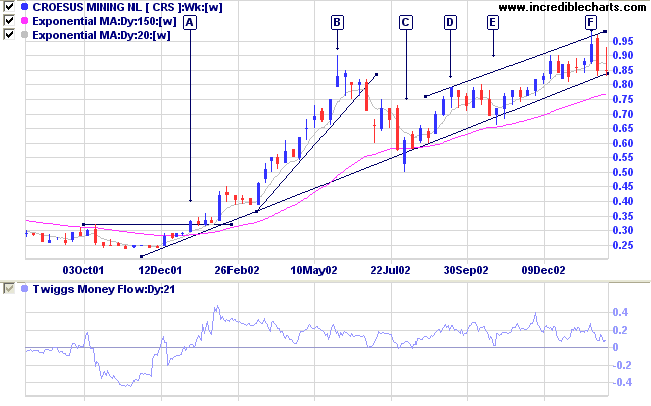 The daily chart shows entry opportunities at [E] and [7], where both volume and range dried up at the supporting trendline. Entries can be taken using a buy-stop above the high of the signal day, with stop-losses below the short-term lows.

CRS now appears to be forming an equal low at [8]; a strong bull signal in an up-trend. There may be further entry points in the days ahead.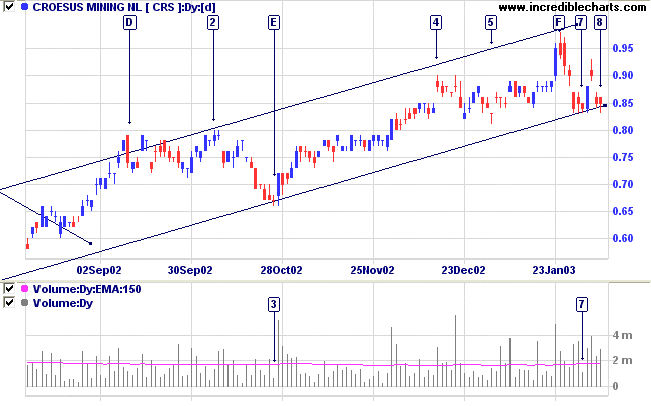 Sector Analysis
Changes are highlighted in bold.
Energy [XEJ] - stage 4 (RS is level)

Materials [XMJ] - stage 2 (RS is rising)

Industrials [XNJ] - stage 4 (RS is rising)

Consumer Discretionary [XDJ] - stage 2 (RS is rising)

Consumer Staples [XSJ] - stage 4 (RS is rising)

Health Care [XHJ] - stage 1 (RS is level)

Property Trusts [XPJ] - stage 2 (RS is rising)

Financial excl. Property Trusts [XXJ] - stage 4 (RS is falling)

Information Technology [XIJ] - stage 4 (RS is level)

Telecom Services [XTJ] - stage 4 (RS is falling)

Utilities [XUJ] - stage 2 (RS is rising)
Sectors: Relative Strength
A stock screen of the ASX 200 using % Price Move (1 month: +5%) returned 17 stocks (compared to 99, August 23rd and 10 on October 4th).
There were no prevalent sectors.
Short-term: Short if the All Ords falls below 2864. Slow Stochastic and MACD are below their respective signal lines.
Medium-term: Avoid new entries.
Colin Twiggs
We should be careful to get out of an experience only the wisdom that is in it - and stop there;
lest we be like the cat that sits down on a hot stove-lid.
She will never sit down on a hot stove-lid again, and that is well;
but also she will never sit down on a cold one anymore.

- Samuel Clemens (1835 - 1910)
---
Back Issues
Access the Trading Diary Archives.
---