---
---
The reduced subscription to existing members will run for at least 4 weeks
after all the data is in place and the free trial commences.
Subscription/Registration forms will be available from the start of the free trial period.

We will keep you informed of progress.
---
Trading Diary
February 4, 2003
These extracts from my daily trading diary are intended to illustrate the techniques used in short-term trading and should not be interpreted as investment advice. Full terms and conditions can be found at Terms of Use

.
The Dow is still within the congestion pattern, closing down 1.2% at 8013 on low volume.
The congestion is likely to be a continuation pattern and the index appears headed for a re-test of the 7500 support level.
The primary trend is down.

The Nasdaq Composite closed down 17 points at 1306. The next major support level is at 1200.
The primary trend is up (the last low was 1108 and the last high 1521).

The S&P 500 has also formed a congestion pattern, closing down 12 points at 848. The index appears headed for a re-test of support at 768.
The index is forming a base between 768 and 964.

The Chartcraft NYSE Bullish % Indicator is on a bull correction signal at 46% (February 3).



Powell to address U.N.
Secretary of State Colin Powell says that he will present no "smoking gun" to the U.N. but will show that Iraq is not complying with the resolution to disarm. (more)

American International
AIG led the insurance sector lower, announcing that it will take a $US 1.8 billion charge to cover higher than expected claims for workers compensation and executives' liability.




Gold
New York (16:30): Spot gold has climbed more than 10.00 dollars to $US 381.80.
The All Ordinaries is forming a congestion pattern just above the 2915 support level, closing up 5 points at 2926 on higher volume. The index has formed a base between 2915 and 3050, with the support level currently being tested .

Slow Stochastic (20,3,3) has crossed to above its signal line; MACD (26,12,9) is below; Twiggs Money Flow signals distribution.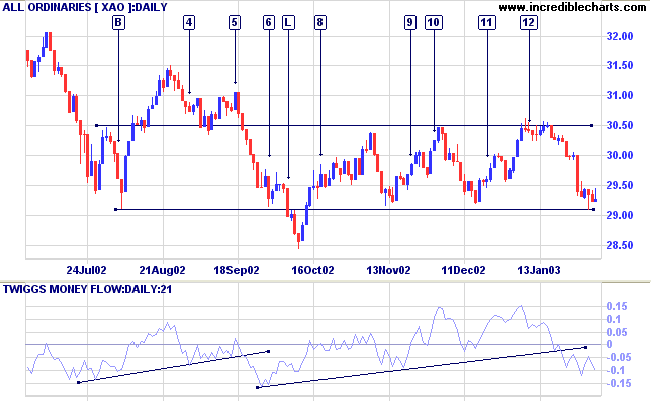 Gunns [GNS]
Last covered on November 26, 2002.
Gunns has been in a stage 2 up-trend since breaking above the 3-month high at [A]. A slow, creeping trend developed until the breakout above resistance at [B]. Since then the stock has been in a fast trend, with the troughs ending at or above the previous peaks.

Relative Strength (price ratio: xao) is rising and MACD is bullish. Twiggs Money Flow has completed a trough above zero at [C], a strong bull signal, and signals accumulation.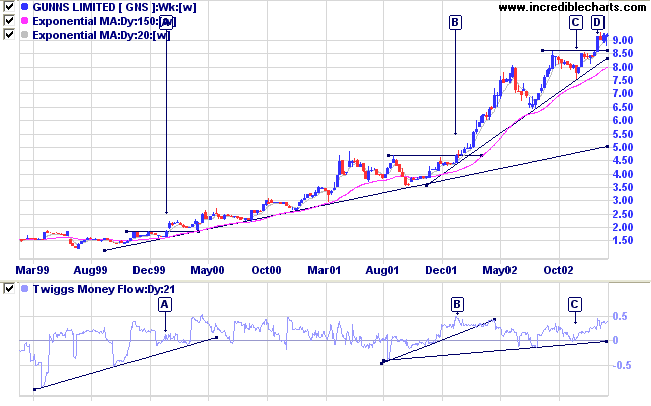 Long/medium term traders should watch for two possible developments:
The fast trend may develop into a spike, where the trend goes almost vertical. Tighter stop losses (possibly a trailing stop) should be introduced, to lock in profits in case of a sudden reversal.

The fast trend may weaken, breaking below the supporting trendline. Here the trader has to beware of false breaks, where price dips below the trendline and then immediately reverses back above, normally identifiable by a lack of volume confirmation. The trader's normal exit strategy should cope with this and should only be adjusted if price respects the trendline from below (price peaks below the trendline).
The daily equivolume chart shows the bear trap at [8] highlighted in November. This was followed by a test of resistance at [10] and a healthy pull-back on low volume to [11]. The breakout at [12] was unconvincing due to thin volume. But the next pull-back only lasted one day, with a narrow daily range; a strong bull signal.

The "fat" bar at [13] showed sellers entering the market but the pull-back to [14] was, again of short duration.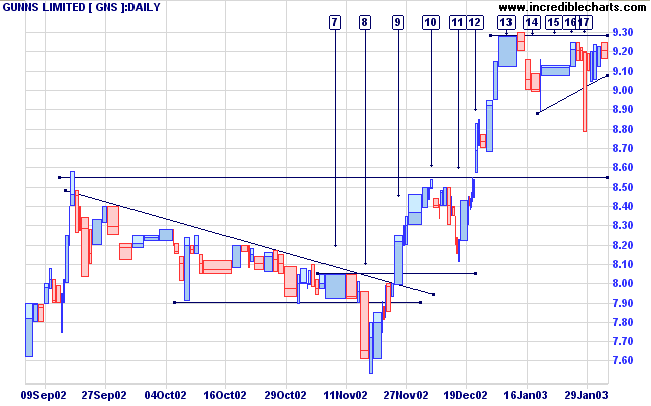 The next pull-back at [17] was on thin volume and a break above the high of [16] will be bullish. A rise above the high of [13] will be an even stronger bull signal.

A close below 9.00 would be bearish.
Short-term: Avoid new entries. The Slow Stochastic and MACD are on opposite sides of their respective signal lines.
Medium-term: Avoid new entries.
Colin Twiggs
Many intelligence reports in war are contradictory;
even more are false, and most are uncertain.
Everything in war is very simple, but the simplest thing is difficult.
The difficulties accumulate and end by producing a kind of friction. . . .
This tremendous friction . . . is everywhere in contact with chance,
and brings about effects that cannot be measured,
just because they are largely due to chance. . . .
Moreover, every war is rich in unique episodes.
The good general must know friction in order to overcome it whenever possible,
and in order not to expect a standard of achievement in his operations
which this very friction makes impossible.
Is there any lubricant that will reduce this abrasion?
Only one . . . combat experience.


- Prussian military thinker Claus von Clausewitz:
translated from Vom Kriege ("On War") (1831)
---
Back Issues
Access the Trading Diary Archives.
---