---
---
The reduced subscription to existing members will run for at least 4 weeks
after all the data is in place and the free trial commences.
Subscription/Registration forms will be available from the start of the free trial period.

We will keep you informed of progress.
---
Trading Diary
February 3, 2003
These extracts from my daily trading diary are intended to illustrate the techniques used in short-term trading and should not be interpreted as investment advice. Full terms and conditions can be found at Terms of Use

.
The Dow is still within the congestion pattern of the last few days, closing up 0.7% at 8109 on lower volume.
The index appears headed for a re-test of the 7500 support level. The primary trend is down.

The Nasdaq Composite closed up 3 points at 1323. The next major support level is at 1200.
The primary trend is up.

The S&P 500 also displays congestion, up 5 points at 860. The index appears headed for a re-test of support at 768.

The Chartcraft NYSE Bullish % Indicator is on a bull correction signal at 46% (January 31).



Manufacturing grows
The Institute of Supply Management index of manufacturing activity records a second month of growth. (more)




Gold
New York (16:45): Spot gold has recovered to $US 371.10.
The All Ordinaries closed down 14 points at 2921 on lower volume.
The index has, so far, failed to breach the 2915 support level.

Slow Stochastic (20,3,3) has crossed to above its signal line; MACD (26,12,9) is below; Twiggs Money Flow signals distribution.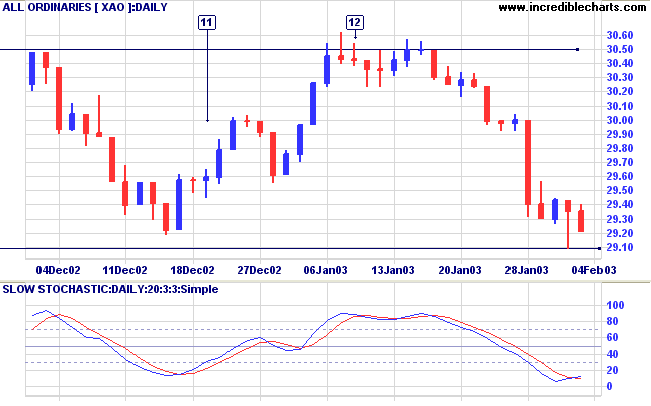 Foodland [FOA]
Last covered on January 22, 2003.
Foodland has completed a double top pattern at [A] and [B] with a break below the support level at [E]. The pattern may also be interpreted as a head and shoulders pattern, with the head at [B] and shoulders at [A] and [C]. Either way, [E] is a strong bear signal, especially as it also breaches the long-term trendline.


Relative Strength (price ratio: xao) is falling and Twiggs Money Flow signals distribution. MACD has completed a peak below zero; a further bear signal.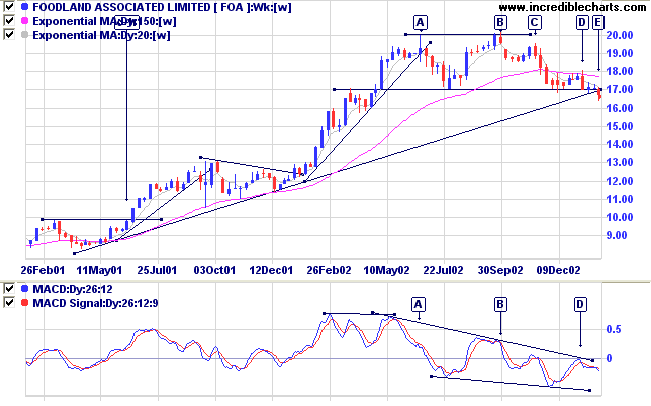 Because of a number of false breaks, including [3] and [7] below, it is advisable to wait for price to respect the new resistance level at 17.00. The
hammer
reversal signal at [13], followed by an inside day on low volume, signals that a pull-back may be imminent. Bearish signs to look for on the pull-back are:
the pull-back is of short duration (no more than 2/3 days);
volume dries up on the rally;
the daily range narrows near the resistance level.
Large volume at the resistance level will indicate an increase in selling pressure. But this also indicates continuing interest from buyers, as at [7], and may signal further re-tests of the resistance level in the weeks ahead.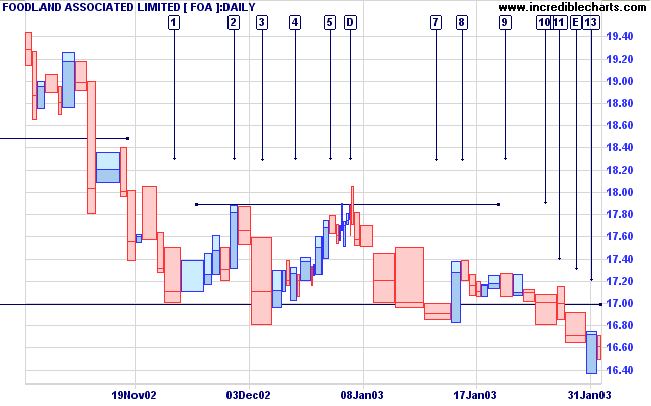 Traders who want to short FOA should place a sell-stop below the low of each day that conforms to at least 2 of the above 3 criteria.
Short-term: Avoid new entries. The Slow Stochastic and MACD are on opposite sides of their respective signal lines.
Medium-term: Avoid new entries.
Colin Twiggs
I know not how to aid you,
save in the assurance of one of mature age,
and much severe experience,
that you can not fail,
if you resolutely determine, that you will not.

- Abraham Lincoln: Letter to George Latham (1860)
---
Back Issues
Access the Trading Diary Archives.
---