---
---
The reduced subscription to existing members will run for at least 4 weeks
after all the data is in place and the free trial commences.
Subscription/Registration forms will be available from the start of the free trial period.

We will keep you informed of progress.
---
Trading Diary
January 17, 2003
These extracts from my daily trading diary are intended to illustrate the techniques used in short-term trading and should not be interpreted as investment advice. Full terms and conditions can be found at Terms of Use

.
The Dow lost 1.3% to close at 8586 on strong volume and is likely to test support at 8161.
The average has been forming a base since July 2002.
The primary trend is down and will reverse up if the average rises above 9076 (the high from December 02).

The Nasdaq Composite gapped down 3.3% to close at 1376.
The primary trend is up but is weakening and we may see a re-test of support at 1200.

The S&P 500 lost 13 points to close at 901 and may test support at 867.
The index ranges between 965 and 768, establishing a base.

US markets are closed Monday for Martin Luther King Day.

The Chartcraft NYSE Bullish % Indicator increased to 54% (January 16).



Consumer sentiment falls
The University of Michigan consumer sentiment index fell to 83.7 from 86.7 in December. (more)



Gold
New York: Spot gold eased 120 cents to $US 356.30
The All Ordinaries closed down 5 points at 3025 on lower volume. A break below 3023 will complete a short-term double top pattern with a target of 2984.
The index ranges between 2915 and 3050, forming a base.
Slow Stochastic (20,3,3) is below its signal line; MACD (26,12,9) is above; Twiggs money flow signals distribution.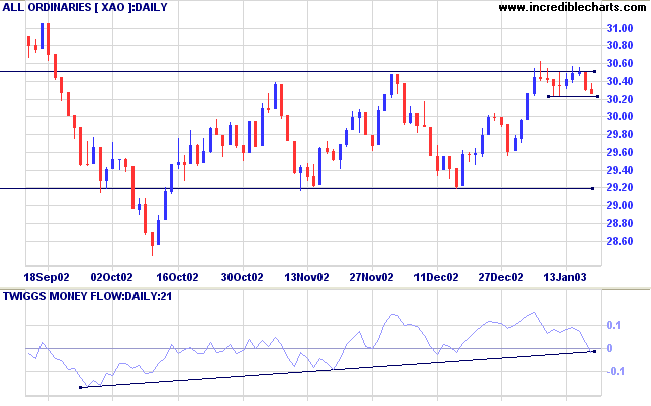 Sector Analysis
Changes are highlighted in bold.
Energy [XEJ] - stage 4 (RS is level)

Materials [XMJ] - stage 2 (RS is rising)

Industrials [XNJ] - stage 4 (RS is falling)

Consumer Discretionary [XDJ] - stage 2 (RS is rising)

Consumer Staples [XSJ] - stage 4 (RS is level)

Health Care [XHJ] - stage 1 (RS is level)

Property Trusts [XPJ] - stage 2 (RS is rising)

Financial excl. Property Trusts [XXJ] - stage 1 (RS is falling)

Information Technology [XIJ] - stage 4 (RS is falling)

Telecom Services [XTJ] - stage 4 (RS is level)
Utilities [XUJ] - stage 2 (RS is level)
Sectors: Relative Strength
A stock screen of the ASX 200 using % Price Move (1 month: +5%) returned 75 stocks (compared to 99, August 23rd and 10 on October 4th). Notable sectors are:
Agricultural products

Application Software

Auto Parts & Equipment

Broadcasting & Cable TV

Construction & Engineering

Diversified Financial Services

Diversified Metals & Mining

Electric Utilities

Gold

Oil & Gas Exploration

Publishing
Short-term: Avoid new entries. The Slow Stochastic and MACD are on opposite sides of their respective signal lines.
Medium-term: Avoid new entries.
Colin Twiggs
I am aware that there are many who wince at a distinction between property and persons
- who hold both sacrosanct.
My views are not so rigid. A life is sacred. Property is intended to serve life,
and no matter how much we surround it with rights and respect, it has no personal being.
It is part of the earth man walks on;
it is not man.

- Martin Luther King Jr. : The Trumpet of Conscience, 1967.
---
Back Issues
Access the Trading Diary Archives.
---