---
---
The reduced subscription to existing members will run for at least 4 weeks
after all the data is in place and the free trial commences.
Subscription/Registration forms will be available from the start of the free trial period.

We will keep you informed of progress.
---
Trading Diary
January 16, 2003
These extracts from my daily trading diary are intended to illustrate the techniques used in short-term trading and should not be interpreted as investment advice. Full terms and conditions can be found at Terms of Use

.
The Dow formed an inside day, down 0.3% at 8697. The short-term trend is weak.
The average is ranging between 8161 and 9076, at the top end of the base that has been forming since July 2002; a bullish sign.
The primary trend is down and will only reverse up if the average rises above 9076 (the high from December 02).

The Nasdaq Composite lost 1.0% to close at 1423.
The primary trend is up.

The S&P 500 lost 4 points to close at 914. The short-term trend shows weakness.
The index ranges between 965 and 768, establishing a base. It has recently held above 867; a bullish sign.

The Chartcraft NYSE Bullish % Indicator increased to 52% (January 15).



Iraq tension drives gold
The likelihood of another gulf war draws closer as UN weapons inspectors find empty chemical warheads.



Gold
New York: Spot gold reached a 5-year high, up 690 cents at $US 357.50
The All Ordinaries retreated to close at 3030, after failing to hold above the 3050 resistance level, a bearish sign.
The index ranges between 2915 and 3050, forming a base.
Slow Stochastic (20,3,3) has crossed to below its signal line; MACD (26,12,9) is above; Twiggs money flow is falling.
Harvey Norman [HVN]
Last covered on
August 14, 2002
.
HVN formed a triple top at [A], [D] and [F] before entering a stage 4 down-trend. Note the false break at [D]; a strong bear signal.
The stock then appeared to form a base at [K] to [L], followed by a break above resistance at [M]. This proved to be a bull trap, with a break below the trendline at [N]; a very reliable bear signal if traders are able to reverse their mind-set quickly enough to catch it. We are now presented with another potential bottom: a low at [0] followed by a false break at [1] and an ascending triangle to [7].
Relative strength (price ratio: xao) is starting to rise; MACD has completed a bullish divergence but has not yet broken above the long-term trendline; Twiggs money flow signals accumulation, having completed a bullish divergence [+].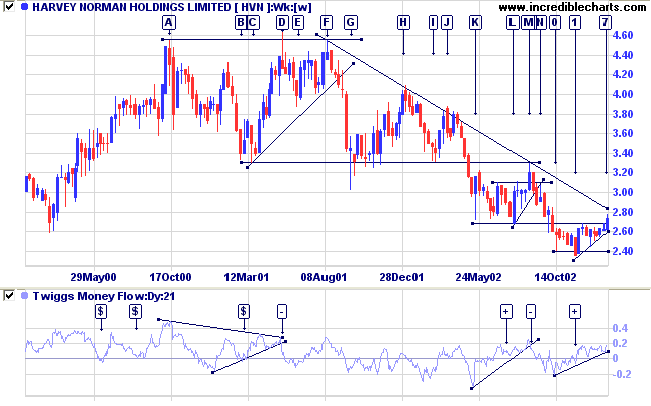 The daily chart shows a low at [0] followed by a false break at [1], with no increase in volume until the break back above 2.40. This formed the start of an ascending triangle, completed by a breakout at [7]. Short term traders may have entered at [6], spurred by the low volume and short duration of the counter-trend. The bullish triangle had some degree of volume confirmation with volume rising on each of the rallies.

HVN is now forming a congestion pattern just above the new support line. A break above the congestion pattern, especially if accompanied by strong volume, will be a bullish signal.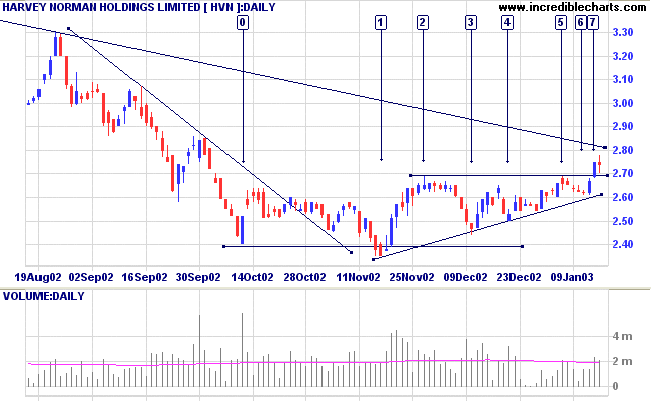 Stops should be kept tight as recoveries from a narrow base are prone to failure.
Conservative traders may wait until the stock has broken above the long-term trendline, on the weekly chart or on the MACD indicator.
Short-term: Avoid new entries. The Slow Stochastic and MACD are on opposite sides of their respective signal lines.
Medium-term: Avoid new entries.
Colin Twiggs
To eliminate fear we must embrace it.

- Another paradox. To conquer our fear we must not fight it but accept it.
---
Back Issues
Access the Trading Diary Archives.
---