---
---
Thank you for all the positive feedback on the Forum and via E-mail.

The free trial period will run for at least 4 weeks from when the new data is introduced.
Subscription/Registration forms will be available from the start of the free trial period.
---
Trading Diary
January 13, 2003
These extracts from my daily trading diary are intended to illustrate the techniques used in short-term trading and should not be interpreted as investment advice. Full terms and conditions can be found at Terms of Use

.
The Dow closed almost unchanged at 8785 on lower volume.
The average is ranging between 8161 and 9076, at the top end of the base that has been forming since July 2002; a bullish sign.
The primary trend is down and will only reverse up if the average rises above 9076 (the high from December 02).

The Nasdaq Composite lost 1 point to close at 1446.
The primary trend is up.

The S&P 500 closed almost unchanged at 926.
The index ranges between 965 and 768, establishing a base. It has recently held above 867 and failed to re-test support at 768; a bullish sign.

The Chartcraft NYSE Bullish % Indicator increased to 52% (January 10).



AOL Time Warner
AOL loses Steven Case, chairman of AOL, and Walter Isaacson, chairman of CNN, within 24 hours. (more)



Gold
New York: Spot gold eased 30 cents to $US 354.10
After a weak counter-trend the All Ordinaries is likely to re-test resistance at 3050. The index formed an inside day, closing at 3043 on lower volume on average volume. The index ranges between 2915 and 3050, forming a base. A break above 3050 will signal a primary trend change to an up-trend. Look for volume confirmation.
Slow Stochastic (20,3,3) is below its signal line; MACD (26,12,9) is above; Twiggs money flow is falling.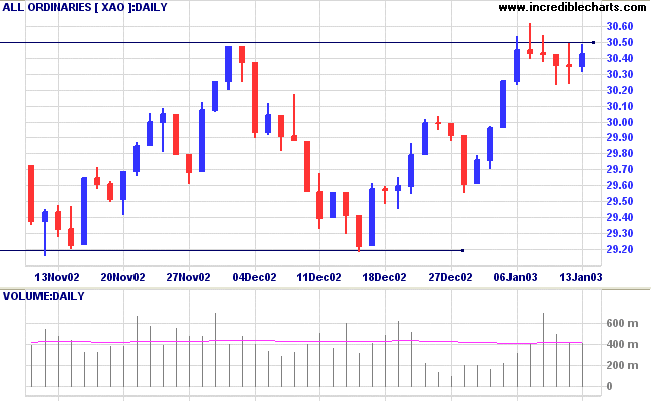 Short-term: Avoid new entries. The Slow Stochastic and MACD are on opposite sides of their respective signal lines.
Medium-term: Avoid new entries.
Colin Twiggs
Chi Wen Tzu contemplated something three times before acting upon it.
When Confucius heard this, he said, "Twice is enough."

- The Analects of Confucius: 5.19
---
Back Issues
Access the Trading Diary Archives.
---