---
---
Thank you for all the positive feedback on the Forum and via E-mail.
The Subscription/Registration forms are ready but we do not want to make them available until the free trial has started.

The free trial period will be extended to run for at least 4 weeks from when the new data is available.
---
These extracts from my daily trading diary are intended to illustrate the techniques used in short-term trading and should not be interpreted as investment advice. Full terms and conditions can be found at Terms of Use

.
The Dow rallied 2.1% to 8776 on average volume. The one-day counter-trend (Wednesday) is a bullish short-term signal.
The index is forming a base between 7500 and 9130.
The primary trend is down and will only reverse up if the average rises above 9076 (the high from December 02).

The Nasdaq Composite gained 2.7% to close at 1438, in a strong short-term up-trend.
The primary trend is up.

The S&P 500 closed 18 points up at 927.
The index ranges between 965 and 768, establishing a base.
All three indices have failed to re-test support at their 6-month lows, a bullish sign.

The Chartcraft NYSE Bullish % Indicator increased to 52% (January 08).



Technology
Technology stocks were boosted after better-than-expected results from software house SAP AG and network equipment-maker Foundry Networks. (more)



Gold
New York: Spot gold eased 120 cents to $US 352.10
The All Ordinaries lost 6 points to close at 3036. The narrow loss, long shadow and above-average volume signal that another test of resistance at 3050 may be imminent.
The index ranges between 2915 and 3050, forming a base. A break above 3050 will signal a primary trend change to an up-trend. Look for volume confirmation.
Slow Stochastic (20,3,3) has crossed below its signal line; MACD (26,12,9) is above; Twiggs money flow is falling.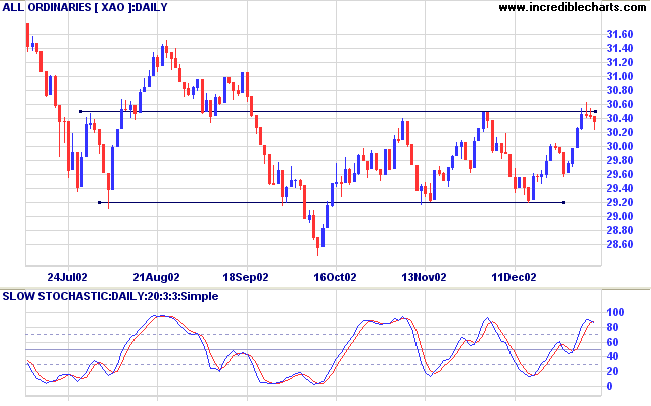 Short-term: Avoid new entries. The Slow Stochastic and MACD are on opposite sides of their respective signal lines.
Medium-term: Avoid new entries.
Colin Twiggs
Who won't be ruled by the rudder
must be ruled by the rock.

- Seafaring proverb
from Ruth Barrons Roosevelt: Exceptional Trading - The Mind Game
---
Back Issues
Access the Trading Diary Archives.
---