---
---
Coverage of stocks will resume next week.
---
These extracts from my daily trading diary are intended to illustrate the techniques used in short-term trading and should not be interpreted as investment advice. Full terms and conditions can be found at Terms of Use

.
The Dow dropped 1.6% to 8595 on average volume.
The index is forming a base between 7500 and 9130.
The primary trend is down and will only reverse up if the average rises above 9076 (the high from December 02).

The Nasdaq Composite fell 2.1% to 1401.
The primary trend is up.

The S&P 500 closed 13 points down at 909.
The index ranges between 965 and 768, establishing a base.
All three indices have failed to re-test support at their 6-month lows, a bullish sign.

The Chartcraft NYSE Bullish % Indicator increased to 52% (January 07).



Alcoa's surprise loss
Alcoa has been hurt by lower aluminum prices, reporting a fourth-quarter loss after restructuring charges. (more)

Intel sees flat sales
Intel does not foresee any increase in technology spending in the next 6 months.



Gold
New York: Spot gold is up 640 cents at $US 353.30.
The All Ordinaries shows strong resistance, with another false break above 3050 closing back at 3042 on strong volume.
Gravestone
candlesticks signal that a reversal is likely.
The index ranges between 2915 and 3050, forming a base. A break above 3050 will signal a primary trend change to an up-trend. Look for volume confirmation.
Slow Stochastic (20,3,3) is above its signal line; MACD (26,12,9) is above; Twiggs money flow is falling.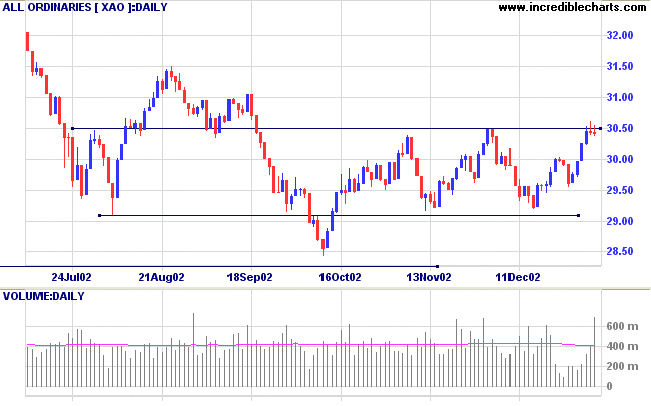 Short-term: Long if the index rises above 3062. The Slow Stochastic and MACD are above their respective signal lines.
Medium-term: Avoid new entries.
Colin Twiggs
The only real mistake is the one from which we learn nothing.

- John Powell
---
Back Issues
Access the Trading Diary Archives.
---