---
---
Apologies.

Due to communication difficulties, I am unable to post the trading diary update for Friday, January 03.
The Trading Diary will resume next week.
---
These extracts from my daily trading diary are intended to illustrate the techniques used in short-term trading and should not be interpreted as investment advice. Full terms and conditions can be found at Terms of Use

.
The Dow rallied 3.2% to close at 8607 on light volume. This is a bullish sign, but too early to tell whether there is a trend change.
The index is building a base between 7500 and 9130.
The primary trend is down and will only reverse up if the average rises above 9076 (the high from December 02).

The Nasdaq Composite rallied 3.7% to 1385.
The primary trend is up.

The S&P 500 closed 30 points up at 909.
The index is ranging between 965 and 768, establishing a base.

The Chartcraft NYSE Bullish % Indicator appears stuck at 50% (December 31).



Manufacturing rise
The Institute of Supply Management index of manufacturing activity jumped to 54.7 from 49.2.
(more)
Gold
New York: Spot gold is down 230 cents at
$US 345.30
.
The All Ordinaries rallied 21 points to close at 2996 on low volume. And we can expect further buying after the performance of the US markets.
The index ranges between 2915 and 3050, building a base.
Slow Stochastic (20,3,3) is below its signal line; MACD (26,12,9) is above; Twiggs money flow is strengthening, signaling accumulation.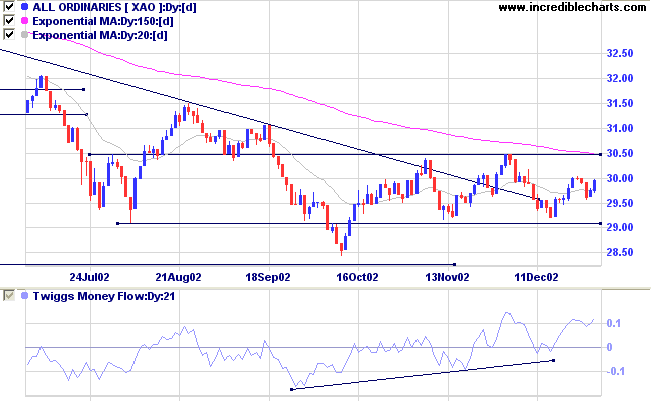 Short-term: Avoid new entries. The Slow Stochastic and MACD are on opposite sides of their respective signal lines.
Medium-term: Avoid new entries.
Colin Twiggs
Being busy does not always mean real work.
The object of all work is production or accomplishment
and to either of these ends there must be forethought,
system, planning, intelligence, and honest purpose,
as well as perspiration. Seeming to do is not doing.

- Thomas Alva Edison
---
Back Issues
Access the Trading Diary Archives.
---