---
---
For the next week I will be on holiday and will not have access to broadband cable.
I will post the daily update on the website but will be unable to send the email newsletter.
Wishing you a happy and prosperous New Year,
---
These extracts from my daily trading diary are intended to illustrate the techniques used in short-term trading and should not be interpreted as investment advice. Full terms and conditions can be found at Terms of Use

.
The Dow has been in a creeping down-trend for the last month and the December 31 close was marginally lower at 8341 on normal volume.
The index is building a base between 7500 and 9130.
The primary trend is down and will only reverse up if the average rises above 9076 (the high from December 02).

The Nasdaq Composite closed 0.3% down at 1335.
The primary trend is up.

The S&P 500 closed unchanged at 879.
The index is ranging between 965 and 768, establishing a base.

The Chartcraft NYSE Bullish % Indicator appears stuck at 50% (December 31).



January
Is January a good barometer for the year's performance?
(more)
Gold
New York: Spot gold is back up 330 cents at
$US 347.50
.
The All Ordinaries formed an inside day, closing up 14 points at 2975 on low volume, signaling indecision.
The index ranges between 2915 and 3050, building a base.
Slow Stochastic (20,3,3) is below its signal line; MACD (26,12,9) is above; Twiggs money flow signals accumulation.
The monthly Coppock indicator is below zero and falling. An up-turn below zero signals the start of a bull market.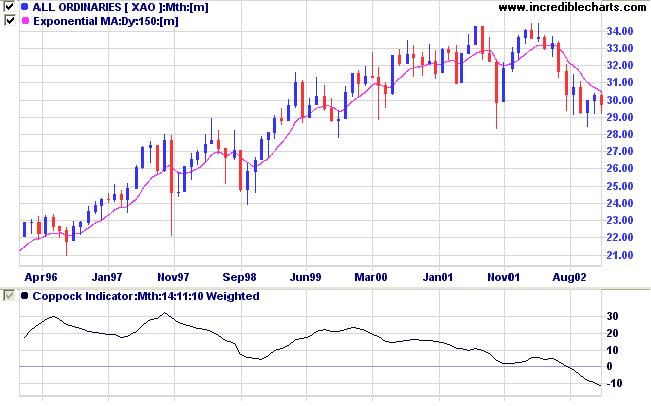 Short-term: Avoid new entries. The Slow Stochastic and MACD are on opposite sides of their respective signal lines.
Medium-term: Avoid new entries.
Colin Twiggs
For everything there is a season,
And a time for every matter under heaven:
A time to be born, and a time to die;
A time to plant, and a time to pluck up what is planted;
A time to kill, and a time to heal;
A time to break down, and a time to build up;
A time to weep, and a time to laugh;
A time to mourn, and a time to dance;
A time to throw away stones, and a time to gather stones together;
A time to embrace, And a time to refrain from embracing;
A time to seek, and a time to lose;
A time to keep, and a time to throw away;
A time to tear, and a time to sew;
A time to keep silence, and a time to speak;
A time to love, and a time to hate,
A time for war, and a time for peace.


- Ecclesiastes 3:1-8
---
Back Issues
Access the Trading Diary Archives.
---