---
---
We wish our readers peace and goodwill over Christmas and prosperity in the year ahead.
---
Trading Diary
December 27, 2002
These extracts from my daily trading diary are intended to illustrate the techniques used in short-term trading and should not be interpreted as investment advice. Full terms and conditions can be found at Terms of Use

.
The Dow eased 1.5% to 8303 on low volume.
The primary trend is down and will only reverse up if the average rises above 9130.

The Nasdaq Composite lost 20 points to 1348.
The primary trend is up.

The S&P 500 closed 15 points down at 875. The index is ranging between 965 and 768, establishing a base.

The Chartcraft NYSE Bullish % Indicator appears stuck at 50% (December 26).



Gold and bonds
Gold is expected to outperform the market in the first quarter but bonds do not have a rosy outlook.
(more)
Gold
New York: Spot gold eased 30 cents to
$US 348.90
.
The All Ordinaries closed 8 points down at 2991 on very low volume.
The index continues to range between 2915 and 3050, building a base.
MACD (26,12,9) and Slow Stochastic (20,3,3) are above their signal lines; Twiggs money flow signals accumulation.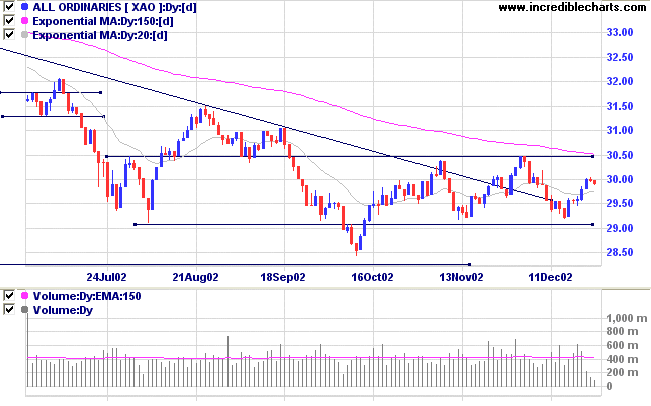 Sector Analysis
Changes are highlighted in bold.
Energy [XEJ] - stage 4 (RS is falling)
Materials [XMJ] - stage 2 (RS is rising)
Industrials [XNJ] - stage 4 (RS is falling)
Consumer Discretionary [XDJ] - stage 2 (RS is rising)
Consumer Staples [XSJ] - stage 4 (RS is falling)
Health Care [XHJ] - stage 1 (RS is level)
Property Trusts [XPJ] - stage 2 (RS is rising)
Financial excl. Property Trusts [XXJ] - stage 4 (RS is falling)
Information Technology [XIJ] - stage 4 (RS is falling)
Telecom Services [XTJ] - stage 4 (RS is falling)
Utilities [XUJ] - stage 2 (RS is level)
Sectors: Relative Strength

A stock screen of the ASX 200 using % Price Move (1 month: +5%) returned 42 stocks (compared to 99, August 23rd and 10 on October 4th). Notable sectors are:
Broadcasting & Cable TV
Construction & Engineering
Gold
Short-term:
Long.
The Slow Stochastic and MACD are above their respective signal lines.
Medium-term: Avoid new entries.
Colin Twiggs
The supreme good is like water,
which nourishes all things without trying to.

- Lao Tse.
---
Back Issues
Access the Trading Diary Archives.
---