---
---
We wish our readers peace and goodwill over Christmas and prosperity in the year ahead.
---
Trading Diary
December 20, 2002
These extracts from my daily trading diary are intended to illustrate the techniques used in short-term trading and should not be interpreted as investment advice. Full terms and conditions can be found at Terms of Use

.
The Dow formed an inside day hook reversal on strong volume, closing up 1.7% at 8512.
The primary trend is down and will only reverse up if the average rises above 9130.

The Nasdaq Composite formed a doji, signaling indecision. The close was 9 points higher at 1363.
The primary trend is up.

The S&P 500 also shows a hook reversal, closing up 11 points at 895. The index ranges between 965 and 768, establishing a base.
The primary trend is down.

The Chartcraft NYSE Bullish % Indicator appears stuck at 50% (December 18).



Wall Street settles
Wall street firms paid more than $US 1.4 billion in fines, to settle allegations that they inflated research reports to win investment banking business.
(more)
Gold
New York: Spot gold eased 500 cents to close at
$US 340.30
.
The All Ordinaries broke out of the small congestion pattern, rising 20 points to close at 2979 on above average volume.
The market is ranging between 2915 and 3050, building a broad base in the process.
The Slow Stochastic (20,3,3) is above its' signal line; MACD (26,12,9) is below. Twiggs money flow signals accumulation.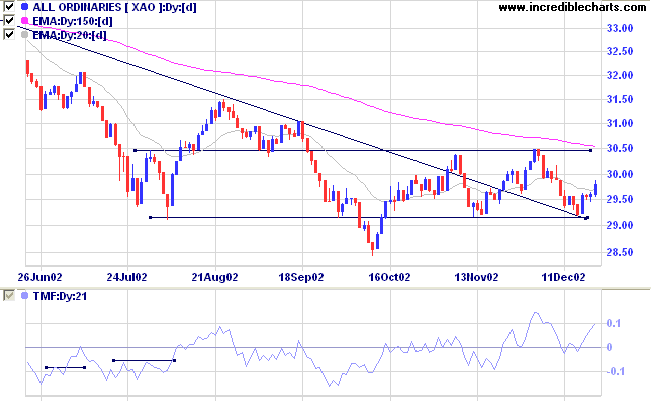 Sector Analysis
Changes are highlighted in bold.
Energy [XEJ] - stage 4 (RS is falling)
Materials [XMJ] - stage 2 (RS is rising)
Industrials [XNJ] - stage 4 (RS is falling)
Consumer Discretionary [XDJ] - stage 2 (RS is rising)
Consumer Staples [XSJ] - stage 4 (RS is falling)
Health Care [XHJ] - stage 1 (RS is level)
Property Trusts [XPJ] - stage 2 (RS is rising)
Financial excl. Property Trusts [XXJ] - stage 4 (RS is falling)
Information Technology [XIJ] - stage 4 (RS is falling)
Telecom Services [XTJ] - stage 4 (RS is falling)
Utilities [XUJ] - stage 2 (RS is level)
Sectors: Relative Strength

A stock screen of the ASX 200 using % Price Move (1 month: +5%) returned 42 stocks (compared to 99, August 23rd and 10 on October 4th). Notable sectors are:
Pharmaceuticals
Agricultural Products
Gold
Short-term: Avoid new entries. The Slow Stochastic and MACD are on opposite sides of their respective signal lines.
Medium-term: Avoid new entries.
Colin Twiggs
Therefore be at peace with God,
whatever you conceive Him to be,
and whatever your labors and aspirations,
in the noisy confusion of life keep peace with your soul.

- Max Ehrmann: Desiderata (1952)
---
Back Issues
Access the Trading Diary Archives.
---