---
---
Membership subscriptions
We want to thank existing members for their support and offer a reduced subscription to all
who subscribe by 15 February 2003.

The reduced subscription is $180 for the year (or $18 per month). Normal subscription will be $270 (or $27 per month).
There will be a free trial period for all members to evaluate the new services.
Please give us your feedback and suggestions at the Chart Forum.

---
Trading Diary
December 18, 2002
These extracts from my daily trading diary are intended to illustrate the techniques used in short-term trading and should not be interpreted as investment advice. Full terms and conditions can be found at Terms of Use

.
The Dow is trending down, closing 1% lower at 8447 on average volume. The down-trend may still re-test the 7500 and 7200 support levels.
The primary trend is down and will only reverse up if the average rises above 9130.

The Nasdaq Composite gapped down at the opening, falling 2.2% to 1361.
The primary trend is up.

The S&P 500 lost 11 points to close at 891.
The primary trend is down.

The Chartcraft NYSE Bullish % Indicator appears stuck at 50% (December 16).



Iraq fears fuel gold price
President Bush expresses concerns about omissions in the Iraqi arms declaration.



Gold
New York: Spot gold is up more than 700 cents at $US 344.10.
The All Ordinaries formed a
doji star
reversal signal, confirmed if tomorrow's close is below 2940. The index closed unchanged at 2957 on higher volume. The market is ranging between 2915 and 3050, building a broad base in the process, but now appears intent on re-testing the 2915 support level.
The Slow Stochastic (20,3,3) has crossed to above its signal line; MACD (26,12,9) is below. Twiggs money flow is just above zero.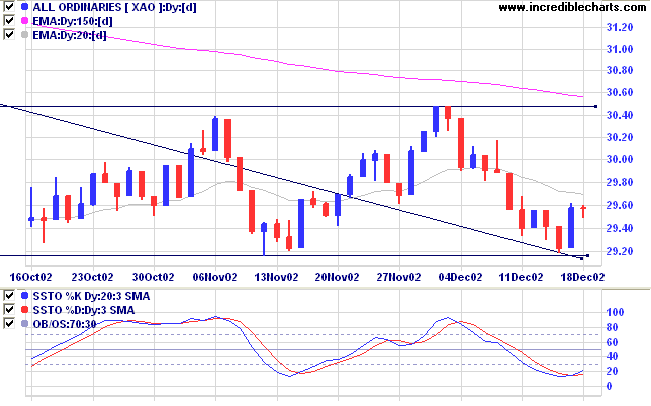 Commonwealth Bank [CBA]
Last covered on
November 8
.
After a new high at [A] and a false break a year later at [B], CBA started to trend downwards, breaking through support at 32.00, 30.00 and 28.00. A symmetrical triangle has now formed at [C], below resistance at 28.00.

Relative strength (price ratio: xao) and MACD are bearish. Twiggs Money Flow continues to signal distribution.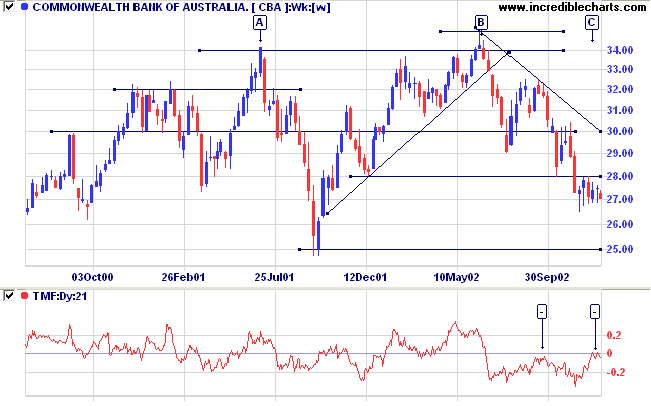 A tight congestion pattern such as a small triangle (or large pennant) is normally a continuation signal in a trend. A further bearish sign is that price has respected resistance at 28.00, the low from [1]. Volume is drying up; signaling that a breakout is imminent.
A break below 26.86, the low at [6], will be a strong bear signal, while a break above resistance at 28.00 would signal trend weakness.

The next major support level is at 25.00.
Short-term: Avoid new entries. The Slow Stochastic and MACD are on opposite sides of their respective signal lines.
Medium-term: Avoid new entries.
Colin Twiggs
Fill your bowl to the brim
and it will spill.
Keep sharpening your knife
and it will blunt.
Chase after money and security
and your heart will never unclench.
Seek people's approval
and you will be their prisoner.

Do your work, then step back.
The only path to serenity.

- Lao Tse
---
Back Issues
Access the Trading Diary Archives.
---