---
---
Membership categories
In 2003 we plan to separate membership into two categories:
Full Members will receive:
~ The Daily Trading Diary, with regular new features on technical analysis and trading, and additional coverage of the US markets;
~ A new premium version of Incredible Charts with enhanced data, enabling charts to be adjusted for company actions such as share splits, rights issues and dividends; and
~ Free access to a number of features as they are added in 2003, including US indices and 20-minute delayed data from the ASX.

Free Members
Will continue to receive free updates to Incredible Charts software and the existing data feed, as well as access to the Chart Forum and website.
Full Membership will require an annual/monthly subscription, enabling us to expand Incredible Charts range of services, while still maintaining the existing free service.

I will provide further details over the next few days.
---
Trading Diary
December 16, 2002
These extracts from my daily trading diary are intended to illustrate the techniques used in short-term trading and should not be interpreted as investment advice. Full terms and conditions can be found at Terms of Use

.
The Dow rallied 2.3% to close at 8627. Lower volume signals a lack of buying support, the down-trend may still re-test the 7500 and 7200 support levels.
The primary trend is down and will only reverse up if the average rises above 9130.

The Nasdaq Composite gained 2.8% to close at 1400.
The primary trend is up.

The S&P 500 also put in a strong rally, gaining 21 points to close at 910.
The primary trend is down.

The Chartcraft NYSE Bullish % Indicator appears stuck at 50% (December 13).



"January effect"
Some traders predict a seasonal bounce when institutions resume buying in January, after cleaning up their portfolios in the last quarter.
(more)
Gold
New York: Spot gold continues to climb, up 330 cents at
$US 336.30
, another five-year high.
The All Ordinaries closed down 19 points at 2922. Weak volume indicates that the index may soon reverse, especially after the bounce in US markets.
MACD (26,12,9) and Slow Stochastic (20,3,3) are below their signal lines; Twiggs money flow is just below zero.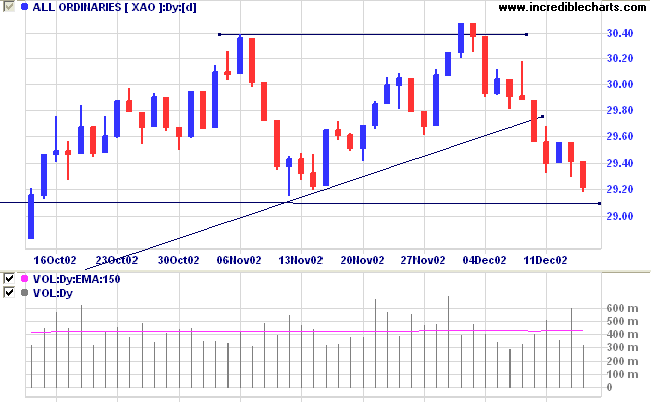 Short-term: Short if the All Ordinaries falls below 2918. The Slow Stochastic and MACD are below their respective signal lines.
Medium-term: Avoid new entries.
Colin Twiggs
Strong people make as many mistakes as weak people.
Difference is that strong people admit their mistakes, laugh at them, learn from them.
That is how they become strong.

- Richard Needham
---
Back Issues
Access the Trading Diary Archives.
---