---
---
December holidays

The newsletter over the holiday season will be shorter, with fewer stocks covered,
as we take a break from the market.

---
Trading Diary
December 13, 2002
These extracts from my daily trading diary are intended to illustrate the techniques used in short-term trading and should not be interpreted as investment advice. Full terms and conditions can be found at Terms of Use

.
The Dow closed down 1.2% at 8433 on average volume. The down-trend is strengthening and may re-test the 7500 and 7200 support levels.
The primary trend is down and will only reverse up if the average rises above 9130.

The Nasdaq Composite is in a strong down-trend, losing 2.6% to close at 1362, and appears set to test support at 1200 and 1100.
The primary trend is up.

The S&P 500 lost 12 points to close at 889.
The index is in a strong down-trend after two equal highs, on August 22 and December 2, and may test the October low of 768.
The primary trend is down.

The Chartcraft NYSE Bullish % Indicator signals a bull alert at 50% (December 12).



Consumer confidence rises
University of Michigan's consumer sentiment index increased to 87.0, from 84.2 last month.
(more)
Gold
New York: Spot gold climbed a further 170 cents to
$US 333.00
, a new five-year high.
The All Ordinaries closed down 15 points at 2941 on strong volume. The index appears set to test support at 2915.
MACD (26,12,9) and Slow Stochastic (20,3,3) are below their signal lines; Twiggs money flow is just above zero.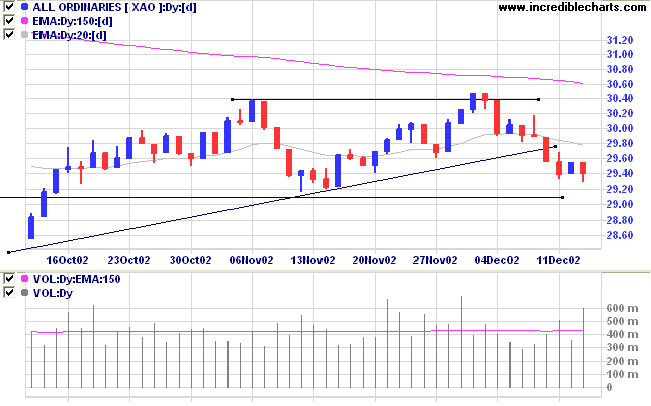 Tabcorp Holdings [TAH]
Last covered on
August 15
.
After a strong up-trend in the first half of the year TAH formed a double top, with a false break at [2], accompanied by a bearish divergence on Twiggs money flow, giving an early indication of a reversal. Price then entered a slow/creeping down-trend before a fast break downwards at [6] following a strong bear signal at [5] on Twiggs money flow, with a peak below zero.
Relative Strength (price ratio: xao) and MACD are bearish.

The false break can be clearly seen on the equivolume chart at [1], with a long shadow and low volume. The rally at [2] was of short duration with strong volume on the sell-off, confirming that TAH is in a down-trend. The next rally at [4] was stronger but gave way to a sharp resumption of the down-trend, followed by a short counter-trend with a long shadow at [5].

After the low at [6] TAH entered a period of congestion for over a month before a breakout at [9] and a gap to [10] on strong volume. We now see further congestion with the highs failing to close the earlier gap.

Rectangular congestion patterns usually signal continuation in a strong trend. A break below the low of [10] will be a strong bear signal, while a closing of the gap to [9] would be a bull signal.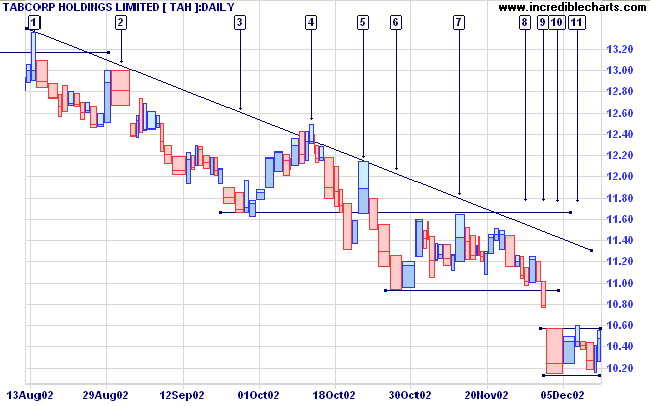 Sector Analysis
Changes are highlighted in bold.
Energy [XEJ] - stage 4 (RS is falling)
Materials [XMJ] - stage 2 (RS is rising)
Industrials [XNJ] - stage 4 (RS is falling)
Consumer Discretionary [XDJ] - stage 2 (RS is rising)
Consumer Staples [XSJ] - stage 4 (RS is falling)
Health Care [XHJ] - stage 1 (RS is level)
Property Trusts [XPJ] - stage 2 (RS is rising)
Financial excl. Property Trusts [XXJ] - stage 4 (RS is falling)
Information Technology [XIJ] - stage 4 (RS is falling)
Telecom Services [XTJ] - stage 4 (RS is falling)
Utilities [XUJ] - stage 2 (RS is level)
Sectors: Relative Strength

A stock screen of the ASX 200 using % Price Move (1 month: +5%) returned 45 stocks (compared to 99, August 23rd and 10 on October 4th). Notable sectors are:
Pharmaceuticals
Agricultural Products
Forest Products
Gold
Short-term: Short. The Slow Stochastic and MACD are below their respective signal lines.
Medium-term: Avoid new entries.
Colin Twiggs
A compulsive desire to be rich may indeed drive you to learn about the markets and make money,
but only at tremendous personal cost.
A driving desire for fame usually has at its root a fundamental lack of self-confidence and self-respect,
and any fame achieved on that basis will be empty and meaningless.
The extent to which you are motivated solely by the desire for money and fame
is the extent that you will fail as a person, and usually as a businessperson as well.

- Victor Sperandeo: Methods of a Wall Street Master
---
Back Issues
Access the Trading Diary Archives.
---