---
---
December holidays

The newsletter over the holiday season will cover fewer stocks
as we take a break from the pressures of the market.

---
Trading Diary
December 09, 2002
These extracts from my daily trading diary are intended to illustrate the techniques used in short-term trading and should not be interpreted as investment advice. Full terms and conditions can be found at Terms of Use

.
The Dow fell 2% to close at 8473 on lower volume. If the next rally fails to take out the high from December 2, we may face a re-test of the 7500 and 7200 support levels; equal highs (August 22 and December 2) in a down-trend are a bearish signal.
The primary trend is still down. It will reverse up if the average rises above 9130.

The Nasdaq Composite lost 3.9% to close at 1367.
The primary trend is up.

The S&P 500 fell 20 points to close at 892.
The primary trend will complete a double bottom reversal if it rises above 965.

The Chartcraft NYSE Bullish % Indicator signals a bull alert at 50% (December 06).



Snow gets tough job
President Bush appoints railroad CEO John Snow to replace Treasury Secretary Paul O'Neill.
(more)
Gold
New York: Spot gold gained 10 cents to $US 326.00.
The All Ordinaries rallied in the morning, only to experience a late sell-off to close 3 points down at 2988 on low volume. The creeping up-trend continues.
The primary trend will reverse (up) if the index rises above 3150.
MACD (26,12,9) has crossed to below its signal line; Slow Stochastic (20,3,3) is below; and Twiggs money flow is falling.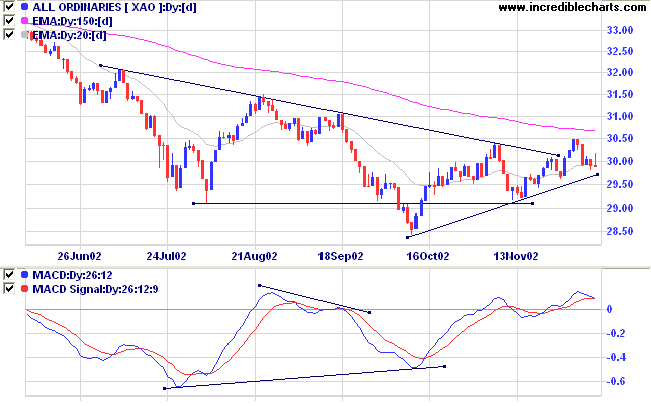 Short-term: Short if the XAO falls below 2981. The Slow Stochastic and MACD are below their respective signal lines.
Medium-term: Avoid new entries.
Colin Twiggs
Sooner or later, those who win are those who think they can.

- Richard Bach
---
Back Issues
Access the Trading Diary Archives.
---