---
---
Chart Forum: Private Messages
When replying to a private message received from the Chart Forum,
do not use the normal Reply button in your email toolbar.
Click on the link

below

the message:
"If you would like to reply to this message by sending a private message........."

Otherwise the email is sent to the forum administrator.

---
Trading Diary
December 06, 2002
These extracts from my daily trading diary are intended to illustrate the techniques used in short-term trading and should not be interpreted as investment advice. Full terms and conditions can be found at Terms of Use

.
The Dow closed slightly up at 8645 on average volume. If the next rally fails to take out the high from last Monday, we may face a re-test of the 7500 and 7200 support levels; equal highs (August 22 and December 2) in a down-trend are a bearish signal.
The primary trend is still down. It will reverse up if the average rises above 9130.

The Nasdaq Composite formed a closing price reversal, gaining 0.8% to close at 1422.
The primary trend is up (the index is above 1426).

The S&P 500 closed up 6 points at 912.
The primary trend will complete a double bottom reversal if it rises above 965.

The Chartcraft NYSE Bullish % Indicator signals a bull alert at 50% (December 04).



Unemployment rises
The jobless rate reached 6% in November after a slight decline to 5.7% in October.
(more)
Gold
New York: Spot gold continues to rise, up 150 cents at $US 325.90.
The All Ordinaries lost 13 points to close at 2991 with reassuringly lower volume. The creeping up-trend continues.
The primary trend will reverse (up) if the index rises above 3150.
The Slow Stochastic (20,3,3) is below its signal line; MACD (26,12,9) is above; Twiggs money flow signals accumulation.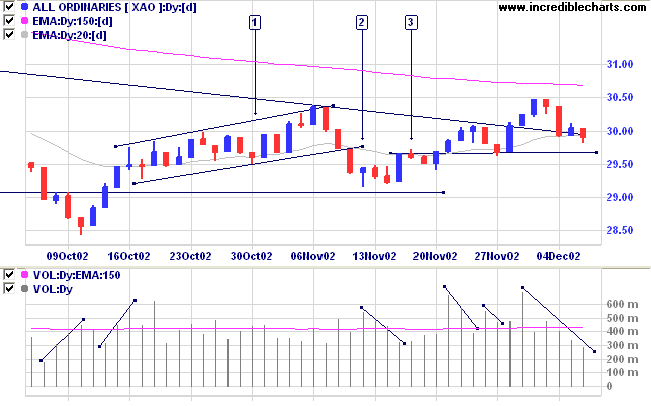 Foodland [FOA]

Last covered on
October 11
.
FOA has formed a stage 3 top after a strong stage 2 up-trend. Price has formed two equal highs in June and September and is now testing support at the July low of 17.00
Relative strength (price ratio: xao) is falling, MACD shows a bearish divergence and Twiggs money flow signals distribution.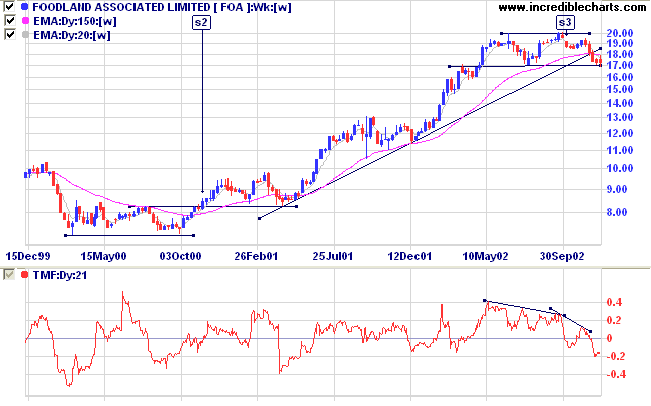 FOA respected the support line at [6] but the rally to [7] showed weak volume. The sharp drop at [8] was accompanied by strong volume but the long shadow on day [8] signaled buying support. However, volume is drying up on the latest rally, increasing the likelihood of a successful penetration of the 17.00 support level.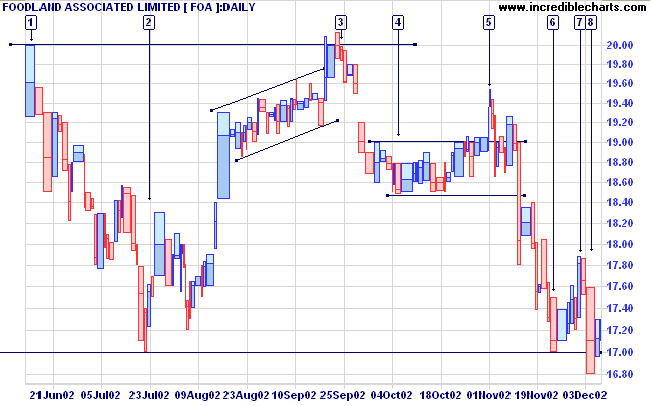 Sector Analysis
Changes are highlighted in bold.
Energy [XEJ] - stage 4 (RS is falling)
Materials [XMJ] - stage 2 (RS is rising)
Industrials [XNJ] - stage 4 (RS is falling)
Consumer Discretionary [XDJ] - stage 2 (RS is rising)
Consumer Staples [XSJ] - stage 4 (RS is falling)
Health Care [XHJ] - stage 1 (RS is level)
Property Trusts [XPJ] - stage 3 (RS is level)
Financial excl. Property Trusts [XXJ] - stage 4 (RS is falling)
Information Technology [XIJ] - stage 4 (RS is falling)
Telecom Services [XTJ] - stage 4 (RS is falling)
Utilities [XUJ] - stage 2 (RS is level)
Sectors: Relative Strength
A stock screen of the ASX 200 using % Price Move (1 month: +5%) returned 24 stocks (compared to 99, August 23rd and 10 on October 4th). Notable sectors are:
Short-term: Avoid new entries. The Slow Stochastic and MACD are on opposite sides of their respective signal lines.
Medium-term: Avoid new entries.
Colin Twiggs
Always bear in mind that your own resolution to succeed
is more important than any other one thing.

- Abraham Lincoln
---
Back Issues
Access the Trading Diary Archives.
---