---
---
Chart Forum: Private Messages
When replying to a private message received from the Chart Forum:
---
Trading Diary
December 05, 2002
These extracts from my daily trading diary are intended to illustrate the techniques used in short-term trading and should not be interpreted as investment advice. Full terms and conditions can be found at Terms of Use

.
The Dow declined a further 1.3% to 8623 on lower volume. The creeping up-trend continues.
The primary trend is still down. It will reverse up if the average rises above 9130.

The Nasdaq Composite formed an outside day, closing 1.3% down at 1410.
The primary trend is up (the index is above 1426).

The S&P 500 closed down 11 points at 906.
The primary trend will complete a double bottom reversal if it rises above 965.

The Chartcraft NYSE Bullish % Indicator signals a bull alert at 50% (December 04).



Intel
Intel lifts revenue estimates.
(more)
Gold
New York: Spot gold is up 250 cents at $US 324.40.
The All Ordinaries reversed to close 11 points higher at 3004. The inside day and lower volume signal uncertainty.
The primary trend will reverse (up) if the index rises above 3150.
The Slow Stochastic (20,3,3) is below its signal line; MACD (26,12,9) is above; Twiggs money flow signals accumulation.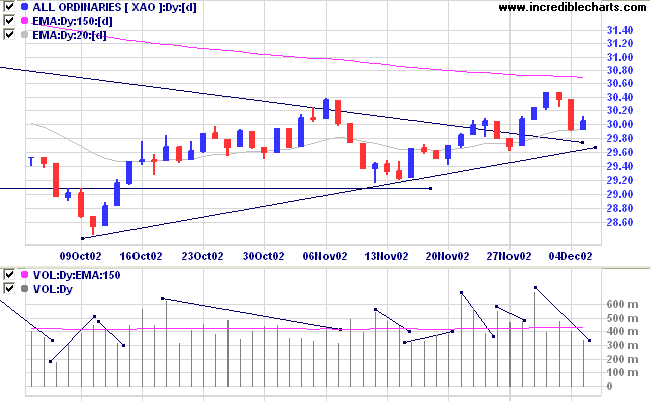 Capral Aluminium [CAA]

Last covered on
November 07
.
After building a broad base over the last 3 years, CAA has started to trend upwards in the last few months.
Relative strength (price ratio: xao), MACD and Twiggs money flow are rising strongly.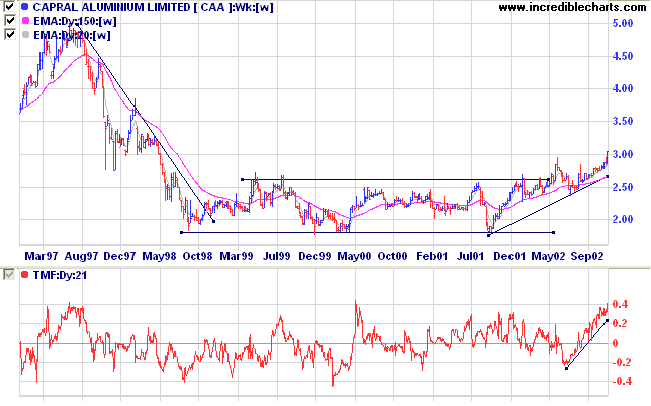 Price has gapped up to break above resistance at 2.95 on strong volume. The ideal entry point is on a buy-stop above the highs of the lowest days, [1] and [2], in a weak pull-back from the resistance line. The stop is placed below the low of the same day. The next best entry is just above 2.95 when price breaks out, with a stop just below the high of [3].

Price has now run too far above the stop levels so it is prudent to wait for a pull-back to the newly-established support level or some form of consolidation.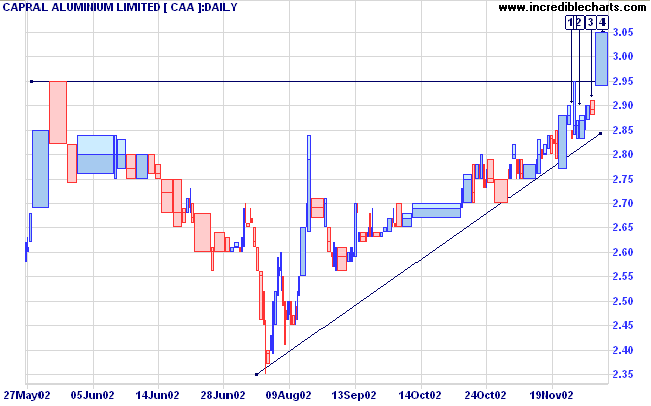 Short-term: Avoid new entries. The Slow Stochastic and MACD are on opposite sides of their respective signal lines.
Medium-term: Avoid new entries.
Colin Twiggs
Zigong asked: Is there any single word that could guide one's entire life?
The Master said: Should it not be reciprocity?
What you do not wish for yourself, do not do to others.

- The Analects of Confucius, 15.24
---
Back Issues
Access the Trading Diary Archives.
---