---
---
Chart Forum: Private Messages
When replying to a private message received from the Chart Forum:
---
Trading Diary
December 04, 2002
These extracts from my daily trading diary are intended to illustrate the techniques used in short-term trading and should not be interpreted as investment advice. Full terms and conditions can be found at Terms of Use

.
The Dow closed almost unchanged at 8737 on higher volume. The index continues in a creeping up-trend.
The primary trend is still down. It will reverse up if the average rises above 9130.

The Nasdaq Composite index gapped down further to close 1.3% down at 1430.
The primary trend is up (the index is above 1426).

The S&P 500 closed down 3 points at 917.
The primary trend will complete a double bottom reversal if it rises above 965.

The Chartcraft NYSE Bullish % Indicator signals a bull alert at 50% (December 03).





Gold
New York: Spot gold is up 150 cents to $US 321.90.






The All Ordinaries dropped sharply to close at 2993 on lower volume. The latest counter-trend has retraced more than either of the two previous pull-backs, signaling trend weakness.
The primary trend will reverse (up) if the index rises above 3150.
The Slow Stochastic (20,3,3) has crossed below its signal line; MACD (26,12,9) is above; Twiggs money flow signals accumulation.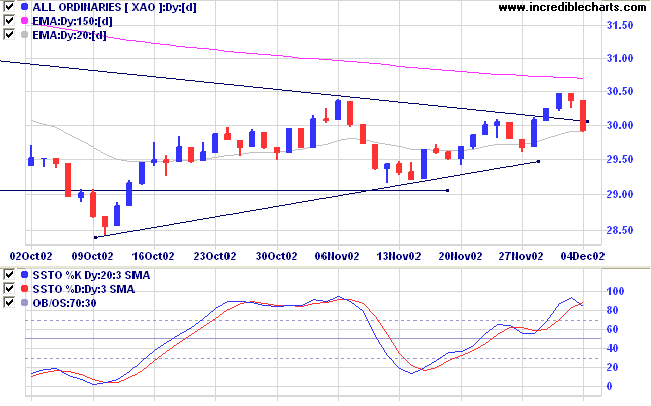 Adelaide Brighton Cement [ABC]
After a strong rally in the first half of 2001, ABC entered a period of consolidation, failing to hold a new high at [F], before establishing a base at 0.70 [W]. A cup and handle pattern is visible at [F] to [ch].
Relative strength (price ratio: xao) is rising, as is MACD. Twiggs money flow shows strong accumulation.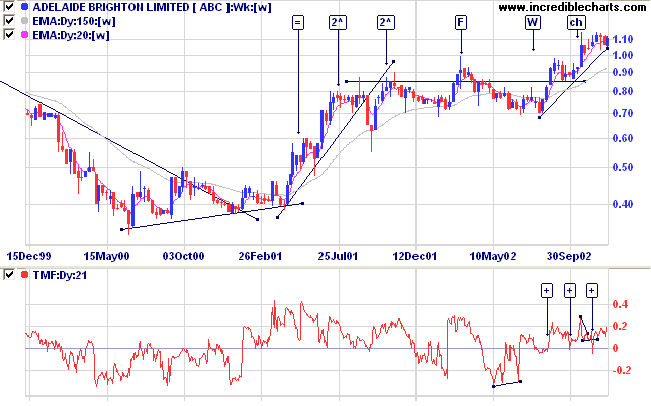 On the daily chart ABC re-tested resistance at [9] before a strong counter-trend, breaking the series of higher lows between [7] and [9]. Price confirmed the trendline at [10] before a weak rally to [11] on low volume. The next counter-trend managed to break the trendline at [12] but volume was low and the stock rallied back on higher volume. A false break of a trendline can be used as an entry point by short-term traders: placing a buy stop above the high of [12] when they see that volume has dried up. The next entry point will be if ABC re-tests resistance at 1.15: entries can be taken just above 1.15 with a stop just below or, if there is a weak pull-back below the resistance level, off the high of the lowest day in the pull-back, with a stop below the low.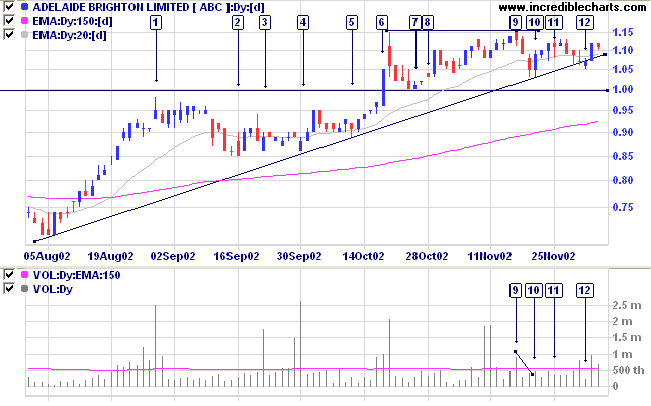 Short-term: Avoid new entries. The Slow Stochastic and MACD are on opposite sides of their respective signal lines.
Medium-term: Avoid new entries.
Colin Twiggs
He who controls others may be powerful,

but he who has mastered himself is mightier still.


- Lao Tse.
---
Back Issues
Access the Trading Diary Archives.
---