---
---
Chart Forum: Private Messages
When replying to a private message received from the Chart Forum:
---
Trading Diary
December 03, 2002
These extracts from my daily trading diary are intended to illustrate the techniques used in short-term trading and should not be interpreted as investment advice. Full terms and conditions can be found at Terms of Use

.
The Dow closed down 1.3% at 8742 on lower volume. Three days of the counter-trend have failed to retrace the gain of the 27th - a bullish sign.

The Nasdaq Composite index gapped down 2.4% to close at 1448.
The primary trend is up.

The S&P 500 closed down 14 points at 920.

The Chartcraft NYSE Bullish % Indicator signals a bull alert at 50% (December 02).



AOL Time Warner
AOL Online expects declining advertising and sales revenues for 2003. (more)



Gold
New York: Spot gold is up 290 cents to $US 320.40.
The All Ordinaries closed down 11 points at 3037 on higher volume. The strength of volume on the counter-trend will indicate the state of the October/November rally.
The primary trend will reverse (up) if the index rises above 3150.
The Slow Stochastic (20,3,3) is above its signal line; MACD (26,12,9) is above; Twiggs money flow signals accumulation.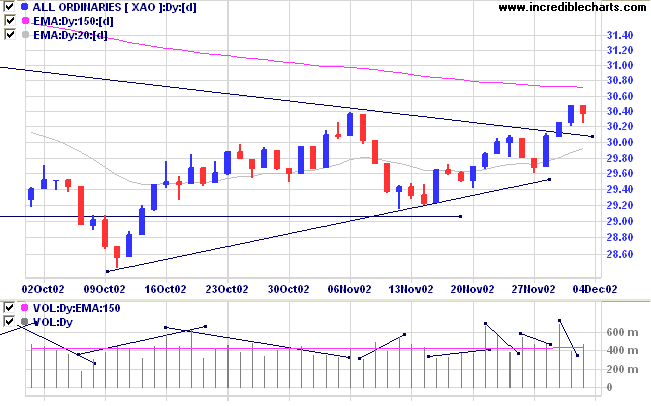 QBE Insurance [QBE]
After a sharp fall in 2001, QBE has formed an ascending triangle with the upper border at 8.15. Relative strength (price ratio: xao) is rising, as are Twiggs money flow and MACD.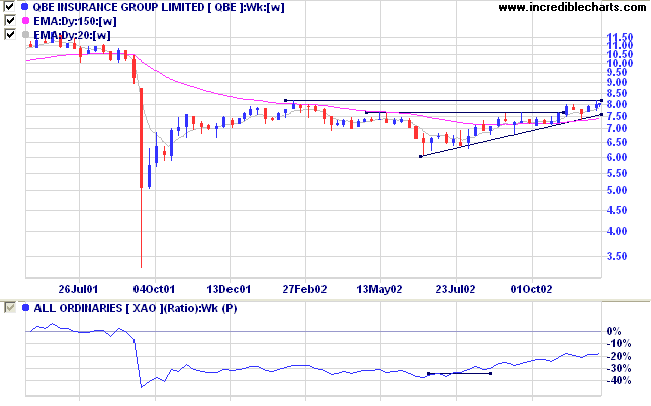 On the equivolume chart the long shadow and fairly heavy volume at [13] indicates selling pressure. The subsequent low at [14], lower than the previous low at [12], also indicates trend weakness. Volume on the subsequent rally is strong but gains are small and it may take several more swings before there is a re-test of resistance at 8.15.

If there is a breakout, the target is 10.25 (8.15 + 8.15 - 6.05).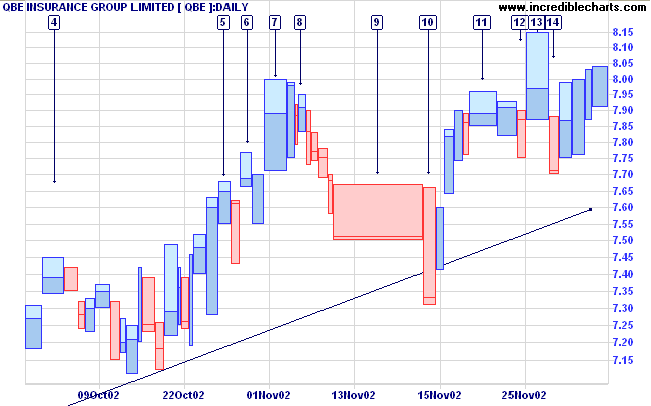 Short-term: Long. The Slow Stochastic and MACD are above their respective signal lines.
Medium-term: Long.
Colin Twiggs
Remember your goal is to trade well,



not to trade often

.


- Alexander Elder.
---
Back Issues
Access the Trading Diary Archives.
---