---
---
Trading Diary: Back Issues
---
Trading Diary
November 29, 2002
These extracts from my daily trading diary are intended to illustrate the techniques used in short-term trading and should not be interpreted as investment advice. Full terms and conditions can be found at Terms of Use

.
The Dow formed an inside day, closing down 0.4% at 8896 on very low volume, to be expected after the Thursday holiday.

The Nasdaq Composite index closed down slightly at 1468.

The S&P 500 closed almost unchanged at 936.

The Chartcraft NYSE Bullish % Indicator signals a bull alert at 48% (November 27).





Gold
New York: Spot gold gained 110 cents to $US 318.70.






The All Ordinaries continues to rally strongly, closing up 18 points at 3025 on strong volume, and breaking through the upper border of the symmetrical triangle.
The primary trend will reverse if the index rises above 3150.
The Slow Stochastic (20,3,3) has crossed back above its signal line; MACD (26,12,9) is above; Twiggs money flow has respected the zero line, a bullish signal.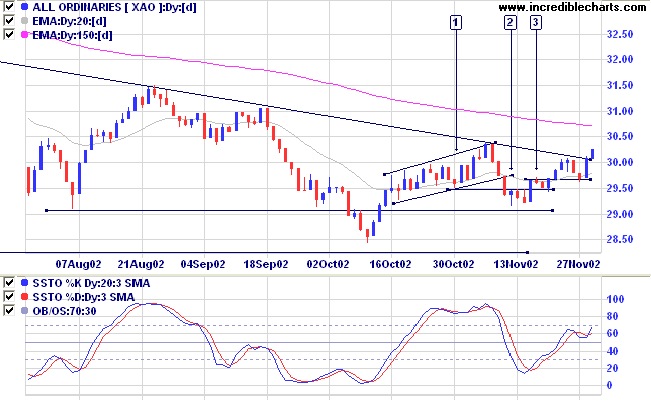 The long-term Coppock indicator is below zero and slopes downward. An up-turn below zero will signal the start of a bull market.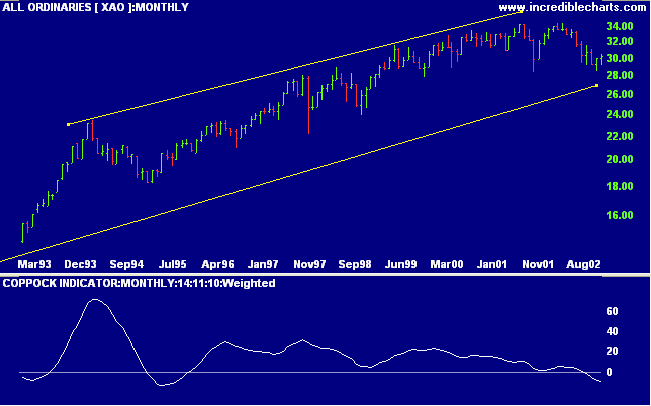 Woolworths [WOW]
Last covered on
August 26
.
WOW formed a stage 3 top, in the shape of a a symmetrical triangle, after a long up-trend. Price has now broken out below the triangle at [F]. Relative strength (price ratio: xao) is falling.
Twiggs money flow completed a bearish divergence at [E] before the breakout at [F]. MACD completed a head and shoulders pattern and is falling.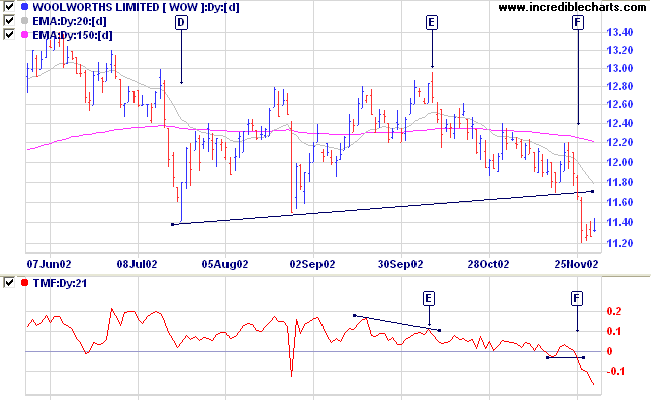 The breakout at [F] was on normal volume but was followed by a large volume spike at [1]. Volume declined on the pull-back at [2] and [3], before the long shadow and high volume at [4] signal a reversal.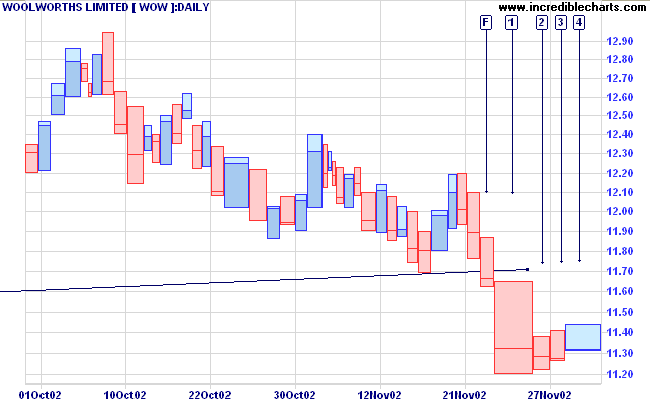 If price reverses downwards after [4], below the last low at 11.70, this will be a strong bear signal.
Sector Analysis
Changes are highlighted in bold.
Energy [XEJ] - stage 4 (RS is falling)
Materials [XMJ] - stage 2 (RS is rising)
Industrials [XNJ] - stage 4 (RS is falling)
Consumer Discretionary [XDJ] - stage 2 (RS is rising)
Consumer Staples [XSJ] - stage 4 (RS is falling)
Health Care [XHJ] - stage 1 (RS is level)
Property Trusts [XPJ] - stage 3 (RS is level)
Financial excl. Property Trusts [XXJ] - stage 4 (RS is falling)
Information Technology [XIJ] - stage 4 (RS is falling)
Telecom Services [XTJ] - stage 4 (RS is falling)
Utilities [XUJ] - stage 2 (RS is falling)
Sectors: Relative Strength
A stock screen of the ASX 200 using % Price Move (1 month: +5%) returned 36 stocks (compared to 99, August 23rd and 10 on October 4th). Notable sectors are:
Diversified Metals & Mining
Pharmaceuticals
REITs
Short-term: Long. The Slow Stochastic and MACD are above their respective signal lines.
Medium-term: Long.
Colin Twiggs
It is what we think we know already
that prevents us from learning.


- Claude Bernard (1813 - 1878), founder of experimental medicine.
---
Back Issues
Access the Trading Diary Archives.
---