---
---

The Start New Thread link has been moved to the head of the Topics page.
Members previously had difficulty locating it on pages with large numbers of threads.

---
Trading Diary
November 26, 2002
These extracts from my daily trading diary are intended to illustrate the techniques used in short-term trading and should not be interpreted as investment advice. Full terms and conditions can be found at
Terms of Use
.
The Dow fell 1.9% to close at 8676 on higher volume, continuing the slow, creeping up-trend.
The primary trend will reverse (up) if the index rises above 9130.

The Nasdaq Composite Index lost 2.5% to close at 1444.
The primary trend is up.

The S&P 500 lost 19 points to close at 913.
The primary trend will complete a double bottom reversal if it rises above 965.

The Chartcraft NYSE Bullish % Indicator signals a bull alert at 48% (November 25).



Wall St faces $1 billion in fines
Merrill Lynch has already paid $100 million to settle conflict-of-interest charges. Other firms face even bigger fines for hyping analysts reports to win investment banking business. (more)



Gold
New York: Spot gold is down 10 cents at $US 317.60.
The All Ordinaries closed sharply lower, 26 points down at 2979 on bearishly strong volume. The index must soon break out from the symmetrical triangle formed over the last 5 months.
The primary trend will reverse if the index rises above 3150.
The MACD (26,12,9) and Slow Stochastic (20,3,3) are above their signal lines; Twiggs money flow is falling.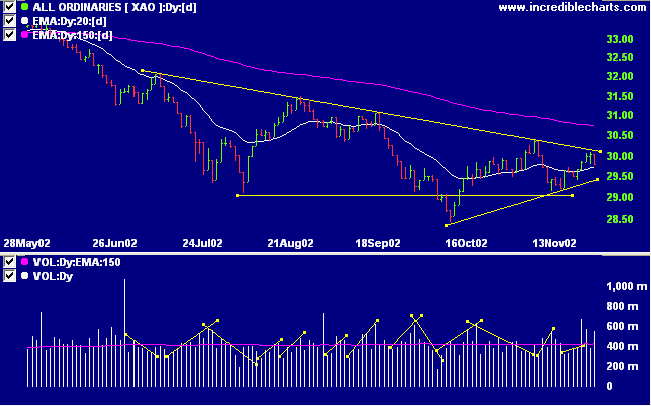 Gunns [GNS]
After a strong stage 2 up-trend GNS formed a bearish divergence on Twiggs money flow and MACD at [A] before a correction back to the 150-day MA. Price then rallied to a marginal new high at [B] before drifting lower to [C]. Twiggs money flow has made a bullish trough above the zero line [$], while MACD and Relative strength (price ratio: xao) are rising.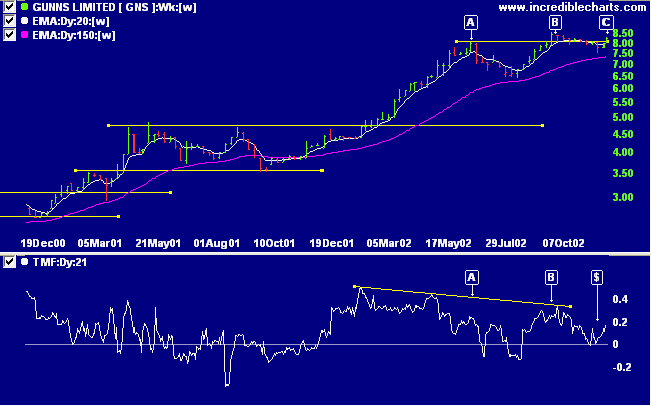 On the daily equivolume chart GNS has made a series of lower highs, [1] to [7], in the form of a descending triangle. The break below support at [8] was accompanied by reasonable volume but the pull-back to [9] was far stronger than expected, breaking above resistance at 7.90 and at 8.05. The high from [7] is, significantly, also the high from [A] on the weekly chart above.

This could well be a bear trap. A correction that fails to break below 8.05 will be a strong bull signal.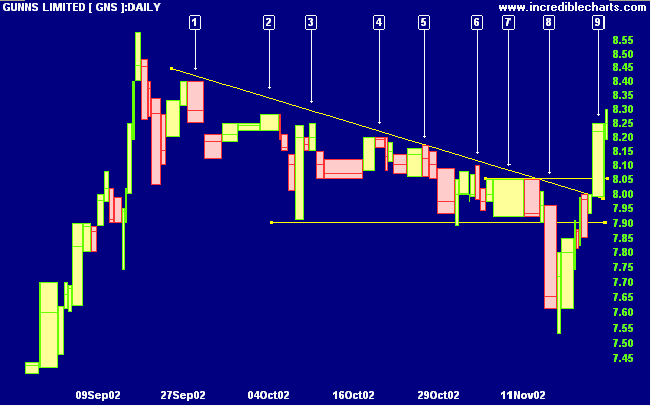 A fall below 7.90 would be bearish.
Short-term: Long: The Slow Stochastic and MACD are above their respective signal lines. Use tight stops.
Medium-term: Long. Use stop losses to protect yourself against a sudden reversal.
Colin Twiggs
It is not important to do everything right
It is important to do the right things right.


- Peter Drucker
---
Back Issues
Access the Trading Diary Archives.
---