---
---
Chart Forum: Email
To contact another member, click on their link in the left margin. In the Profile page you will find:
Click Here
to send a private message
---
Trading Diary
November 25, 2002
These extracts from my daily trading diary are intended to illustrate the techniques used in short-term trading and should not be interpreted as investment advice. Full terms and conditions can be found at
Terms of Use
.
The Dow formed an inside day, closing up 0.5% at 8849 on lower volume.
The primary trend will reverse (up) if the index rises above 9130.

The Nasdaq Composite Index held on to its gains, closing up 0.9% at 1481.
The primary trend is up.

The S&P 500 an inside day, closing 2 points up at 932.
The primary trend will complete a double bottom reversal if it rises above 965.

The Chartcraft NYSE Bullish % Indicator signals a bull alert at 46% (November 22).



News Corporation
Newscorp may make a second attempt to take over DirecTV after EchoStar's bid encounters difficulties.



Gold
New York: Spot gold is down 290 cents at $US 317.70.
After an early 20-point fall, the All Ordinaries clawed its way back to close 6 points up at 3005 on lower volume.
The primary trend will reverse if the index rises above 3150.
The MACD (26,12,9) and Slow Stochastic (20,3,3) are above their signal lines; Twiggs money flow signals accumulation.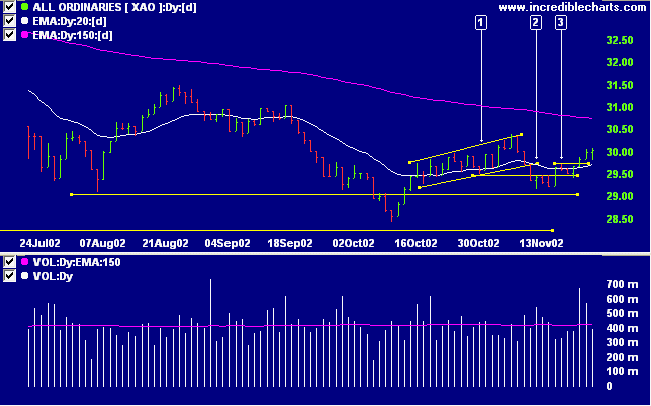 Caltex Australia [CTX]
Last covered on
November 19, 2002
.
After breaking through resistance at 2.00, CTX has failed to pull back to the support level, forming a bullish pennant pattern instead. The continuation pattern is reinforced by the sharp increase in volume, [14] and [15], at the start of the pattern, followed by declining volume. An upward breakout accompanied by a sharp increase in volume will be a strong bull signal. Stop losses are normally placed below the lower border of the pattern, opposite the breakout.
Relative strength (price ratio: xao), Twiggs money flow and MACD are all bullish.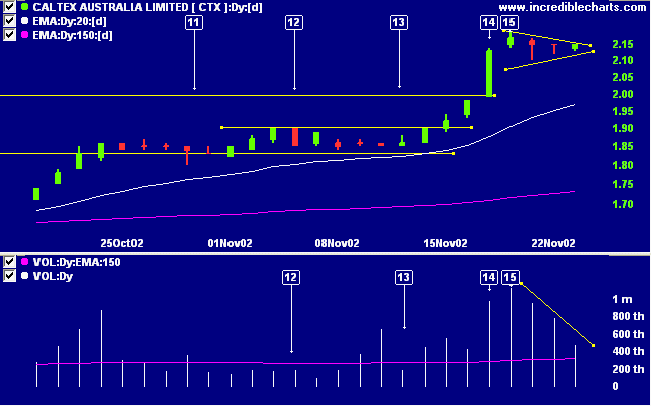 The targeted move for an upward breakout is 2.44 (2.15 + 2.19 - 1.90), projected from the point of breakout.

A break below the lower border of the pattern would be bearish.
Short-term: Long: The Slow Stochastic and MACD are above their respective signal lines.
Medium-term: Long. Use stop losses to protect yourself against a sudden reversal.
Colin Twiggs
It took me over a decade to figure out my natural direction.
I'd suggest that you take the time to seriously ponder
whether the path you are on is the one you want to be on.
Perhaps your journey will then be shortened.


- Jack Schwager's conclusion to The New Market Wizards
---
Back Issues
Access the Trading Diary Archives.
---