---
---
Crosshairs

To use crosshairs on the charts, select View >> Crosshair Cursor.
Click and drag to move the crosshairs across the chart.
If you have the Zoom function engaged, depress the Alt key before clicking and dragging.

---
Trading Diary
October 29, 2002
These extracts from my daily trading diary are intended to illustrate the techniques used in short-term trading and should not be interpreted as investment advice. Full terms and conditions can be found at Terms of Use

.
The Dow dropped sharply in early trading but later rallied to close unchanged at 8368 on average volume. The market is moving sideways, signaling uncertainty. A primary trend reversal will be signaled if the index rises above 9130.

The Nasdaq Composite Index lost 1.2% to close at 1300. The primary trend will reverse if the index breaks above 1426.

The S&P 500 lost 8 points to close at 882. The primary trend is down. The index will complete a double bottom reversal if it rises above 965.

The Chartcraft NYSE Bullish % Indicator has swung to a bull alert signal at 36% (October 28).
Consumer confidence dives
The Conference Board consumer confidence index fell to 79.4 in October from 93.7 in September, much worse than the expected 4-point drop. (more)


Rate cuts expected
The plunging consumer confidence figures may force the Fed to further cut rates at its November 6 meeting. (more)



Gold
New York: Spot gold rallied a further 140 cents at $US 316.70. The gold chart has been forming a bullish ascending triangle over the last 6 months.
The All Ordinaries lost 23 points to close at 2967 on average volume. The index is still moving sideways, signaling uncertainty. A rise above 3150 will signal a primary trend reversal.
The Slow Stochastic (20,3,3) has crossed to below its signal line, MACD is above, while Twiggs money whipsaws around the zero line.
Orica [ORI]
After reversing from a triangle pattern in 2001, ORI entered a stage 2 up-trend before leveling off in the last 6 months. The stock recently completed an ascending triangle at [2]. Relative strength (price ratio: xao) continues to rise while Twiggs money flow signals sustained accumulation over the last year.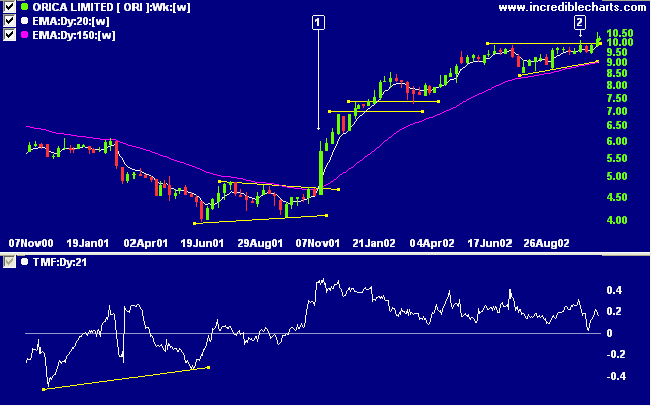 MACD has also formed a triangle over the last 6 months with an upward breakout last week, after respecting the zero line at [$], a bullish signal.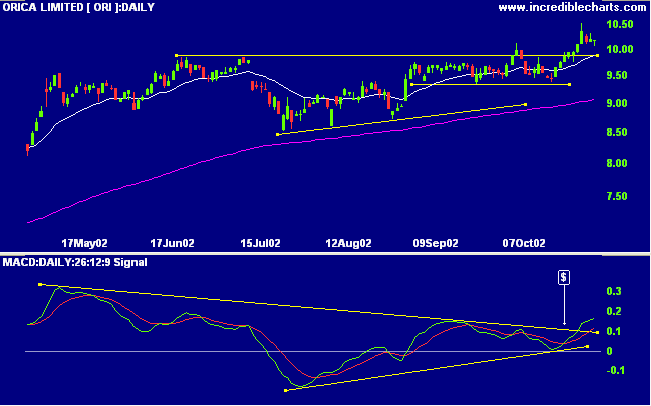 The equivolume chart shows strong distribution at [1] and [2], most likely profit-taking by professional traders ahead of resistance at 10.00. ORI then started to form a series of higher lows at [3] followed by a test of resistance at [4], the longish shadow signaling a fair number of sellers entering the market. Price then formed a narrow congestion pattern below the resistance level, with a failed breakout at [6]. Congestion just below a resistance level is a strong bullish signal, with the stock moving sideways
rather than correcting. The second breakout at [8] shows more promise: the longer shadow at [9] shows selling pressure but volume has since dried up. A rally in the next few days, without ORI crossing below support at 10.00, will be a strong bull signal. A rally above support at 9.85 would be a weaker bull signal.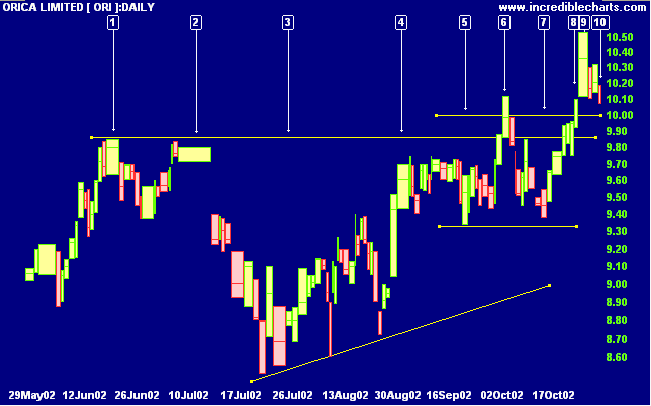 The targeted move for a breakout is 11.40 (9.85 + 9.85 - 8.30).
Short-term: Avoid new entries. The Slow Stochastic and MACD are on opposite sides of their respective signal lines.
Medium-term: Avoid new entries. Use stop losses to protect yourself against a sudden reversal.
Colin Twiggs
Thought for the Day:
There is no such thing as failure, only feedback.
---
Back Issues
Access the Trading Diary Archives.
---