---
---
Chart Forum Registration

We still have to find a solution to the registration email -
the registration hyperlink is sometimes severed if it wraps over 2 lines.

---
Trading Diary
October 25, 2002
These extracts from my daily trading diary are intended to illustrate the techniques used in short-term trading and should not be interpreted as investment advice. Full terms and conditions can be found at Terms of Use

.
The Dow formed an inside day, signaling uncertainty, and closed up 1.5% at 8443 on lower volume. The market is moving sideways at present, waiting for fresh stimulus to carry the index to new highs, or down to support at 7500. A primary trend reversal will be signaled if the index rises above 9130.

The Nasdaq Composite Index rallied 2.5% to close at the previous day's high of 1331. The primary trend will reverse if there is a break above 1426.

The S&P 500 rallied 15 points to close at 897. The primary trend is down. The index will complete a double bottom reversal if it rises above 965.

The Chartcraft NYSE Bullish % Indicator has swung to a bull alert signal at 36% (October 24).
Dead cats bounce
Some of the biggest gainers in the last 2 weeks have been companies in the worst affected sectors. (more)



Gold
New York: Spot gold is up 180 cents at $US 313.10.
The All Ordinaries closed down 12 points at 2967 on higher volume. As in the US markets we see the index moving sideways, signaling uncertainty. A rise above 3150 will signal a primary trend reversal.
The Slow Stochastic (20,3,3) threatens to cross below its signal line. MACD shows a bullish divergence while Twiggs money continues to whipsaw around the zero line.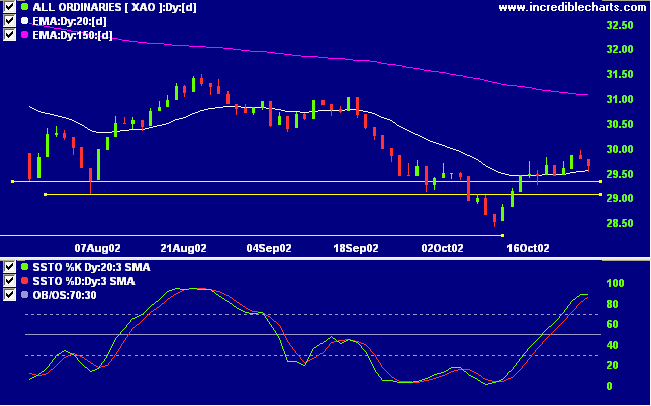 United Energy [UEL]

Last covered on
August 2
.
After a stage 2 down-trend UEL signaled a reversal with a higher trough followed by a break above the previous high, in
July 2002
. Relative strength (price ratio: xao) signaled the reversal with a similar upward break above the previous high.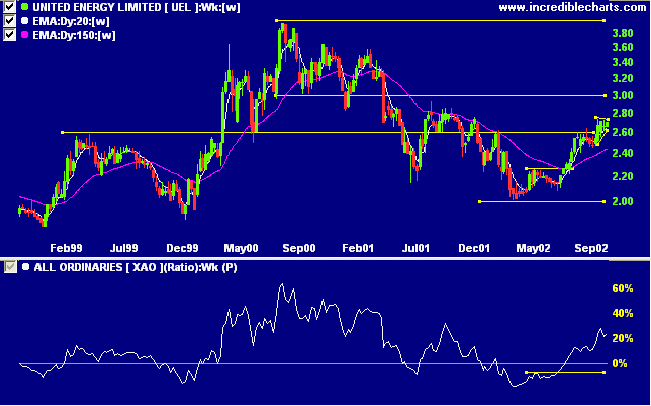 The daily chart shows a bullish pennant continuation pattern forming around 2.63; price is consolidating at the support level rather than retreating. Twiggs money flow reflects strong accumulation over the last 4 months, not once crossing below zero. MACD is bullish.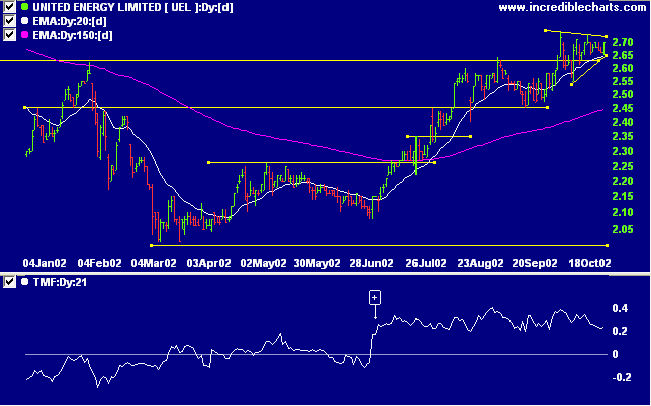 The equivolume chart shows strong volume on the rally from [1] to [2] but also on the correction from [2] to [3]. Volume is now weakening and we can expect a sharp increase at the breakout. A rise above 2.73 with strong volume will be a bullish signal, while a fall below 2.63 would be bearish.
The targeted move for the pennant is 3.02, close to resistance at 3.00. The target is measured by taking the vertical distance from the high at [2] to the low at [1] and then projecting this from the breakout point (2.74 - 2.45 + 2.73).
Sector Analysis
Changes are highlighted in bold.
Energy [XEJ] - stage 4 (RS is level)
Materials [XMJ] - stage 1 (RS is level)

Industrials [XNJ] - stage 4 (RS is falling)

Consumer Discretionary [XDJ] - stage 4 (RS is level)

Consumer Staples [XSJ] - stage 1 (RS is rising)

Health Care [XHJ] - stage 4 (RS is falling)

Property Trusts [XPJ] - stage 2 (RS is rising)

Financial excl. Property Trusts [XXJ] - stage 4 (RS is falling)

Information Technology [XIJ] - stage 4 (RS is falling)

Telecom Services [XTJ] - stage 1 (RS is rising)

Utilities [XUJ] - stage 2 (RS is rising)
Sectors: Relative Strength
A stock screen of the ASX 200 using % Price Move (1 month: +5%) returned 33 stocks (compared to 99, August 23rd and 10 on October 4th). Notable sectors are:
Diversified Metals & Mining

Pharmaceuticals

Health Care Distributors & Services

Real Estate Investment Trusts.
Short-term:
Long
. The Slow Stochastic and MACD are above their respective signal lines.
Medium-term:
Long
. Use stop losses to protect yourself against a sudden reversal.
Colin Twiggs
Thought for the Day:
I am certainly convinced of this: that it is better to be impetuous than cautious, because Fortune is a woman.....

And it is seen that she more often allows herself to be taken over by men who are impetuous than by those who make cold advances.....

-
Niccolo Machiavelli, The Prince (1513).
With apologies to the ladies. NM's entire point is that Fortune favors those who may normally be cautious, but act boldly when required.
---
Back Issues
Access the Trading Diary Archives.
---