---
---
Incredible Charts 4.0.0.7

All chart legends can now be abbreviated.
Select Abbreviate Legend on the Format Charts menu.
This feature is especially useful when printing or emailing charts.


---
Trading Diary
October 24, 2002
These extracts from my daily trading diary are intended to illustrate the techniques used in short-term trading and should not be interpreted as investment advice. Full terms and conditions can be found at Terms of Use

.
The Dow lost more than 2% to close at 8317 on lower volume. A primary trend reversal will be signaled if the index rises above 9130.

The Nasdaq Composite Index lost 1.6% to close at 1298. The primary trend will reverse if there is a break above 1426.

The S&P 500 eased 14 points to close at 882. The primary trend is down. The index will complete a double bottom reversal if it rises above 965.

The Chartcraft NYSE Bullish % Indicator has swung to a bull alert signal at 34% (October 23).
Amazon.com
The online retailer reached operating break-even in the third-quarter on a 33% rise in revenues over a year earlier. (more)



Gold
New York: Spot gold is down 30 cents at $US 311.30.
The All Ordinaries closed 8 points down at 2979 on reassuringly lower volume. A break above 3150 will signal a primary trend reversal.
MACD (26,12,9) and Slow Stochastic (20,3,3) are above their signal lines. MACD shows a bullish divergence while Twiggs money continues to whipsaw around the zero line.
Caltex Australia [CTX]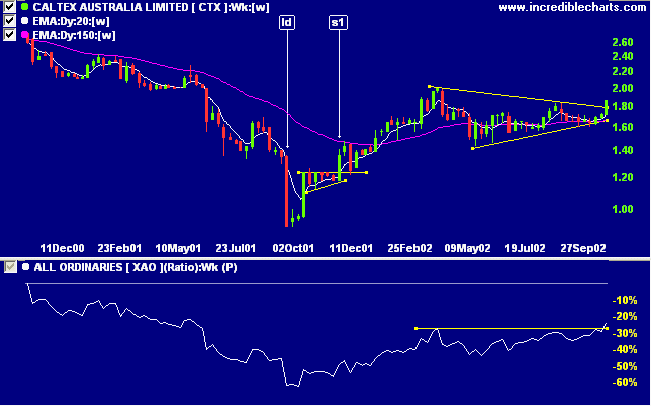 After a lengthy stage 4 down-trend CTX appears to have experienced a final capitulation of sellers [ld] before reversing into an up-trend. The up-trend encountered resistance at 2.00, forming a symmetrical triangle below this level. The triangle has now given a continuation signal in the last few days with an upward breakout. Relative strength (price ratio: xao) has started to trend upwards, signaled by the higher trough and a break above the previous peak.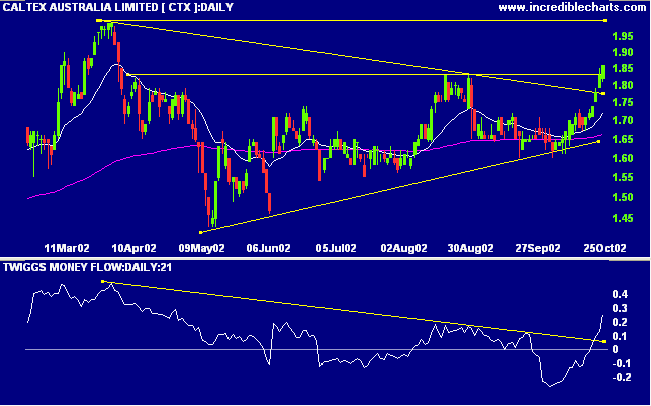 There are 2 horizontal lines drawn on the daily chart: the break above resistance at 1.83 confirms the triangle breakout, while 2.00 represents the next major resistance level last tested in March. Twiggs money flow signals accumulation and MACD is bullish.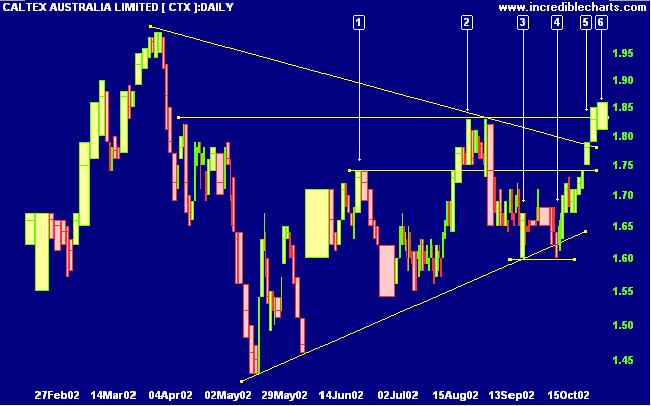 Triangle patterns are prone to false breakouts as can be seen at [4] on the equivolume chart. I find that a break below the immediate support level, in this case below [3], is useful as confirmation. The breakout from the triangle at [5] has been confirmed by a break above resistance at 1.83. Observe how price rose above 1.83 but closed back at the resistance level before closing above on the following day [6].
The target objective for the triangle pattern is 2.39 (1.78 + 1.99 - 1.38), measured vertically from the base of the triangle to the highest peak and then projected up from the breakout point (1.78).
Short-term: Long. The Slow Stochastic and MACD are above their respective signal lines.
Medium-term: Long. Use stop losses to protect yourself against a sudden reversal.
Colin Twiggs
Thought for the Day:
Win or lose, everybody gets what they want out of the market
.
Some people seem to like to lose, so they win by losing money.

- Ed Seykota
, from Market Wizards by Jack Schwager.
---
Back Issues
Access the Trading Diary Archives.
---