---
---
Incredible Charts 4.0.0.7
A new update will be released this weekend.
Use Help >>About to check that you have the latest version.
---
These extracts from my daily trading diary are intended to illustrate the techniques used in short-term trading and should not be interpreted as investment advice. Full terms and conditions can be found at
Terms of Use
.
USA
The Dow has formed a continuation
flag
or
pennant
, closing up 0.5% at 8322 on above-average volume. A primary trend reversal will be signaled if the index rises above 9130.
The Nasdaq Composite Index gained more than 1% to close at 1287. The primary trend will reverse if there is a break above 1426.
The S&P 500 gained 5 points to close at 884, forming a continuation
flag
. The primary trend is down. The index will complete a
double bottom
reversal if it rises above 965.
The
Chartcraft NYSE Bullish % Indicator
reflects a bear confirmed signal at 26% (October 17).
Bonds down
Bond yields are rising sharply, with 10-year treasury notes up more than 0.5% from their 40-year low of 3.56% on October 9.

(
more
)
Gold
New York: Spot gold was up slightly at $US 312.50.
The All Ordinaries closed up 20 points at 2967 on strong volume. A break above 3150 will signal a primary trend reversal.
MACD (26,12,9) and Slow Stochastic (20,3,3) are above their signal lines. Twiggs money signals accumulation, after a bullish divergence.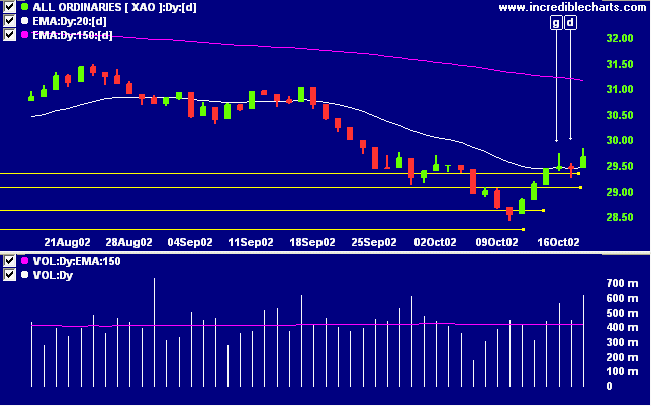 Coles Myer [CML]
CML formed a U-shaped bottom, normally referred to as a
rounded bottom
or
saucer
pattern, after a
stage 4
down-trend. One reader pointed out that the pattern resembles a
cup and handle
pattern - these tend to be unreliable if a stock is trending downwards. Relative strength (price ratio: xao) shows a slight improvement.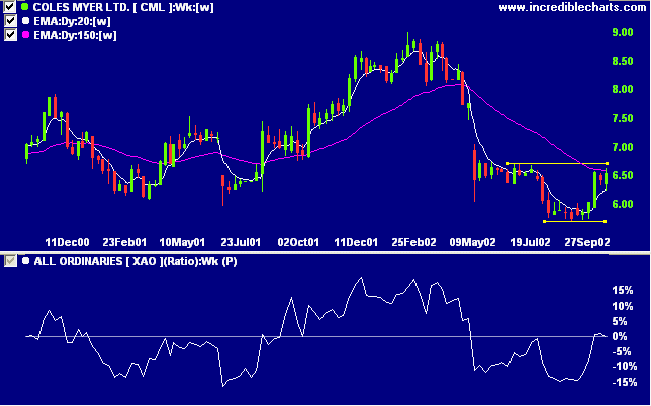 MACD displays a bullish divergence, while Twiggs money flow signals accumulation.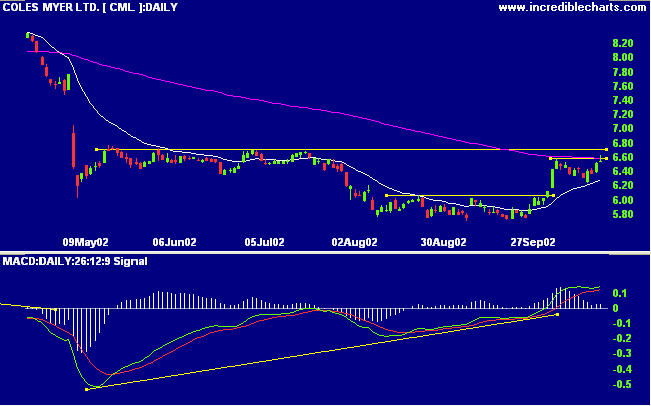 The equivolume chart shows strong support at 6.40 with accumulation at [3] and [4]. The latest rally [5] lacks conviction with low volume and a longer upper shadow signaling rejection of higher prices.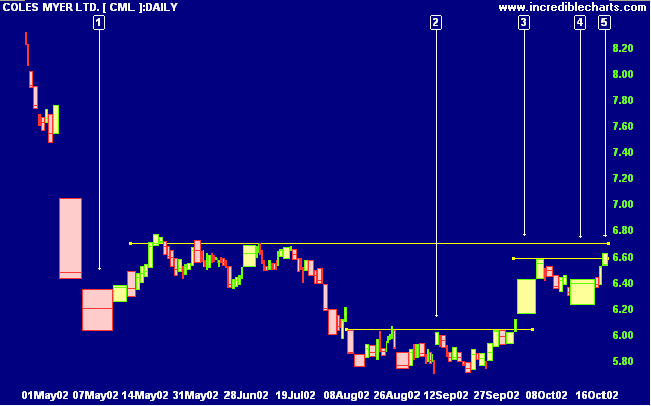 The chart pattern can be treated as an inverted head and shoulders, with the head at [2] and shoulders at [1] and [4]. The break above 6.55 penetrated the neckline at [5]. Strong volume is required to confirm the breakout and a rise above 6.70 will give added confirmation.
Sector Analysis
Changes are highlighted in bold.
Energy [XEJ] - stage 4 (RS is rising)
Materials [XMJ] - stage 4
Industrials [XNJ] - stage 4 (RS is falling)
Consumer Discretionary [XDJ] - stage 4
Consumer Staples [XSJ] - stage 1 (RS is rising)
Health Care [XHJ] - stage 4 (RS is falling)
Property Trusts [XPJ] - stage 2 (RS is rising)
Financial excl. Property Trusts [XXJ] - stage 4 (RS is falling)
Information Technology [XIJ] - stage 4 (RS is falling)
Telecom Services [XTJ] - stage 1 (RS is rising)
Utilities [XUJ] - stage 2 (RS is rising)
Sectors: Relative Strength
A stock screen of the ASX 200 using % Price Move (1 month: +5%) returned 25 stocks (compared to 99, August 23rd and 10 on October 4th).
Short-term:
Long
. The Slow Stochastic and MACD are above their respective signal lines.
Medium-term:
Long
. Use stop losses to protect yourself against a sudden reversal.
Colin Twiggs
Thought for the Day:
If a speculator is correct half the time he is hitting a good average. Even being right three or four times out of ten
should yield a person a fortune if he has the sense to cut his losses quickly on the ventures where he has been wrong.

- Bernard Baruch
---
Back Issues
Access the Trading Diary Archives.
---