---
---
Registering on the Chart Forum:

Registration is separate from the charting application - you can use a different username (and password if you wish).
The username uses only lowercase - no CAPITALS.
Only fields with an * are required fields. The rest are optional.
---
Trading Diary
October 02, 2002
These extracts from my daily trading diary are intended to illustrate the techniques used in short-term trading and should not be interpreted as investment advice. Full terms and conditions can be found at Terms of Use

.
USA
The Dow failed to break resistance at 8000, retreating 2.3% to close at 7755 on strong volume.
The primary trend is down.
The Nasdaq Composite Index fell 2.2% to close at 1187.
The primary trend is down.
The S&P 500 retreated by a similar amount, losing 20 points to close at 827.
The primary trend is down.
The
Chartcraft NYSE Bullish % Indicator
reflects a bear confirmed signal at 32% (October 1).
Dell performance doesn't signal tech recovery
Dell raised its third-quarter sales and earnings guidance but the gains are at the expense of their competitors and do not signal a broad industry recovery.
(more)
Gold
New York: The spot gold price recovered by 350 cents to $US 323.10.
After an early rally, the All Ordinaries came under selling pressure in the afternoon, closing up 11 points at 2952 on above-average volume.
The Slow Stochastic (20,3,3) is above its signal line, while MACD (26,12,9) is below. Twiggs money shows a small bullish divergence.
The primary trend is down.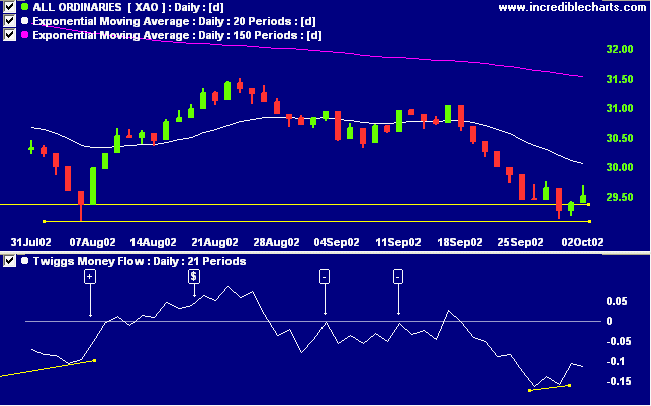 Lion Nathan [LNN]
LNN made a new high, continuing its strong stage 2 up-trend. Relative strength (price ratio: xao) is rising.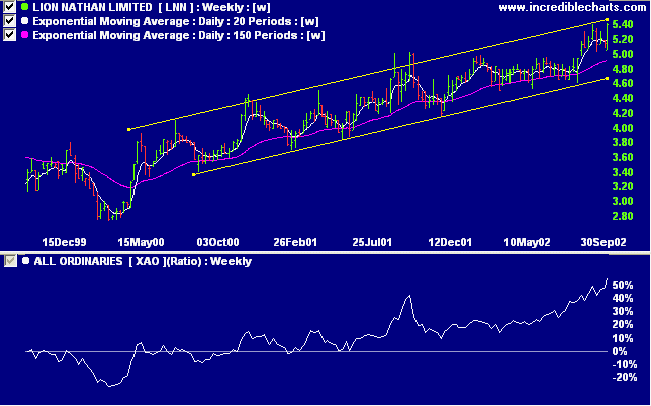 The daily chart shows price approaching the upper band of the trend channel. Twiggs money flow signals strong accumulation.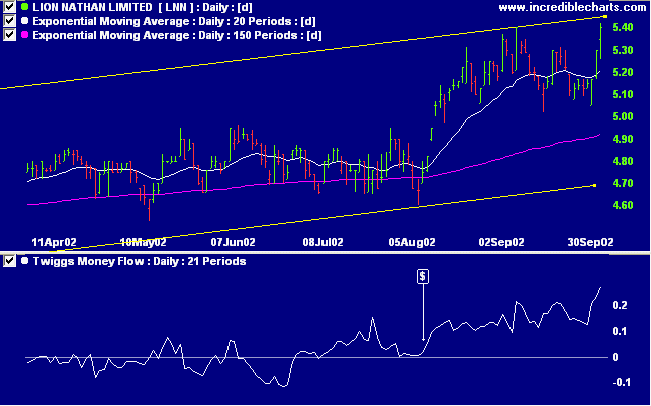 The equivolume chart shows how LNN has broken through resistance at 5.17, 5.30 and 5.40.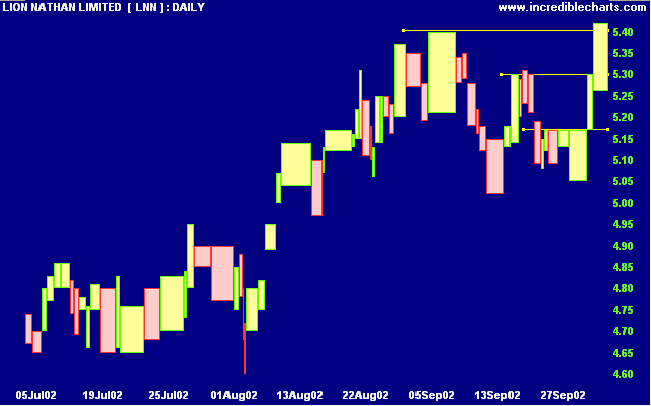 The aim with a rising trend channel is to go long near the lower band and take profits near the upper band, preferably using a
trailing sell-stop
.
Conclusion
Short-term: Avoid new entries. The Slow Stochastic and MACD are on opposite sides of their respective signal lines.
Medium-term: Wait for the All Ords to signal a reversal.
Long-term: Wait for a bull-trend on the Nasdaq or S&P 500 (primary cycle).
Colin Twiggs
Thought for the Day:

A trader gets to play the game as the professional billiard player does
- that is, he looks far ahead instead of considering the particular shot before him.
It gets to be an instinct to play for position.

- Edwin Lefevre

---
Back Issues
Access the Trading Diary Archives.
---