---
---
Registering on the Chart Forum:

Registration is separate from the chart application - you can use a different username (and password if you wish).
The username uses only lowercase - no CAPITALS.
Only fields with an * are required fields. The rest are optional.
---
Trading Diary
October 01, 2002
These extracts from my daily trading diary are intended to illustrate the techniques used in short-term trading and should not be interpreted as investment advice. Full terms and conditions can be found at Terms of Use

.
USA
The Dow appears set to test resistance at 8000 after rising sharply to close at 7938 on strong volume; up 4.6%.
The primary cycle trends down.
The Nasdaq Composite Index gained 3.6% to close at 1213.
The primary trend is down.
The S&P 500 recovered 32 points to close at 847.
The primary trend is down.
The
Chartcraft NYSE Bullish % Indicator
reflects a bear confirmed signal at 32% (September 30).
Iraq agrees to weapons inspections
The Dow jumped 347 points after news that weapons inspectors could return to Iraq within 2 weeks. But the US is insisting on a new UN security council resolution before their return.
(more)
Gold
New York: The spot gold price lost 420 cents to $US 319.60.
The All Ordinaries rallied to close one point above 2940 on above-average volume.
The Slow Stochastic (20,3,3) is above its signal line, while MACD (26,12,9) is below. Twiggs money shows a small bullish divergence.
The primary trend is down.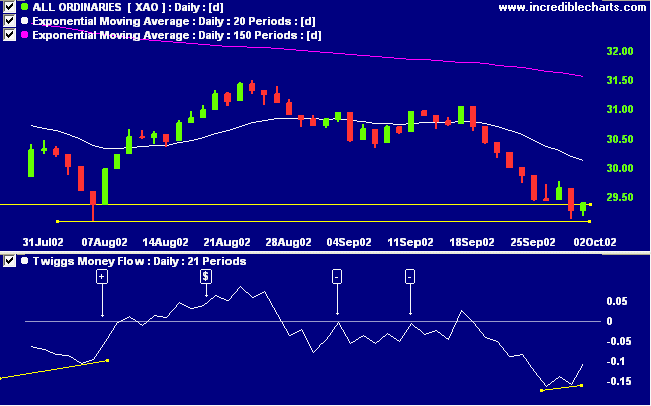 Peptech [PTD]
This biotech stock has been in a stage 4 down-trend for the past 6 months, falling more than 50% from its February high. Price has held above the key 2.00 support level while MACD signaled a bullish divergence. MACD has now broken its upward trendline, signaling weakness. Relative strength (price ratio: xao) is falling.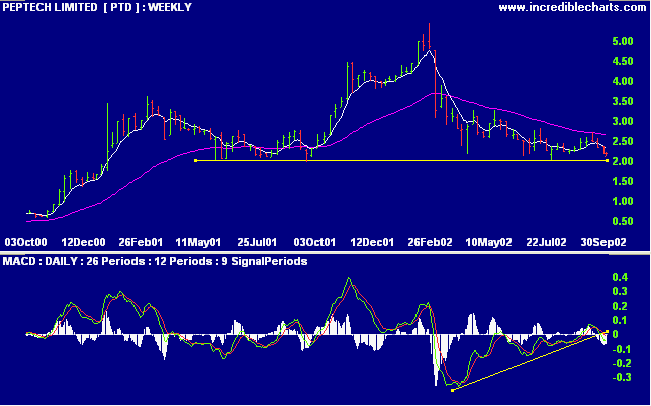 The daily chart shows price respecting the 150-day MA (from below) while Twiggs money flow signals distribution. Note the closing price reversal on Monday signaling a minor rally.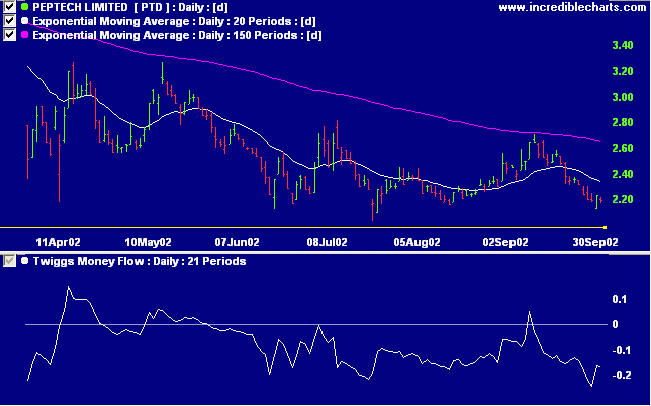 The reversal can best be viewed on an equivolume chart. Light volume on Tuesday's inside day should not interfere with the minor rally. Note: PTD is in stage 4 and should not be traded long - a break below 2.00 would be a strong bear signal.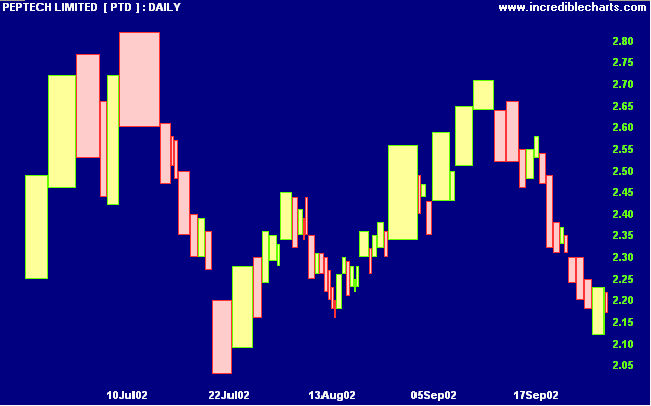 Conclusion
Short-term: Avoid new entries. The Slow Stochastic and MACD are on opposite sides of their respective signal lines.
Medium-term: Wait for the All Ords to signal a reversal.
Long-term: Wait for a bull-trend on the Nasdaq or S&P 500 (primary cycle).
Colin Twiggs
Thought for the Day:

The Master said: "Put me in the company of any two people at random
- they will invariably have something to teach me.
I can take their qualities as a model and their defects as a warning.

- The Analects of Confucius, 7.22

---
Back Issues
Access the Trading Diary Archives.
---