---
---
Some tips for registering and logging in on the Chart Forum:
Registration
Only fields with an * are required fields. The rest are optional.
The username uses only lowercase - no CAPITALS.

Logging in
Automatic Login is a time-saving feature that recognizes you when you visit the forum. If activated, there is no Login field displayed. Instead, you will see a message: "Logged in as username", in the forum header.
The auto login can be turned on/off under Profile.
---
Trading Diary
September 26, 2002
These extracts from my daily trading diary are intended to illustrate the techniques used in short-term trading and should not be interpreted as investment advice. Full terms and conditions can be found at Terms of Use

.
USA
The Dow gained 2 % to close just below the 8000 resistance level, at 7997 on strong volume.
The primary cycle trends down.
The Nasdaq Composite Index rallied in morning trading but then weakened to close 1 point lower at 1221.
The primary trend is down.
The S&P 500 gained 15 points to close at 854.
The primary trend is down.
The
Chartcraft NYSE Bullish % Indicator
reflects a bear confirmed signal at 34% (September 25).
Brighter economic news
Jobless claims fell by 24,000 last week; the decline in durable goods orders was a lower than expected 0.6%; and home sales rose to a record 996,000 last month.
(more)
Gold
New York: The spot gold price closed down 190 cents at $US 320.40.
The rally on the All Ordinaries failed with the index closing 1 point down at 2946 on above-average volume, with support at 2940.
The MACD (26,12,9) and Slow Stochastic (20,3,3) are below their signal lines. Twiggs money flow signals distribution.
The primary trend is down.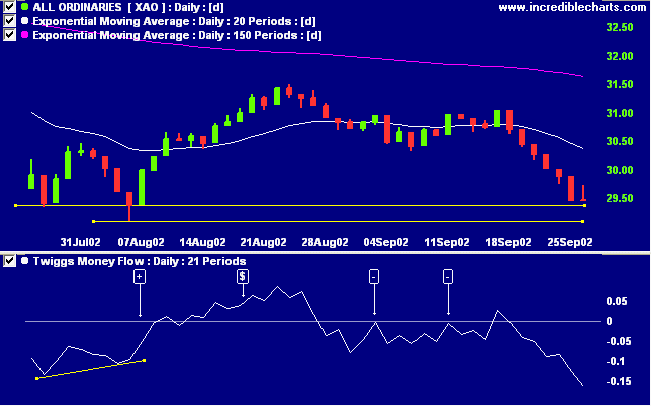 Caltex Australia [CTX]
CTX has formed a stage 1 base after a lengthy down-trend. After rallying off a low of $0.90 the stock has formed a triangle congestion pattern; a bullish sign as the stock has not retreated back to support at 1.00. Wait for relative strength (price ratio: xao) to resume its upward rise.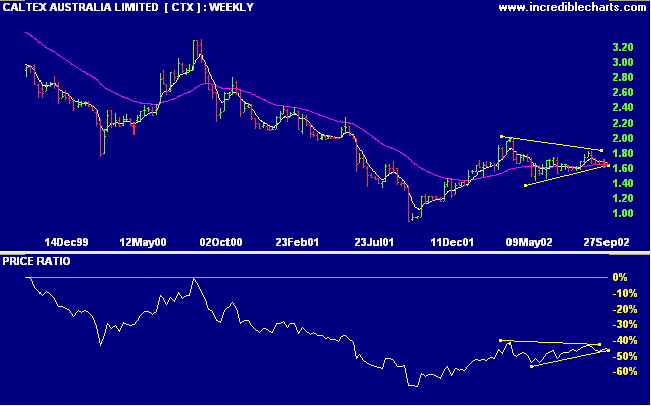 MACD and Twiggs money flow appear unconvinced, fluctuating around the zero line.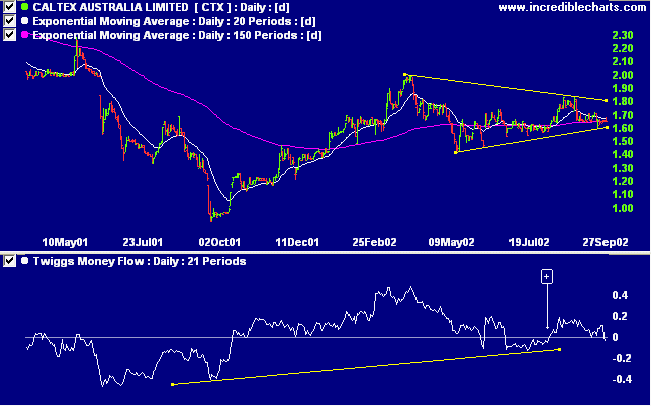 Equivolume clearly shows support at 1.65 with no closes below this level. A close below 1.65 would be bearish, while a breakout above 1.83 will be a strong bull signal.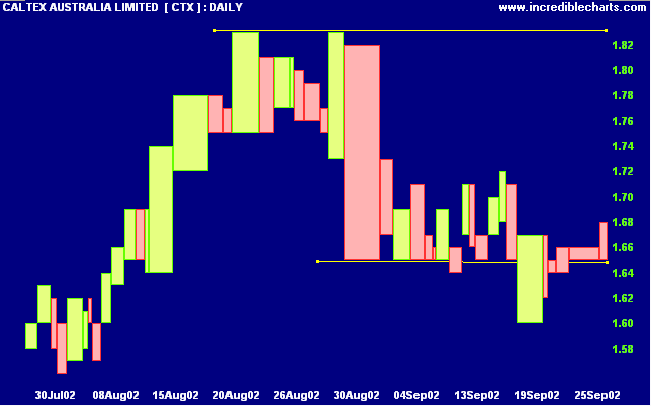 Conclusion
Short-term: The US market should have a positive effect on the local market. Avoid short unless the XAO falls below 2940. The Slow Stochastic and MACD are below their respective signal lines.
Medium-term: Wait for the All Ords to signal a reversal.
Long-term: Wait for a bull-trend on the Nasdaq or S&P 500 (primary cycle).
Colin Twiggs
Thought for the Day:

We Japanese are obsessed with survival.

- Akio Morita, founder of Sony.
(We traders should also be obsessed with survival)
---
Back Issues
Access the Trading Diary Archives.
---