---
---
Some tips for registering and logging in on the Chart Forum:
Registration
Only fields with an * are required fields. The rest are optional.
The username uses only lowercase - no CAPITALS.

Logging in
Automatic Login is a time-saving feature that recognizes you when you visit the forum. If activated, there is no Login field displayed. Instead, you will see a message: "Logged in as username", in the forum header.
The auto login can be turned on/off under Profile.
---
Trading Diary
September 25, 2002
These extracts from my daily trading diary are intended to illustrate the techniques used in short-term trading and should not be interpreted as investment advice. Full terms and conditions can be found at Terms of Use

.
USA
The Dow formed an
hook reversal
above the 7500 support level, closing up more than 2% at 7841 on strong volume.
The primary cycle trends down.
The Nasdaq Composite Index rallied 3.4% to close at 1222.
The primary trend is down.
The S&P 500 gained 20 points to close at 839.
The primary trend is down.
The
Chartcraft NYSE Bullish % Indicator
reflects a bear confirmed signal, falling to 34% (September 24).
GE lifts Dow
General Electric, the Dow's largest stock, says third-quarter profits may be up by as much as 25% on last year.
(more)
Gold
New York: The spot gold price weakened, closing down 380 cents at $US 322.30.
The All Ordinaries dropped 41 points to close at 2947 on higher volume, above support at 2940.
The MACD (26,12,9) and Slow Stochastic (20,3,3) are below their signal lines. Twiggs money flow signals distribution.
The primary trend is down.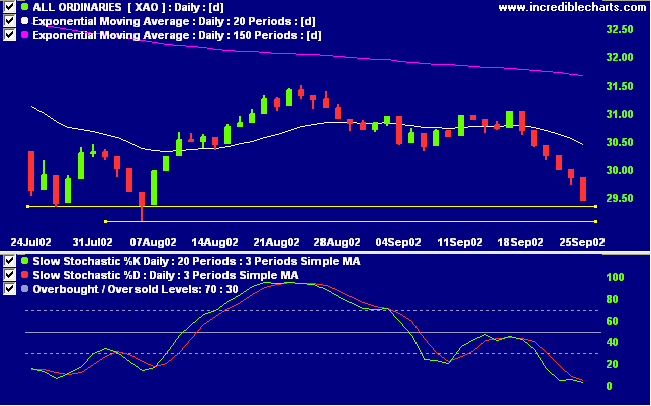 Bendigo Bank [BEN]
BEN is one of the few stocks in the ASX 200 to recently make a new high. As can be expected, relative strength (price ratio: xao) is rising steeply.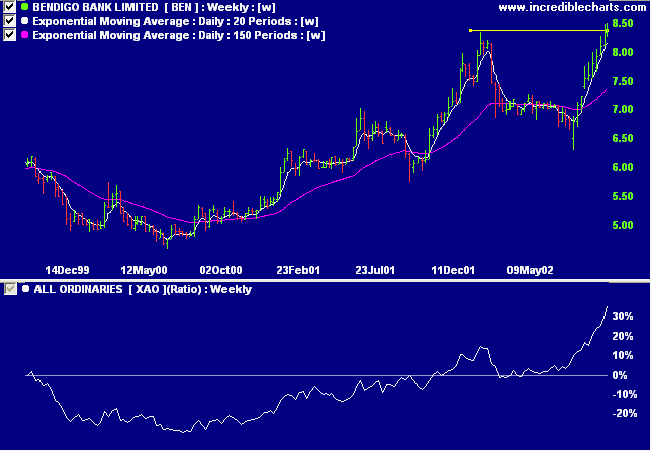 MACD and Twiggs money flow signaled bullish divergences [+] in July and are both positive. Price has broken through resistance at 8.21 and 8.34, with increased volume, but now seems to have paused.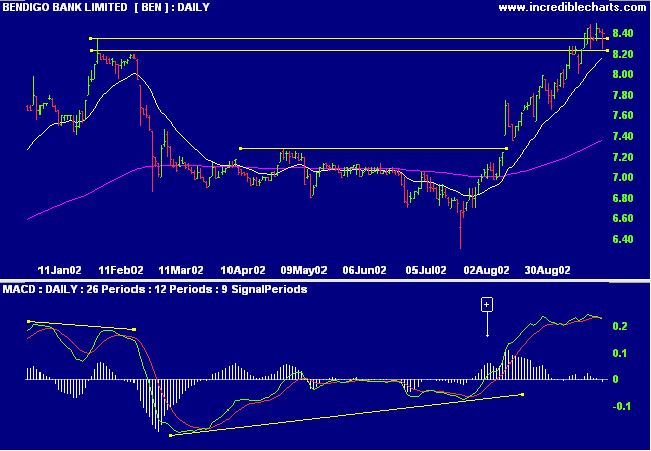 Equivolume shows congestion above the 8.21 support level, with significant volume on several days that closed lower. A congestion pattern at a resistance level is a bullish signal, with the stock moving sideways rather than retreating. However, one has to be cautious in the current market: a move above 8.50 will be bullish, but a fall below 8.21 will be a strong bear signal.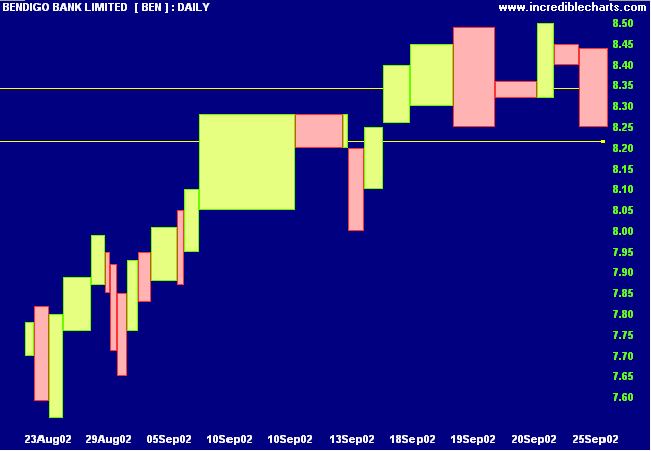 Conclusion
Short-term: The US market should have a positive effect on the local market. Avoid short unless the XAO falls below 2940. The Slow Stochastic and MACD are below their respective signal lines.
Medium-term: Wait for the All Ords to signal a reversal.
Long-term: Wait for a bull-trend on the Nasdaq or S&P 500 (primary cycle).
Colin Twiggs
Thought for the Day:

It is impossible to tell in advance the length of any primary movement, but the further it goes, the greater the reaction when it comes....

- SA Nelson
(after a record bull market in the 90's we should have anticipated the severity of the down-turn).
---
Back Issues
Access the Trading Diary Archives.
---