---
---
Chart Forum
The Chart Forum software has been upgraded - contributors will now require a password to identify themselves.
Click Register on the Forum page to secure your username and password.
Select Profile to customize your settings.
---
Trading Diary
September 24, 2002
These extracts from my daily trading diary are intended to illustrate the techniques used in short-term trading and should not be interpreted as investment advice. Full terms and conditions can be found at Terms of Use

.
USA
The Dow appears headed for the 7500 support level, closing down 2.4% at 7683 on strong volume.
The primary cycle trends down.
The Nasdaq Composite Index rallied to test resistance at 1200 before slipping back to close 2 points down at 1182.
The primary trend is down.
The S&P 500 lost 14 points to close at 819. The July support level is 800.
The primary trend is down.
The
Chartcraft NYSE Bullish % Indicator
reflects a bear confirmed signal, falling to 36% (September 23).
Rates unchanged
On a split vote, Federal Reserve policy-makers resolve to leave rates unchanged.
(more)
Gold
New York: The spot gold price tested the $US 328 level before closing at $US 326.10, up 340 cents.
The All Ordinaries closed down 13 points at 2988 on average volume. The next major band of support is at 2909 to 2940.
The MACD (26,12,9) and Slow Stochastic (20,3,3) are below their signal lines. Twiggs money flow signals distribution.
The primary trend is down.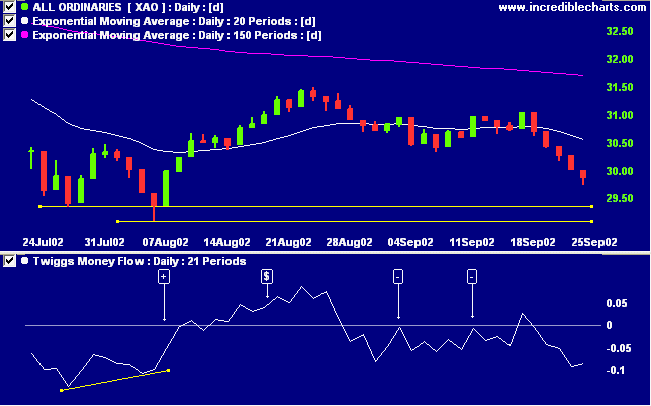 Perpetual Trustees [PPT]
After a long stage 2 up-trend PPT appears to be forming a
head and shoulders
reversal pattern. A break below the neckline would have a target of 23.00 ( 36.00 - 48.00 + 35.00 ). Relative strength (price ratio: xao) has started to weaken.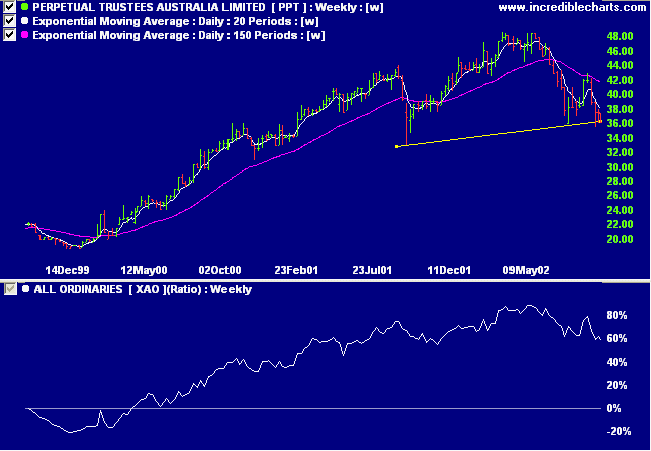 MACD is negative and Twiggs money flow signals distribution. A break below 36.00 on large volume would be a strong bearish signal.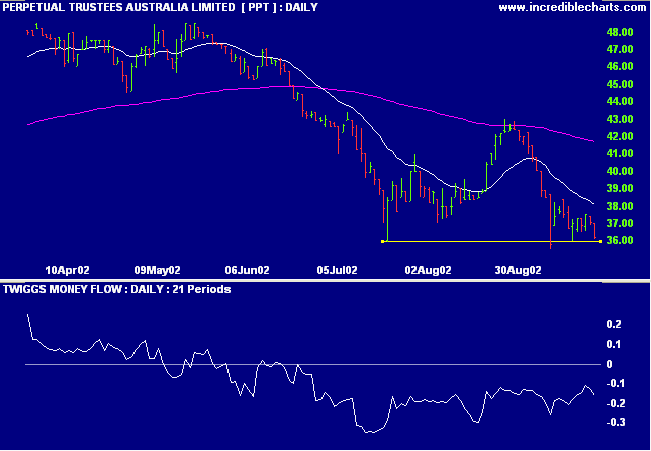 Conclusion
Short-term: Short. The Slow Stochastic and MACD are below their respective signal lines.
Medium-term: Wait for the All Ords to signal a reversal.
Long-term: Wait for a bull-trend on the Nasdaq or S&P 500 (primary cycle).
Colin Twiggs
Thought for the Day:

Every decade has its characteristic folly, but the basic cause is the same:
people persist in believing that what has happened in the recent past
will go on happening into the indefinite future,
even while the ground is shifting under their feet.

- George J Church
---
Back Issues
Access the Trading Diary Archives.
---