---
---
Stock Screens
New Directional Movement filters include:
DI+ and DI- 14-day crossovers

ADX crossovers of the 20 (or 25) level

Minimum or Maximum ADX values


ADX reversals (by 2, 3 or 4 points)
---
Trading Diary
September 19, 2002
These extracts from my daily trading diary are intended to illustrate the techniques used in short-term trading and should not be interpreted as investment advice. Full terms and conditions can be found at Terms of Use

.
USA
The Dow fell 2.8%, breaking through support at 8200 and 8000 on strong volume and closing at 7942. The next support level is 7500.
The primary cycle trends down.
The Nasdaq Composite Index also broke below recent support levels to close at 1216. The next support level is 1200.
The primary trend is down.
The S&P 500 closed 26 points lower at 843. The next support level is 800.
The primary trend is down.
The
Chartcraft NYSE Bullish % Indicator
bull alert signal is at 46% (September 18).
EDS takes a hit
Computer services stocks, including IBM, fell sharply as Texas-based EDS downgrades third-quarter earnings by 80%, blaming the collapse of US Airways and WorldCom.
(more)
Short Selling
A review of the hazards of short-selling. Put options may be a safer route.
(more)
Gold
New York: The spot gold price continued to climb, closing up $US 2.30 at $US 322.60.
The All Ordinaries fell 27 points to close at 3044 on higher volume, close to the 3030 support level.
The MACD (26,12,9) joined Slow Stochastic (20,3,3) below its signal line. Twiggs money flow slopes down.
The primary trend is down.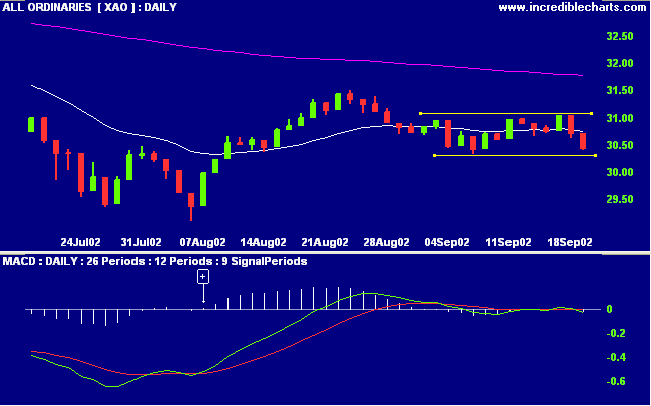 Burswood Limited [BIR]
Casinos and gaming stocks have put in a strong performance over the past 12 months when compared to the overall market. BIR was no exception until mid-year. The stock has since crossed below the 150-day moving average with relative strength (price ratio: xao) falling. Price is now testing support at 0.77 after a strong bear signal on Twiggs money flow [-], where TMF failed to cross above zero on the last rally.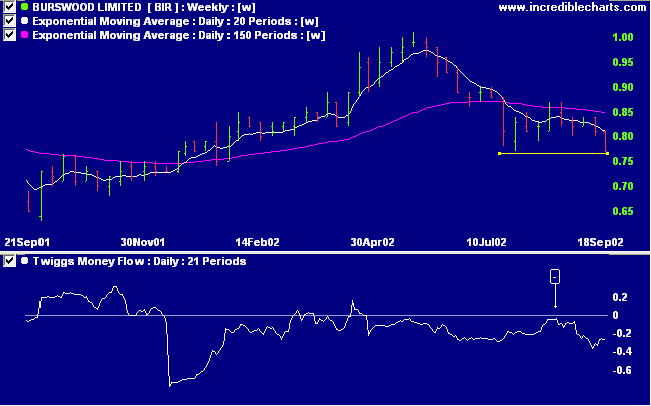 The daily chart shows that MACD is also weakening. A break below the 0.77 support level would have a target of 0.67 (2*0.77-0.87).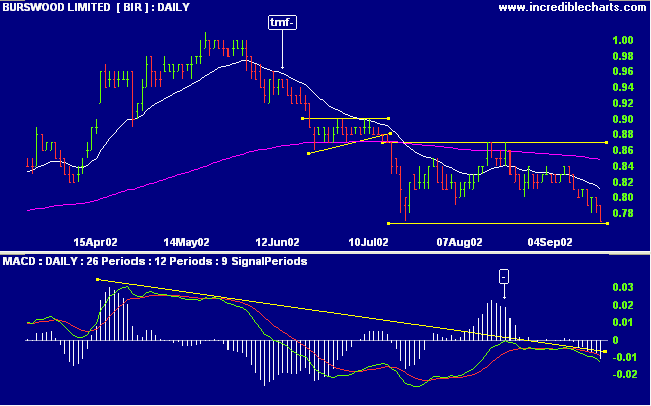 Conclusion
Short-term: Short. The Slow Stochastic and MACD are below their respective signal lines.
Medium-term: Wait for the All Ords to signal a reversal.
Long-term: Wait for a bull-trend on the Nasdaq or S&P 500 (primary cycle).
Colin Twiggs
Thought for the Day:

"It takes 100% relaxation and 100% concentration".

- Olympic clay target shooter, Michael Diamond.
(The ability to stay relaxed in pressure situations is one of the keys to successful trading)
---
Back Issues
Access the Trading Diary Archives.
---