---
---
Stock Screens
New stock screens will be available soon, including:
Directional Movement filters.

Additional MACD filters.


A volume filter to eliminate inactive stocks.
---
Trading Diary
September 17, 2002
These extracts from my daily trading diary are intended to illustrate the techniques used in short-term trading and should not be interpreted as investment advice. Full terms and conditions can be found at Terms of Use

.
USA
The Dow again tested the 8200 support level, closing 2% down at 8207 on higher volume.
The primary cycle trends down.
The Nasdaq Composite Index is also testing support, closing 1.25% down at 1259. The primary trend is down.
The S&P 500 tested the 870 support level, closing 18 points down at 873. The primary trend is down.
The
Chartcraft NYSE Bullish % Indicator
bull alert signal is at 46% (September 16).
Big Mac
McDonalds stock fell 12% after warning that profits will be hurt by slow sales in the US and Europe.
(more)
Iraq
Relief over the Iraqi announcement that they will admit weapons inspectors was short-lived as US officials discounted the move as "a tactical step" to head off strong U.N. Security Council action.
(more)
Gold
New York: spot gold closed at $US 316.80, 40 cents down.
The All Ordinaries closed up 30 points at 3105 on strong volume, pointing to another rally. But the US market pulls in the opposite direction. The primary trend is down.
MACD (26,12,9) and Slow Stochastic (20,3,3) crossed to above their signal lines. Twiggs money flow signals accumulation.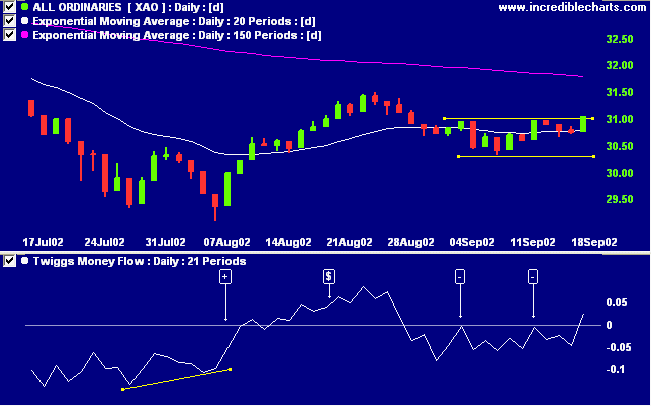 Bendigo Bank [BEN]
After appearing to form a stage 3 top, BEN has rallied strongly over the past 8 weeks to a new high of 8.40. Relative strength (price ratio: xao) is rising.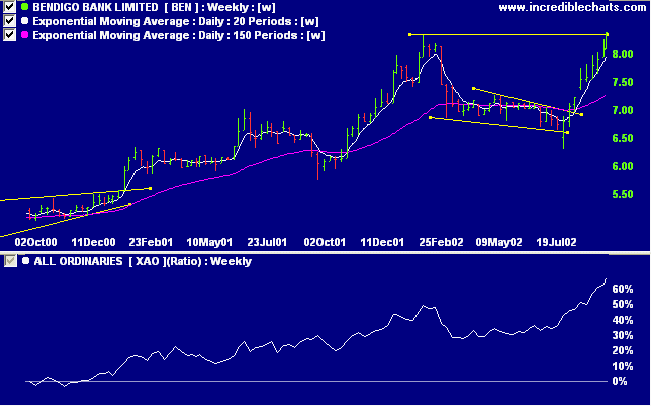 On the daily chart, MACD is positive while Twiggs money flow signals strong accumulation.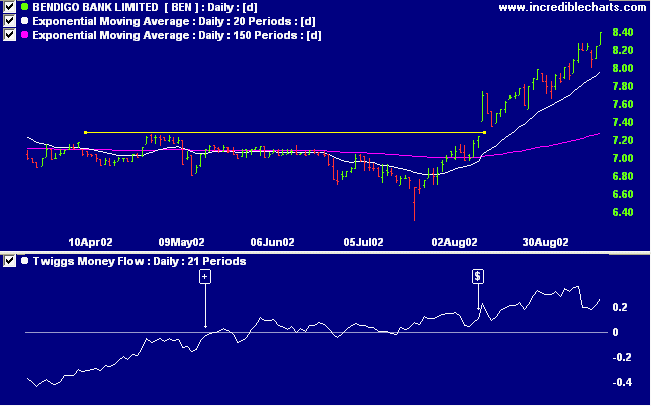 Conclusion
Short-term: Long if the All Ords rises above 3105. The Slow Stochastic and MACD are above their respective signal lines.
Medium-term: Wait for the All Ords to signal a reversal.
Long-term: Wait for a bull-trend on the Nasdaq or S&P 500 (primary cycle).
Colin Twiggs
Thought for the Day:

Don't try to pick the turning point on falling stocks, there are often several failed rallies before one succeeds.
Buy on breakouts above resistance.
---
Back Issues
Access the Trading Diary Archives.
---