---
---
Stock Screens: Directional Movement
Thank you for your input.
The consensus appears to be:
DI+ and DI- crossovers within x number of days (where x is input by the user).

ADX above or below x (as in %Price Move - Minimum or Maximum values).

ADX crosses to above (or below) a value x inserted by the user. For example: ADX crosses to above 20.

ADX today is x points above (or below) ADX from 5 days earlier.
You can view the discussion at ADX on the Chart Forum.
---
Trading Diary
September 13, 2002
These extracts from my daily trading diary are intended to illustrate the techniques used in short-term trading and should not be interpreted as investment advice. Full terms and conditions can be found at Terms of Use

.
USA
The Dow fell 0.8% to close at 8312 on higher volume. Support levels are at 8200, 8000 and a key support level at 7500.
The primary cycle trends down.
The Nasdaq Composite Index formed a
closing-price reversal
, rising 0.9% to close at 1291. The primary trend is down.
The S&P 500 closed 3 points up at 889. The primary trend is down.
The
Chartcraft NYSE Bullish % Indicator
bull alert signal is at 46% (September 12).
Mickey Mouse blues
Disney is suffering from falling ratings at ABC Network and lower gates at its theme parks.




Gold
The New York close was down $US 2.20 at $US 316.50.
The All Ordinaries closed down 11 points at 3080 on higher volume.
The primary trend is down.
Slow Stochastic (20,3,3) is above its signal line, MACD (26,12,9) is below. Twiggs money flow signals distribution.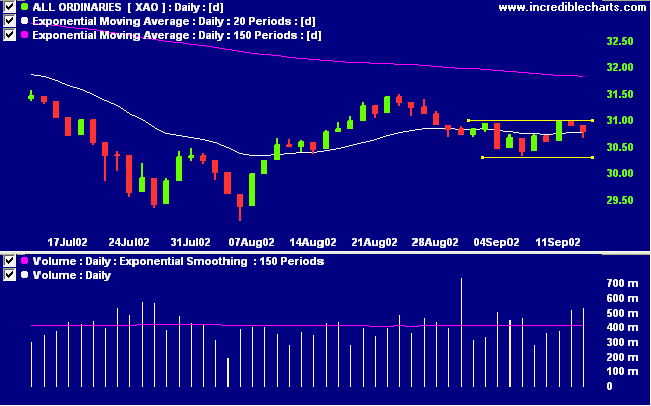 NewsCorp [NCP]
Picking the bottom on a falling stock is "like trying to catch a falling knife" - you may lose a few fingers. NCP has been in a stage 4 decline since completing a
double top
at [M]. It is now close to the measured objective at [T]. The stock subsequently completed a
declining triangle
at [D]. This has a measured objective of 4.40 ( 2 x 11.78 [2] - 19.16 [1] ). I am not suggesting that NCP is about to fall to $4.40, but there may still be further downside.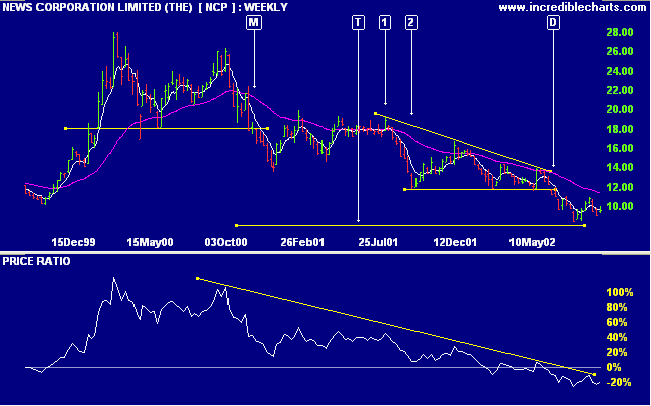 NCP surpassed the measured objective from the short-term double bottom at [W], reaching 11.92, before retreating back to 9.00. MACD is rising but the 150-day moving average still slopes downward and Twiggs money flow signals distribution.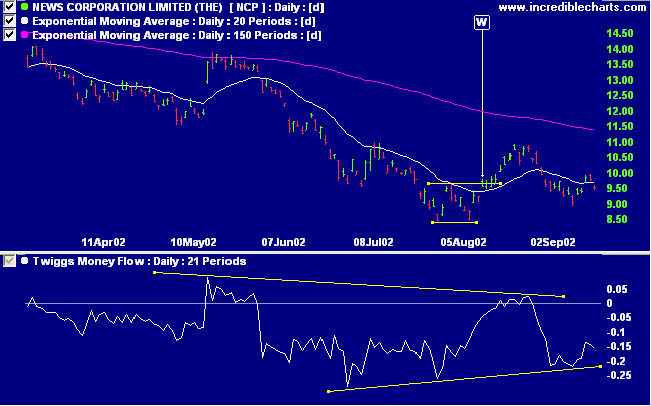 Sector Analysis
Stage changes are highlighted in bold.
Energy [XEJ] - stage 1 (RS is rising)
Materials [XMJ] - stage 4 (RS is rising)
Industrials [XNJ] - stage 4
Consumer Discretionary [XDJ] - stage 4
Consumer Staples [XSJ] - stage 1 (RS is rising)
Health Care [XHJ] - stage 4
Property Trusts [XPJ] - stage 4
Financial excl. Property Trusts [XXJ] - stage 4 (RS is rising)
Information Technology [XIJ] - stage 4
Telecom Services [XTJ] - stage 1 (RS is rising)
Utilities [XUJ] - stage 2 (RS is rising)
Sectors: Relative Strength
A stock screen of the ASX 200 using % Price Move (1 month: +5%) has fallen to 57 stocks that have gained more than 5% in the last month. Notable sectors:
Oil & Gas
Broadcasting & Cable TV
Conclusion
Short-term: Avoid new entries. The Slow Stochastic and MACD are on opposite sides of their respective signal lines.
Medium-term: Wait for the All Ords to signal a reversal.
Long-term: Wait for a bull-trend on the Nasdaq or S&P 500 (primary cycle).
Colin Twiggs
Thought for the Day:

The more I practice, the luckier I get.

- golf maestro Gary Player.
---
Back Issues
Access the Trading Diary Archives.
---