---
---
Stock Screens: Directional Movement
The third suggested Directional Movement filter is: When ADX turns up or turns down.
There are several ways to measure this:
ADX today is greater than ADX yesterday. This may be too volatile, requiring some form of smoothing (as in the options below).

ADX has risen for x days (or fallen for x days ). If the user inserts a value of "1" day, the result is the same as for "1." above. If they insert a value of "2" days, the security will be included only if ADX has increased on 2 consecutive days.

ADX today is x points above (or below) ADX from 5 days earlier. This way we need only keep 2 fields on the database: ADX today and ADX from 5 days ago.

ADX is the highest (or lowest) in the last 5 days.

ADX crosses to above (or below) a value x inserted by the user. For example: ADX crosses to above 20.
Please post your preferences at ADX on the Chart Forum.
(Note that where I mention "5 days" we may offer alternative options such as 2 or 10 days).
---
Trading Diary
September 12, 2002
These extracts from my daily trading diary are intended to illustrate the techniques used in short-term trading and should not be interpreted as investment advice. Full terms and conditions can be found at Terms of Use

.
USA
The Dow fell 2.3% to close at 8379 on normal volume. A look at the recent series of troughs and peaks (7500 - 8800 - 8000 -
8800 - 8300
- 9100 - 8200 - 8800) reveals weaker rallies and longer corrections: a fading secondary cycle rally. The measured objective for the latest correction is 8000 but the index will first have to break through support at 8200.
The primary cycle trends down.
The Nasdaq Composite Index dropped 2.7% to close at 1279. The primary trend is down.
The S&P 500 closed down 23 points at 886. The primary trend is down.
The
Chartcraft NYSE Bullish % Indicator
bull alert signal is at 46% (September 11).
Alan Greenspan
The Federal Reserve Chairman says that the US economy has slowed and asks Congress to cut spending.
(more)
Gold
Gold closed up $US 2.30 at $US 318.70 in New York.
The All Ordinaries closed down 7 points at 3091. Strong volume and a narrow trading range on the equivolume chart signal firm resistance at 3100.
The primary trend is down.
Slow Stochastic (20,3,3) is above its signal line, MACD (26,12,9) is below. Twiggs money flow signals distribution.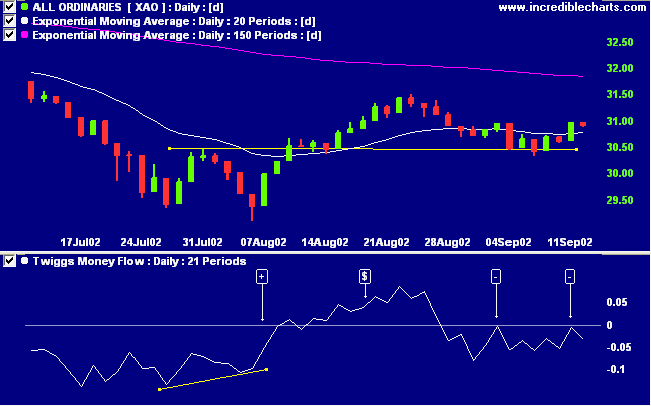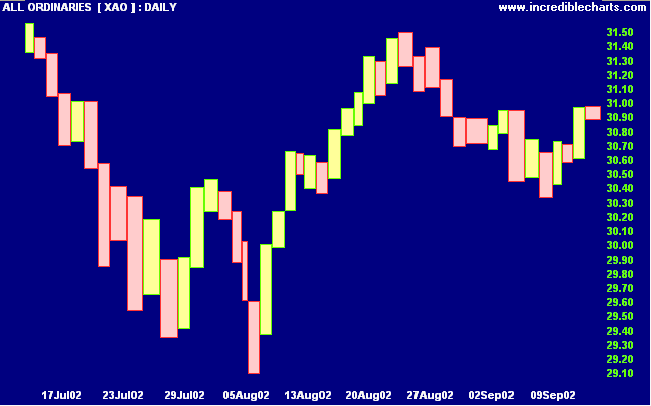 Lend Lease [LLC]
LLC is forming a stage 1 base after a lengthy stage 4 down-trend. The weekly chart shows strong support at 9.60 and the stock has now risen to the 150-day moving average after a bullish divergence on MACD.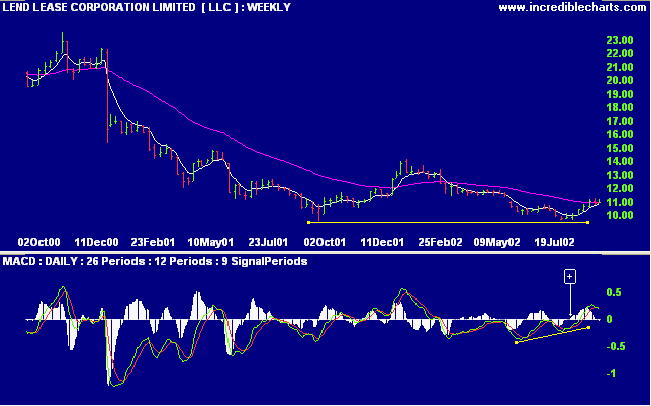 LLC has now formed a continuation
flag pattern
at the 150-day moving average, while Twiggs money flow signals accumulation after an earlier bullish divergence.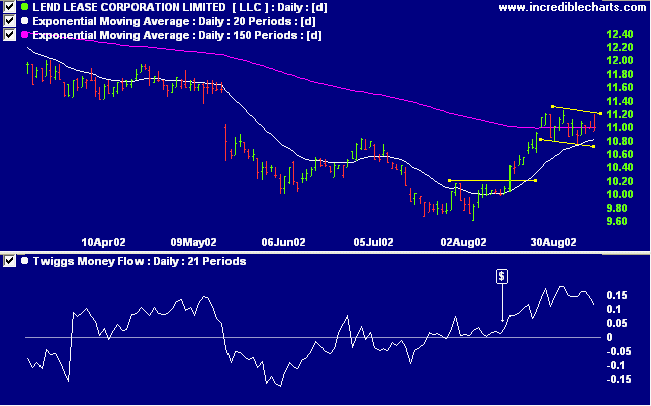 Conclusion
Short-term: Avoid new entries. The Slow Stochastic and MACD are on opposite sides of their respective signal lines.
Medium-term: Wait for the All Ords to signal a reversal.
Long-term: Wait for a bull-trend on the Nasdaq or S&P 500 (primary cycle).
Colin Twiggs
Thought for the Day:

We are what we repeatedly do.
Excellence, then, is not an act, but a habit.

- Aristotle.
---
Back Issues
Access the Trading Diary Archives.
---