---
---
Stock Screens: Directional Movement
We plan to add 3 Directional Movement filters to the list of Stock Screen filters:
DI+ and DI- crossovers within x number of days (where x is input by the user).

ADX above or below x (as in %Price Move - Minimum or Maximum values).


ADX turns up or turns down.
Please post your comments at ADX on the Chart Forum.
---
Trading Diary
September 11, 2002
These extracts from my daily trading diary are intended to illustrate the techniques used in short-term trading and should not be interpreted as investment advice. Full terms and conditions can be found at Terms of Use

.
USA
The Dow surged in midday trading but quickly retreated to close slightly lower at 8602 on weak volume. The primary cycle trends down.
The Nasdaq Composite Index closed down 5 points at 1315. The primary trend is down.
The S&P 500 also showed uncertainty, closing unchanged at 909. The primary cycle is in a down-trend.
The
Chartcraft NYSE Bullish % Indicator
bull alert signal is at 46% (September 10).
Slow and uneven growth
The Federal Reserve Beige Book report finds strong automobile and housing sales, contrasted with weak retail sales and manufacturing.
(more)
The All Ordinaries surged at the opening, closing up 37 points at 3098 on average volume.
The primary trend is down.
Slow Stochastic (20,3,3) has crossed to above its signal line. Twiggs money flow signals distribution.
Gold
The spot gold price has retreated from its high of $US 321 on the 9th to close at $US 316.40 in New York. The short-trend is still upward but can be expected to encounter resistance at $US 324 to $US 327.
Local gold stocks have rallied off recent lows but now appear to be pulling back to the 20-day moving average, in line with the gold price.
Lihir Gold (LHG) started to trend upwards after a bullish divergence [+] on Twiggs money flow, but has now retreated to test support [1] at 1.25.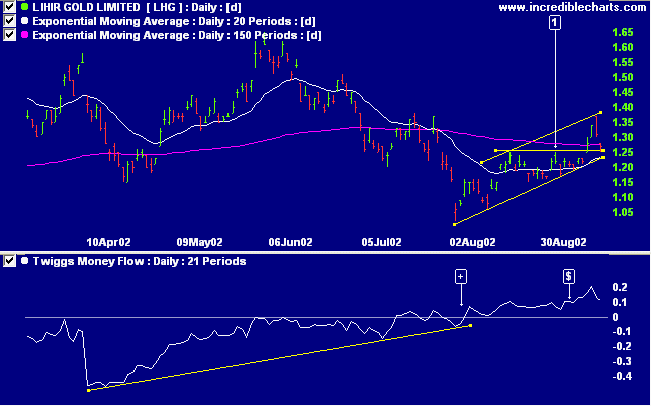 AurionGold (AOR) is also retreating but with a reassuring fall in volume, signaled by the latest thin equivolume bars. Twiggs money flow and MACD are positive.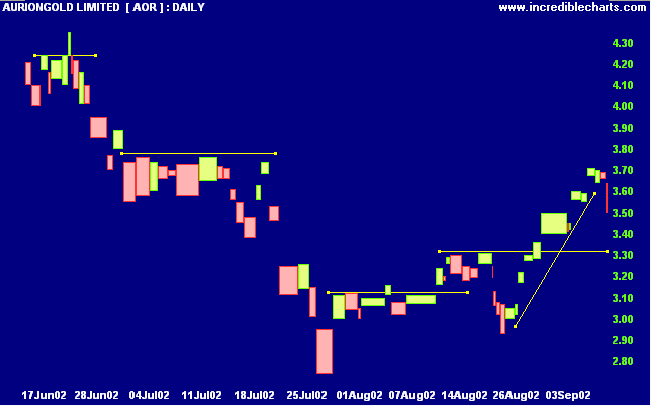 Newcrest Mining (NCM) has formed a rising wedge over the last 6 to 8 weeks. Twiggs money flow and MACD are positive.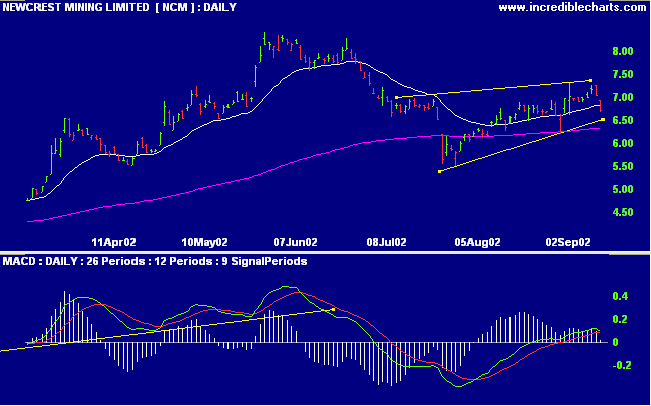 Conclusion
Short-term: Avoid new entries. The Slow Stochastic and MACD are on opposite sides of their respective signal lines.
Medium-term: Wait for the All Ords to signal a reversal.
Long-term: Wait for a bull-trend on the Nasdaq or S&P 500 (primary cycle).
Colin Twiggs
Thought for the Day:

There's many a pessimist who got that way by financing an optimist

- Anonymous.
---
Back Issues
Access the Trading Diary Archives.
---