---
---
Stock Screens: Directional Movement
We are planning to add Directional Movement/ADX to the list of Stock Screen filters
and welcome any comments or suggestions as to how the filter should be implemented.
Please post your comments at ADX on the Chart Forum.
---
Trading Diary
September 9, 2002
These extracts from my daily trading diary are intended to illustrate the techniques used in short-term trading and should not be interpreted as investment advice. Full terms and conditions can be found at Terms of Use

.
USA
The Dow rose 1% to close at 8519 on lower volume. The recent sequence of troughs and peaks on the secondary cycle has been 7500 - 8800 - 8000 - 9100 - 8200. The second rally was not as strong as the first, while the corrections are lengthening. In conventional terms, the last rally experienced an 80% retracement, signaling trend weakness.
The primary cycle trends down.
The Nasdaq Composite Index formed an outside day to close 0.7% higher at 1304. The primary trend is down.
The S&P 500 gained 9 points to close at 902. The primary cycle is in a down-trend.
The
Chartcraft NYSE Bullish % Indicator
bull alert signal is at 46% (September 6).
AOL Time Warner
AOL is expected to post annual revenue of $US 1.7 billion compared to $US 2.7 billion last year, because of a slump in advertising sales and slowing subscriber growth.
(more)
The All Ordinaries rallied 27 points to close at 3069. The weak volume signals a lack of commitment from buyers.
The primary trend is down.
The MACD (26,12,9) and Slow Stochastic (20,3,3) are below their respective signal lines. Twiggs money flow signals distribution.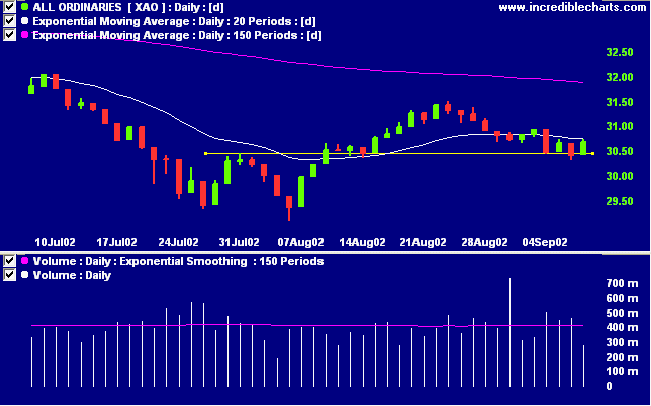 Peptech [PTD]
PTD may appeal to bottom-fishers after a 6-month bear-trend with price at roughly 50% of its previous high The biotechnology stock has held above support at 2.00, while MACD signaled a bearish divergence.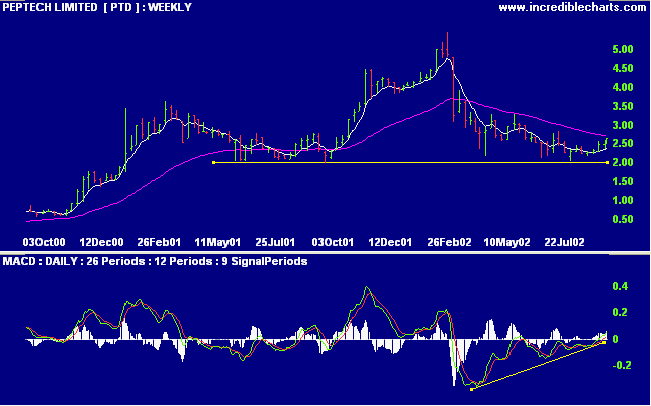 But Twiggs money flow has steadily weakened - best illustrated by the 100-day TMF - and a break below 2.00 would complete a long-term head and shoulders pattern.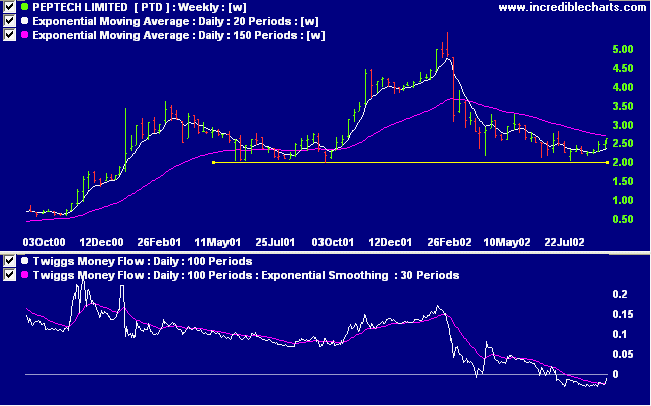 Conclusion
Short-term: Avoid new entries, the All Ords shows uncertainty. The Slow Stochastic and MACD are below their respective signal lines.
Medium-term: Wait for the All Ords to signal a reversal.
Long-term: Wait for a bull-trend on the Nasdaq or S&P 500 (primary cycle).
Colin Twiggs
Thought for the Day:


The conduct of successful business merely consists in doing things in a very simple way, doing them regularly and never neglecting to do them.
- William Hesketh Lever (founder of Lever Brothers)
---
Back Issues
Access the Trading Diary Archives.
---