---
---
Stock Screens: Directional Movement
We are planning to add Directional Movement/ADX to the list of Stock Screen filters
and welcome any comments or suggestions as to how the filter should be implemented.
Post your comments at ADX on the Chart Forum.
---
Trading Diary
September 6, 2002
These extracts from my daily trading diary are intended to illustrate the techniques used in short-term trading and should not be interpreted as investment advice. Full terms and conditions can be found at Terms of Use

.
USA
The Dow reversed it's losses from the previous day, rising 1.7% to close at 8427. The primary cycle trends down.
The Nasdaq Composite Index gapped upwards to close 3.5% higher at 1295. The primary trend is down.
The S&P 500 regained 14 points to close at 893. The primary cycle is in a down-trend.
The Chartcraft NYSE Bullish % Indicator bull alert signal is at 46% (September 5).
Stronger jobs report
Unemployment fell to 5.7% in August, from 5.9% in July.
(more)
Intel offers tech stocks some relief
Intel stayed within the range of previous revenue and margin forecasts, bringing relief to investors who had expected worse.
(more)
The All Ordinaries broke through the 3047 support level, to close at 3042 on strong volume. The primary trend is down.
The MACD (26,12,9) and Slow Stochastic (20,3,3) are below their respective signal lines. Twiggs money flow signals distribution, having respected the zero line from below [-].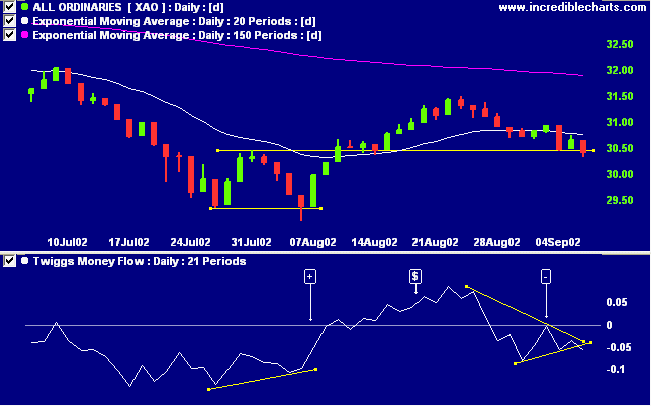 Computershare [CPU]
CPU has been in a stage 4 down-trend for the past 18 months, falling to 35% of its former high. As can be expected, relative strength (price ratio: xao) is weak while the 150-day moving average appears to be leveling. MACD signals a strong bullish divergence.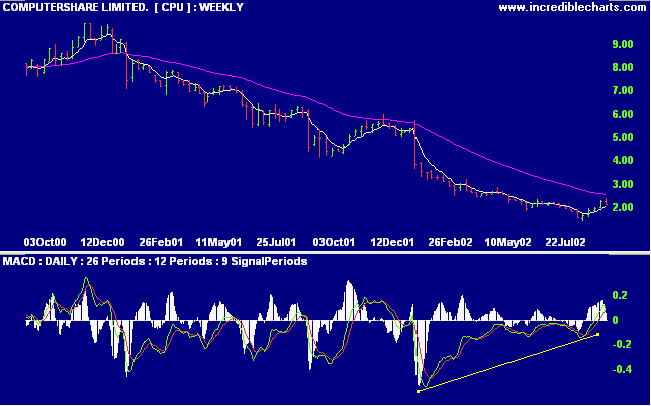 Twiggs money flow has completed a bullish divergence but still signals distribution.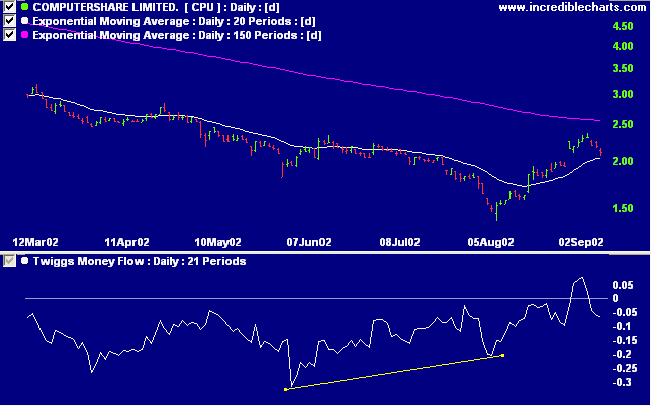 Sector Analysis
Stage changes are highlighted in bold.
Energy [XEJ] - stage 1 (RS is rising)
Materials [XMJ] - stage 4
Industrials [XNJ] - stage 4
Consumer Discretionary [XDJ] - stage 4
Consumer Staples [XSJ] - stage 4 (RS is rising)
Health Care [XHJ] - stage 4
Property Trusts [XPJ] - stage 4 (RS is rising)
Financial excl. Property Trusts [XXJ] - stage 4 (RS is rising)
Information Technology [XIJ] - stage 4
Telecom Services [XTJ] - stage 1 (RS is rising)
Utilities [XUJ] - stage 2 (RS is rising)
Sectors: Relative Strength
A stock screen of the ASX 200 using % Price Move (1 month: +5%) has fallen to 65 stocks that have gained more than 5% in the last month. Notable sectors:
Agricultural Products
Construction Materials
Conclusion
Short-term: Short. The Slow Stochastic and MACD are below their respective signal lines.
Medium-term: Wait for the All Ords to signal a reversal.
Long-term: Wait for a bull-trend on the Nasdaq or S&P 500 (primary cycle).
Colin Twiggs
Thought for the Day:


Every cycle with a positive feedback leads sooner or later to catastrophe.
- Naturalist Konrad Lorenz
---
Back Issues
Access the Trading Diary Archives.
---