---
---
Transferring files
If you use more than one computer it is fairly easy to transfer file settings from one to the other.
Use Export Files and Import Files on the File menu to transfer project files (.ini) and watchlists (.viz) using a removable disk.
---
Trading Diary
September 5, 2002
These extracts from my daily trading diary are intended to illustrate the techniques used in short-term trading and should not be interpreted as investment advice. Full terms and conditions can be found at Terms of Use

.
USA
The Dow signaled more uncertainty, forming an inside day day on higher volume and closing down 1.7% at 8283. The next support level is at 8000. The primary cycle trends down.
The Nasdaq Composite Index dropped 3.2%, closing at 1251. The next major support level is at 1200. The primary trend is down.
The S&P 500 lost 14 points to close at 879. The primary cycle is in a down-trend.
The Chartcraft NYSE Bullish % Indicator bull alert signal is at 46% (September 4).
Retail sales slow
Wal-Mart and Target report sluggish August sales as consumers cut back on discretionary spending.
(more)
The All Ordinaries held above the 3047 support level, closing up 18 points at 3066 on strong volume. The primary trend is down.
The MACD (26,12,9) and Slow Stochastic (20,3,3) are below their respective signal lines. Twiggs money flow signals distribution.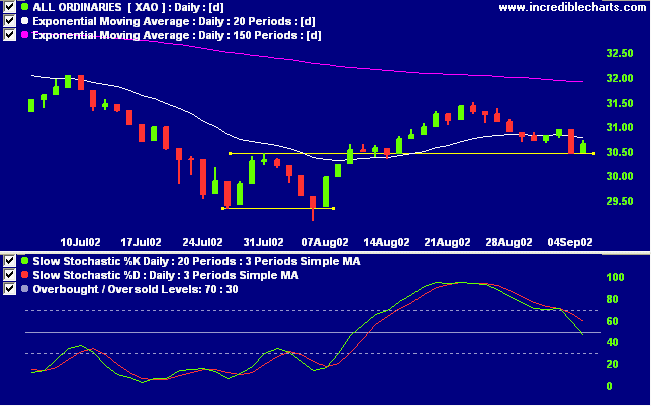 Ridley Corporation [RIC]
This agricultural producer of stock feeds and salt has shown strong growth over the past year and has made a new high, breaking out of a 6-month trading range. Relative strength (price ratio:xao) and MACD are positive, while Twiggs money flow signals accumulation.
Conclusion
Short-term: Short if there is a clear breach of the 3047 support level on the All Ordinaries. The Slow Stochastic and MACD are below their respective signal lines.
Medium-term: Wait for the All Ords to signal a reversal.
Long-term: Wait for a bull-trend on the Nasdaq or S&P 500 (primary cycle).
Colin Twiggs
Thought for the Day:


Nobody can catch all the fluctuations.
- Edwin Lefevre
---
Back Issues
Access the Trading Diary Archives.
---