---
---
Indicator Panel

If you select an indicator (eg. Moving Averages, Bollinger bands or Parabolic SAR) that is displayed on the price chart, it will be displayed on whatever price chart (i.e. Daily, Weekly or Monthly) is currently in view , and not on the other two.

This enables you to select different MAs for the Daily, Weekly and monthly price charts. But it does create extra work if you want to add the same indicator to all three charts - rotate the chart view between Daily, Weekly and Monthly, clicking Save (">") each time on the Indicator Panel.
---
Trading Diary
September 4, 2002
These extracts from my daily trading diary are intended to illustrate the techniques used in short-term trading and should not be interpreted as investment advice. Full terms and conditions can be found at Terms of Use

.
USA
The Dow formed an inside day day on large volume, signaling uncertainty, and closing up 1.4% at 8425. The primary cycle trends down.
The Nasdaq Composite Index closed up 2.2% at 1292. The primary trend is down.
The S&P 500 closed up 15 points at 893. The primary cycle is in a down-trend.
The Chartcraft NYSE Bullish % Indicator bull alert signal is at 46% (September 3).
Incentives drive strong auto sales
August vehicle sales are up 13% on last year, leading General Motors to raise its earnings guidance for the third quarter and full year.
(more)
The All Ordinaries fell sharply to close 47 points down at 3048 on large volume, holding just above the 3047 support level. The primary trend is down.
The MACD (26,12,9) and Slow Stochastic (20,3,3) have crossed to below their respective signal lines. Twiggs money flow signals distribution.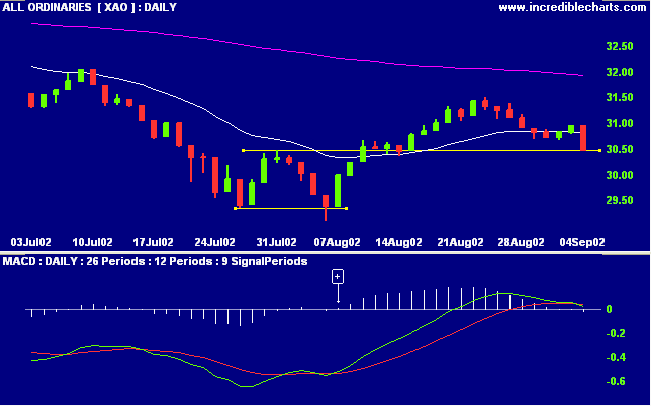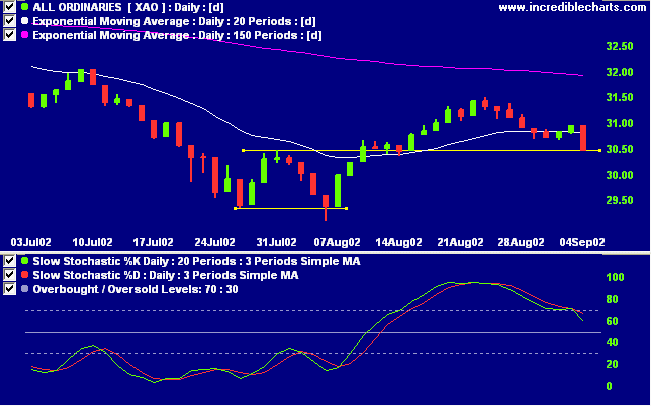 Interest rates
The Reserve Bank is expected to leave interest rates unchanged.
(more)
Metcash [MTT]
The grocery wholesaler reports first quarter sales are up 19%.
(more)
MTT has been in a stage 2 up-trend for the past 18 months, with rising Relative strength (price ratio:xao), before a 3-month correction back to the still rising 150-day MA.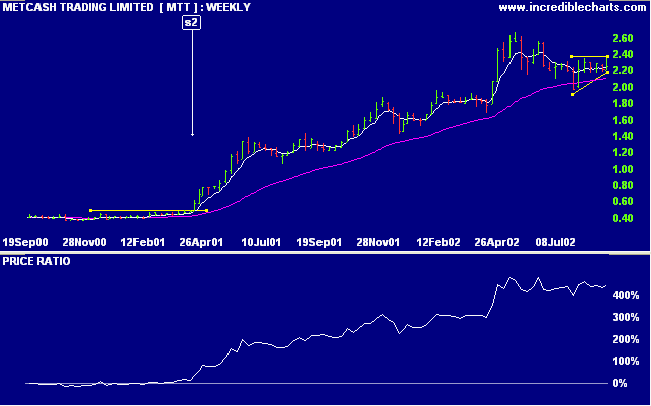 The stock is now forming an ascending triangle which may signal the end of the correction. MACD is neutral while Twiggs money flow signals accumulation.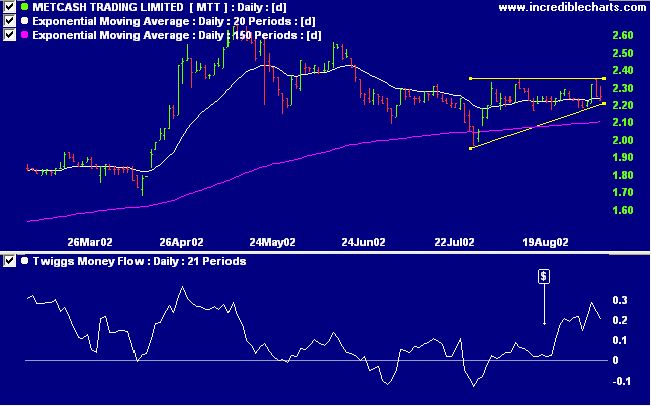 Conclusion
Short-term: Avoid new entries. After a stronger showing from the Dow, I expect the Slow Stochastic and MACD to whipsaw until there is clear direction.
Medium-term: Patience is required - wait for the All Ords to signal a reversal.
Long-term: Wait for a bull-trend on the Nasdaq or S&P 500 (primary cycle).
Colin Twiggs
Thought for the Day:


The last temptation is the greatest treason,
To do the right deed for the wrong reason.
- T.S. Eliot
---
Back Issues
Access the Trading Diary Archives.
---