---
---
Incredible Charts version 4.0.0.4 is now available
See the What's New page for details.


To check that you have the current version, select Help >> About .
---
Trading Diary
September 2, 2002
These extracts from my daily trading diary are intended to illustrate the techniques used in short-term trading and should not be interpreted as investment advice. Full terms and conditions can be found at Terms of Use

.
USA
Key economic reports due this week
The Purchasing Managers Index may show surprisingly strong but the jobs report is expected to paint a gloomier picture.
(more)
The All Ordinaries strengthened to close 10 points up at 3084 on low volume, holding above support at 3040 to 3050. The primary trend is down.
The Stochastic (20,3,3) is below its signal line, while MACD (26,12,9) is above. Twiggs money flow signals distribution.
Interest rates
The Reserve Bank faces a dilemna: raise interest rates to curb a ballooning property market and risk harming a more fragile general economy.
(more)
Sons of Gwalia [SGW]
Value investors are scrutinizing stocks like SGW which show good dividend yields and are trading near 50% of their highs. SGW is in a stage 4 down-trend with the 150-day moving average falling steeply. MACD is negative and Twiggs money flow signals strong distribution, with the latest peaks barely crossing the zero line. I will wait until a falling stock has formed a stage 1 base and has positive signals on MACD and Twiggs money flow, before doing any "bottom-feeding".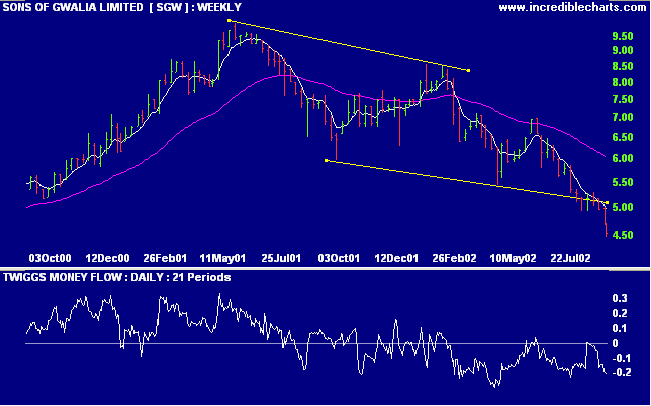 TAB Queensland [TQL]
Conversely, I currently hold TQL and will continue to accumulate whenever there is a breakout from a continuation pattern.
TQL is in a stage 2 up-trend with positive signals from Relative strength (price ratio: xao), Twiggs money flow and MACD.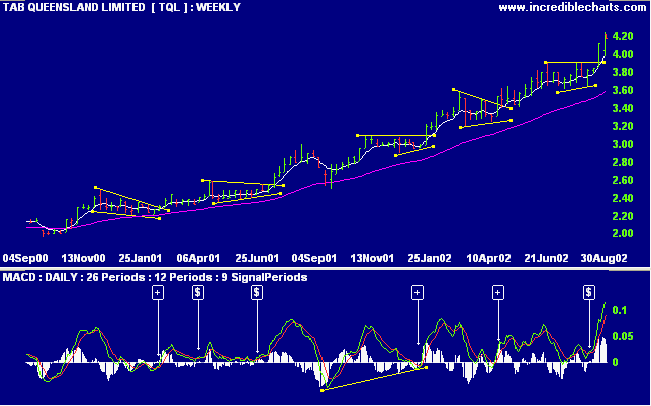 Conclusion
Short-term: Avoid new entries. Slow Stochastic and MACD are on opposite sides of their respective signal lines.
Medium-term: Wait for the All Ords to signal a reversal.
Long-term: Wait for a bull-trend on the Nasdaq or S&P 500 (primary cycle).
Colin Twiggs
Thought for the Day:


Set your maximum acceptable loss at a small enough level that you can exit without hesitation. Avoid trading situations where you place yourself under unnecessary pressure.
---
Back Issues
Access the Trading Diary Archives.
---